Are you lucky enough to be asking yourself how to invest $100k?
First, take a moment to appreciate the situation your in. $100k is a lot of money and does not come easy.
Second, panic! What do you do with all this money!?
…just kidding. No panicking necessary-there are plenty of ways to smartly invest $100k. We'll walk through the steps you should take below to ensure you're putting the money to the best use possible.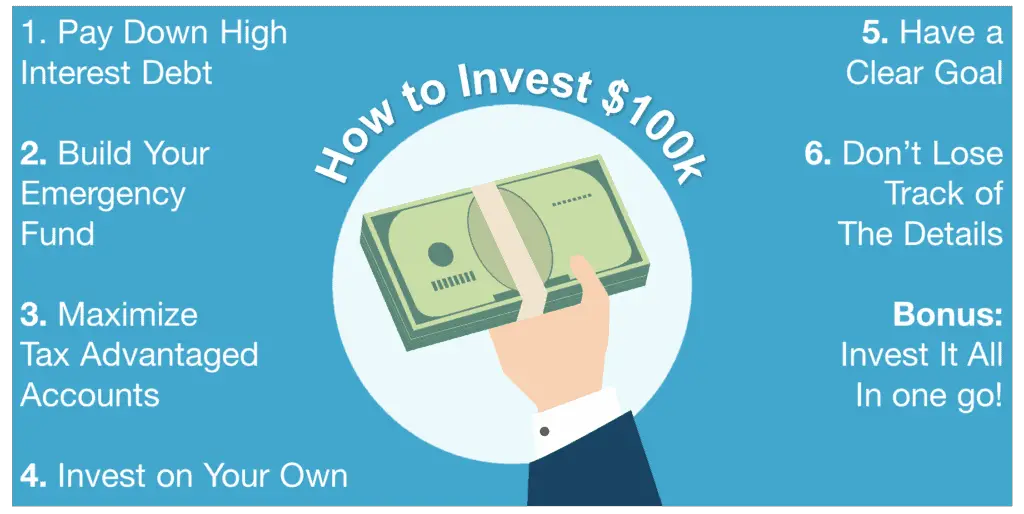 1. Pay Down High-Interest Debt
The first thing you should look to do is pay down any high-interest debt.
To be clear, not all debt is created equal. There is your high-interest debt, also known as "bad debt" or "short-term debt."
And then there is your low-interest debt, also known as "good debt" or "long-term debt."
High-interest debt usually includes things like:
Credit card debt
Student loan debt
Bank loans
Car loans (sometimes)
Some car loans, bank loans, and student loans may be low interest. And in that case, you ignore them for these purposes. You primarily want to worry about anything with a high-interest rate (above 5-8% is usually a good guide)—like overdue credit card bills.
Paying off this bad debt is a great first step to take before looking to directly invest $100k.
2. Ensure You Have the Right Emergency Fund
Once you have your bad debt paid down, the next thing you should do is ensure you have an emergency fund set up.
Most "experts" recommend having 3-6 months worth of expenses set aside. But there is no one-size-fits-all emergency fund. Some people might opt for more than the 3-6 month guidance, and others might feel comfortable keeping their entire "emergency fund" in the stock market (which, essentially, means you have no emergency fund).
In a previous article, I broke down how to determine how much should be in your emergency. It's a great guide if you are debating what size emergency fund is right for you.
3. Maximize Tax Advantaged Accounts
The next step in how to invest $100k is to invest in your tax-advantaged investment accounts. We'll focus on three major ones here: 401(k)s, IRAs, and HSAs.
401(k)
A 401(k) is one of the most popular retirement accounts. It is an account offered by your employer where you can contribute income before paying taxes.
Maxing out your 401(k) is usually a good idea, but there are a few rules to be aware of before jumping right in:
Max Contributions: The max contribution for any individual is $19,500 annually, while the max contribution for the individual + employer is $57,000 annually.
Withdrawal Rules: Money withdrawn before age 59.5 is subject to a 10% additional tax.
Mandatory Withdrawals: Similar to Traditional IRAs, you must start withdrawing from the plan at age 70.5 to avoid penalties.
In addition to maximizing your 401(k), you should also optimize it for the best returns possible. Blooom is a company that can help ensure your 401(k) is optimized, which becomes more important as you have more money in your account. You don't want fees and misallocated funds to hinder your potential returns.
---
Make Sure Your 401(k) is Set Up Right
---
And if you're looking for even more tips, you can check out our article featuring 7 ideas to help you maximize your 401(k) benefits.
Individual Retirement Accounts (IRA)
An IRA is a non-company-sponsored retirement account. Hence its name – individual retirement account.
There are two types of IRA's detailed below (Roth and Traditional), but both have the same general rules:
Max Contributions: In 2020, the maximum amount of money you can contribute to an IRA is $6,000 ($7,000 if you are 50+ using catch-up contributions) annually. This applies to both Roth and Traditional IRAs (so, you cannot contribute $6,000 each to both a Roth and Traditional IRA).
Withdrawal Rules:  Money withdrawn before age 59.5 has a 10% additional tax (note: for Roth IRAs, this only applies to capital gains, not your original contribution).
Income Limits: Your ability to contribute to a Roth IRA reduces (and eventually goes down to $0) if your modified adjusted gross income (MAGI) is above certain levels. If you are single or filing separate from your spouse, the limit is $125,000. If you are married and filing jointly, the limit is $198,000.
Roth IRA
Roth IRAs are accounts that you put post-tax income into, but you can withdraw any capital gains tax-free when you retire. In other words, you get taxed now (by using post-tax income) and get the benefit later (when you pull your money out of retirement tax-free).
Key Benefits:
Not taxed on the way out.
No mandatory withdrawals.
Can withdraw your contributions anytime (although not usually recommended, it is a good safety net).
Drawbacks:
Contribution limits.
Penalty if capital gains withdrawal before age 59.5.
Taxed on the way in.
Traditional IRA
A Traditional IRA is very similar to a 401(k) in that you do not pay taxes when contributing money (technically, you deduct your contributions when doing taxes), but you get taxed on your contributions and capital gains when you withdraw. In other words, you benefit now (by using pre-tax income) and get taxed later (when you pull your money out at retirement).
Key Benefits:
Drawbacks:
Contribution limits.
Penalty if withdrawal before age 59.5.
Mandatory withdrawals starting at age 72 (if you were born after June 30, 1949)
Additional rules when also utilizing corporate sponsored plan (I.e. 401k).
Taxed on the way out.
Health Savings Account (HSA)
Last but not least is the Health Savings Account. These accounts are becoming more popular, but are still not offered broadly and by every company.
If you have the option to contribute to a health savings account, it's a great account for assisting with health-related expenses, but also a great investment account. Once you reach a certain threshold (varies by provider), you can invest the funds as you choose.
You can learn more about HSAs and the rules associated with them here.
4. Invest on Your Own
Once your tax-advantaged accounts are being used to their full potential, it's time to deploy the remaining $100k to individual accounts.
Obviously, I understand that you cannot always retroactively invest $100k into all of the tax-advantaged accounts above-like HSAs and 401(k)s. Though, if you have $100k now, it's likely a good time to re-examine how much you are contributing to those accounts and potentially up the ante.
Alright, back to investing on your own. You have a few options that are detailed below.
Brokerage Accounts
The first option for investing on your own is to truly invest on your own. This approach includes opening an online brokerage account yourself and investing your own money.
There are a few investment vehicles you can choose from when investing on your own:
Individual Stocks
Mutual Funds
ETFs and Index Funds
Though, we usually focus on ETFs and Index Funds because of their ability to fully diversify your portfolio for an extremely low cost. Especially when you create your own lazy portfolio.
If you're looking to open a brokerage account on your own and start investing, Charles Schwab is a great place to start.
Robo-Advisors
Robo-advisors, like Betterment, are online platforms that do 99% of the work for you when it comes to investing. Most will ask you to complete a series of questions before opening an account. Then, the Robo-advisor will automatically select investment vehicles for you based on your answers.
Behind the scenes, Robo-advisors are employing an algorithm that buys and manages investments for you—optimizing and reallocating your portfolio to match your goals.
They have been gaining in popularity recently due to their efficiency, low costs, and easy-to-use online interfaces. They're a great intermediate step for someone who wants to invest efficiently but doesn't want to do it all on their own.
Betterment is a great option with:
Best in class fees.
An extremely easy setup.
Tax optimization strategies.
And more…
You can get started and open your account with Betterment here.
Full-Service Financial Advisor
Lastly, you could go with a full-service financial advisor. This is usually the most costly route, but also the route that gives some people peace of mind by letting an expert take control.
Though, as I said already, it comes with a cost.
If interested, you can learn more about your financial advisor options here.
5. Have a Clear Goal
When deciding how to invest $100k, it's very important to have a clear goal in mind.
Yes, building up your emergency fund and maximizing tax-advantaged accounts are the right things to do in general. But you need to understand what you are investing for in order to have a good strategy.
Depending on when and how you need to use the money will affect how you invest your $100k.
Obviously, if you're investing to buy a house in 5 years, putting everything into tax-advantaged accounts that are inaccessible until retirement is not a good idea. So make sure you are investing your money according to your goals.
Here are some potential goals to consider:
To build wealth (general investing).
Retirement.
Child's future education.
A large purchase (house, car, etc.).
Charitable donations.
6. Don't Lose Track of the Details
The most important tip when learning how to invest $100k is to not lose track of the details! Just because you have more money does not mean you should stop keeping track of it.
When you have $1,000 to your name, a $50 dinner is a whopping 5% of your total net worth! It can make a major impact and you usually weigh the decision carefully.
Once you have $100,000, that same $50 dinner becomes 0.05%. You might have the tendency to worry about it less because it's making less of a dent on your savings.
All of this is to stay is that it becomes a lot easier to lose track of the details as your net worth goes up. But that doesn't mean you should allow it to happen. If you lose track of enough details, you may just spring enough leaks in your boat that it eventually sinks.
Not my best analogy, but you get the picture. If enough small things fall through the cracks, they add up a to a big thing.
Here are two important things to not lose sight of…
Fees
Fees add up. There is no way around it.
And once you have more money in your portfolio, those fees start to get larger and larger.
1% of your $1,000 portfolio is only 10 bucks.
1% of your $100k portfolio is a whopping 1,000 fat ones (dollars..).
Don't let fees get the best of you as your portfolio grows in size.
Asset Allocation
Diversification only becomes more important as your portfolio grows. Check-in on your portfolio quarterly or annually to ensure that your asset allocation is still in line with your goals.
Bonus Question: Should I Invest it All at Once?
Yes.
Statistics say to invest all the money you have in a lump sum as soon as possible.
That said, I can understand how your gut is telling you not to (or at least making you hesitate). Especially if $100k (or more) is on the line.
Hell, if $1k was on the line I'd be nervous. No one wants to invest money and see it immediately dip in value.
But the point you have to remember is that if you are investing for the long term, any short-term dip in value is not real. No gains or losses become real until you withdraw the money. Until then, it's numbers on paper (or a computer screen).
And over the long term, the market tends to go up. So as long as the money you put into the market is for the long run, then statistically investing it all at once is the best move.
You can learn more about the math of market timing here to help you make this decision.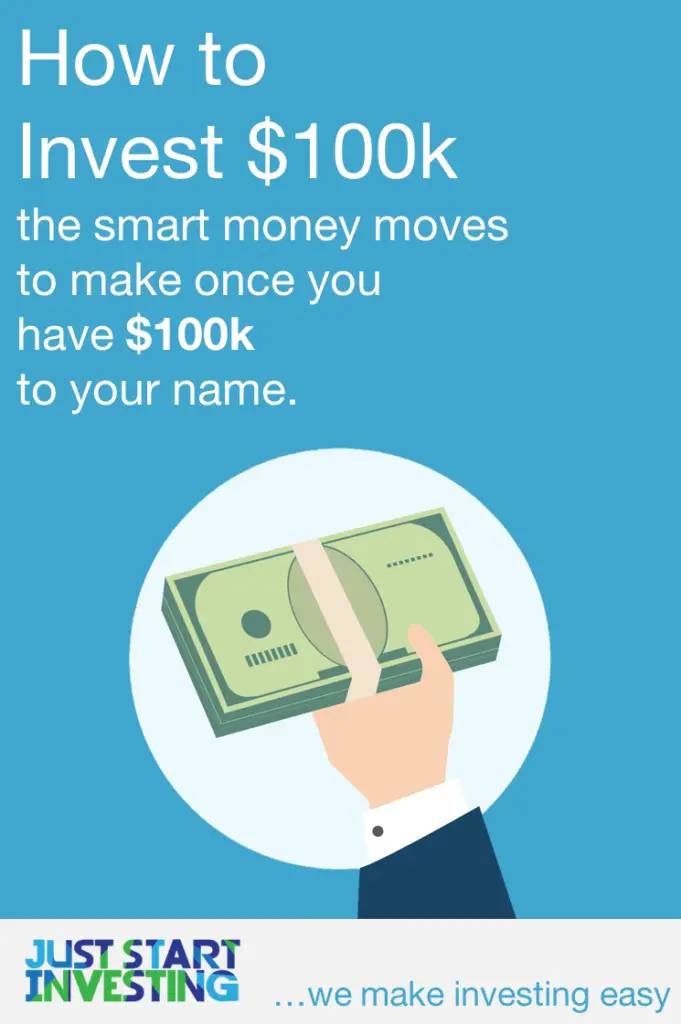 Summary: How to Invest $100k
Remember, needing to figure out how to invest $100k is a great problem to have! And these six steps should help make the daunting task a little easier.
Pay Down High-Interest Debt
Build Your Emergency Fund
Maximize Your Tax-Advantaged Accounts
Invest in Your Own
Have a Clear Goal
Don't Lose Track of the Details
Just Start Investing is a personal finance website that makes investing easy. Learn the simple strategies to start investing today, as well as ways to optimize your credit cards, banking, and budget. Just Start Investing has been featured on Business Insider, Forbes, and US News & World Report, among other major publications for its easy-to-follow writing.