A health savings account (HSA for short) is arguably one of the best tax-advantaged accounts you can open. Not only can you contribute tax-free dollars to spend on medical expenses, but you can also invest and grow your money tax-free. Lively is one of our favorite HSA providers, and below is an overview of HSAs and a full Lively HSA Review.
If you're not familiar with an HSA, or not sure where to get started, don't worry. We'll break down all the basics in just a second.
For now, all you need to know is that nearly everyone who is eligible for an HSA should be utilizing one.
---
Open a Health Savings Account Today:
Ready to get started now? Easily open an HSA with one of the best providers out there: Lively.
Get Started
What is an HSA?
As mentioned, a health savings account, or HSA, is a tax-advantaged account that you can use to pay for medical expenses.
You open this account either through your employer when signing up for health insurance, or on your own through a provider like Lively.
It's important to note upfront, you need to be enrolled in a high deductible health plan (HDHP) in order to be eligible to contribute to an HSA. More details on this, along with all major HSA rules, are below.
HSA Definition: A health savings account is a tax-advantaged account you can use to cover medical expenses if you are enrolled in a high deductible health plan.
Key HSA Rules:
Tax-Free Contributions: You can contribute money to an HSA before paying income tax, similar to a 401(k)
Tax-Free Withdrawals: You can spend HSA funds without paying taxes, as long as it's used to pay qualified medical expenses
Contribution Limits: The 2021 annual HSA contribution limits are $3,600 for someone on a self-only plan ($7,200 if on a family plan)
For Medical Expenses Only: HSA funds must be used on healthcare expenses, otherwise, you will pay a 20% fee (if under the age of 65)
A health savings account is a relatively new account that was created to help alleviate the burden of rising healthcare costs.
Although, it can also be used as a long term investment account. It doesn't have to be used just for short term medical expenses.
As mentioned briefly above, in order to withdraw money tax-free, you have to use the funds on medical expenses. The penalty for not doing so is a 20% fee, on top needing to pay taxes on the funds used.
However, if you wait until after age 65, you will only pay taxes (not the 20% fee) if using the money for non-medical expenses.
If you save money in your account and don't use it until age 65, then you have a fund to use to cover medical expenses (which are likely higher at that age anyway). Plus, if you are lucky enough to not have large medical bills in retirement, you can use your funds similar to using 401(k) funds, paying taxes on the withdrawals but no fees.
HSA Eligibility
As mentioned, you need to be enrolled in a high deductible health plan in order to be eligible for an HSA.
In 2021, that means your minimum annual deductible for your health insurance plan needs to be:
Self-Only Plan: Between $1,400 and $7,000
Family Plan: Between $2,800 and $14,000
If your deductible falls outside of those ranges, then you cannot contribute to an HSA.
About Lively HSA

Lively is an HSA provider that was founded a few years ago by Alex Cyriac and Shobin Uralil. The company officially launched in 2017 when they joined the Y Combinator and got their first version of Lively online.
Since then, this fintech startup has continued to raise money and expand. Today, it has over $100 million in assets under management.
Its growth is not surprising. Lively has a strong set of values and provides clear benefits to its users – a low cost, easy-to-use health savings account.
How Lively HSA Works
When opening an HSA, you can oftentimes do so through your employer or own your own. If you are opting to open an HSA on your own, Lively is a great choice to consider.
Opening an account with Lively is easy (requires no confusing paperwork) – you have two options:
Transfer an HSA from Another Provider
Open a new HSA
As you'll read below, Lively HSA is a good option for getting started. You can begin the sign up process here if ready:
Get Started
Fees and Pricing
One of the main benefits of Lively is that it offers rock bottom fees, which is great for any investment account.
As you can see in the image below, it's free for individuals and families to open an account.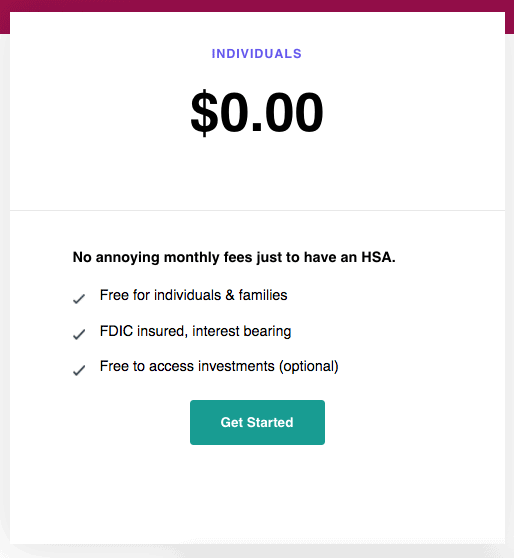 They also transparently show their fees on their website, which feature a lot of zeros:
Monthly Maintenance: $0
Account Opening Fee: $0
Account Closing Fee: $0
Funds Transfer (Out/In) Fee: $0
Debit Cards (Up to 3): $0
Excess Contribution Fee: $0
Point of Sale Fee: $0
Minimum Balance Fee: $0
Reimbursement Fee: $0
Access to Investments at TD Ameritrade: $0
Last, Lively offers interest on any cash balances sitting in your account. They partner with Choice Financial Bank and your HSA money is FDIC-insured for up to $250,000.
Currently, as of May 2020, Lively is offering a minimal 0.01% interest rate due to the FED interest rate cuts in our current environment. If the FED were to raise rates, I would suspect Lively would as well.
Though, letting your money sit idle is not your only option with Lively, you can also invest it.
Investing with Lively HSA
Lively gives you the option to invest your money with their investing partner TD Ameritrade.
What's great about Lively's investment options is that you can start investing on day one. There are no minimums and no fees for you to get started. That is unlike most HSA providers where you need a minimum balance before you can start investing.
TD Ameritrade offers a variety of low-cost index funds and mutual funds to invest in, and the fees that TD Ameritrade charges are posted for you to see on the Lively website.
These investing perks are a large benefit for someone treating their HSA like a long term retirement account.
Lively HSA Review: Pros and Cons
Lively is a growing company with a lot of pros, but they are still a young company. While I think there are a lot of great things about Lively, you should always do your own due diligence before giving your hard-earned money to any outside company for safekeeping.
That said, as you can probably tell, I like what Lively has to offer.
Open Account
Lively HSA Pros
No Fees: Lively has transparent pricing and is 100% free to use for individuals.
No Account Minimum: There is no minimum balance required to open an account with Lively.
Can Start Investing Right Away Through a TD Ameritrade Account: The ability to start investing your funds right away through a reputable broker like TD Ameritrade is a huge perk.
Easy-to-Use: Lively features an easy-to-use interface and mobile app. Plus, their paperless approach makes it easy to get started and mange your money ongoing.
Tax-Advantages: This is not specific to Lively, but HSAs, in general, offer amazing tax benefits that everyone should take advantage of if they are eligible.
Customer Service: You can contact Lively Monday – Friday from the hours of 6:00 am – 6:00 pm PT via their email ([email protected]) or by phone (1-888-576-4837).
Lively HSA Cons
Unproven Company: Lively is a new fintech startup and largely an unproven company. As an index fund investor, I like to see long track records of success, and while I think Lively is on the right track, their history is short.
Current Interest Rates: While some banks have maintained at least some level of interest payments despite the FED rates being extremely low, Lively has cut their rates down to 0.01% APR (as of May 2020).
Lively HSA Review: Frequently Asked Questions (FAQ)
Question: Is Lively HSA FDIC Insured?
Yes, funds that are not invested and in your Lively account are FDIC-insured for up to $250,000.
Question: Who Owns Lively HSA?
Lively HSA is a fintech startup. They have received investments from Costanoa Ventures, Y Combinator, SV Angel, Transmedia Capital, Streamlined Ventures, Teamworthy Ventures, Ally Ventures, and more.
Question: Who has the Best HSA Account?
In my opinion, Lively offers one of the best Health Savings Accounts for individuals and families because of their low and transparent fees, and stellar investment options.
Question: Can I move my HSA?
Yes, you can easily transfer your HSA to Lively from another provider using the prompts on their website.
Question: Is Lively a Good HSA Provider?
Yes, in my option, its very low fees and modern platform makes Lively a great HSA provider.
Benefits of Health Savings Accounts in General
Lively is a great HSA provider that lets you take advantage of all the benefits that Health Savings Accounts have to offer. And if you have detailed questions on HSAs, you can always contact a credentialed income tax expert to answer them.
Below are the four largest benefits of HSAs:
1. Tax-Free Contributions
You can make contributions to your HSA tax-free.
You can do so either direct from your paycheck, or through bank deposits (that can then be deducted on tax returns).
2. Tax-Free Withdrawals
When used for eligible expenses, you don't have to pay taxes on money withdrawn.
This is extremely rare for tax-advantaged accounts. Just compare it to a traditional IRA, Roth IRA, or 401(k). With those accounts, you still have to pay taxes in some form.
HSAs are truly tax-free when you stay within their rules.
3. Flexibility
For a tax advantaged account, HSAs still have a lot of flexibility.
For one, health savings account funds can be used on more than just yourself. You can also spend the money on your spouse and any dependents listed on your tax return.
Second, HSA account balances roll over year after year. If you don't spend your money in one year, you can still utilize it in the future, even if you change employers.
Last, while you are limited to using your account funds to cover healthcare costs (unless you want to pay a fee and/or taxes), the list of eligible healthcare costs is actually quite large.
4. Funds are Investable
You can invest HSA funds.
Given all the flexibility mentioned above, this makes HSAs a great retirement account. You can utilize the money to cover medical expenses in retirement, or if you wait until after you are 65, simply pay taxes and use the money however you want, like a 401(k).
Lively HSA Review 2021: Summary
HSAs are one of the best investment accounts available to you right now. If you have an eligible insurance plan, you should be using one.
Even if you don't plan to use the money on health care costs in the short term, it still makes for a great long term account to utilize.
Lively is one of the best HSA providers to utilize if opening an account on your own. Our Lively HSA Review highlighted many of the company's benefits, and if you are looking to open an HSA, Lively could be a great fit for you.
Open a Health Savings Account Today:
Easily open an HSA with one of the best providers out there: Lively.
Get Started
Start taking advantage of an HSA today!
Just Start Investing is a personal finance website that makes investing easy. Learn the simple strategies to start investing today, as well as ways to optimize your credit cards, banking, and budget. Just Start Investing has been featured on Business Insider, Forbes, and US News & World Report, among other major publications for its easy-to-follow writing.