Technology is changing the game yet again. This time, making investing in art possible for beginners, not just for the experienced and wealthy.
For many, investing in art is something that has probably not crossed their mind. Most people can't afford a $1 million dollar home, let alone a $1 million piece of art.
And no, that is not a knock against most people, it's more an admittance that art investing was just not practical. That is, until Masterworks came along.
Masterworks operates a lot like index investing (which many of you know we are quite fond of on this site!). Let me explain quickly:
Buying a share of Amazon (which was $1,700+ at the time of writing this) is just not possible for a lot of people. It's too expensive. Let alone having to buy that share, and then also diversify your portfolio by buying many other shares various companies in various industries.
Index investing lets you get started by buying smaller pieces of a bunch of companies in one purchase. Boom! You're instantly diversified.
With art, many people can't afford to buy one painting – if you thought one share of Amazon stock was expensive, you should check out some of these artwork prices! But Masterworks allows you to buy shares of artwork for as little as $20 (with a $1,000 minimum investment). This simply was not possible before.
So you can now diversify your portfolio and start investing in art, even if you're beginners without millions of dollars!
---
Masterworks Overview
Masterworks was founded in 2017 by Scott Lynn, and is the first company to allow investors to buy shares of great masterpieces by artists like Picasso, Monet, and Warhol. Masterpieces that sometimes can run you $1 million, or much more!
Masterworks clearly wants to make it possible for everyone to invest in blue-chip artwork. Their website lays out their vision in more detail:
"For too long, access to blue-chip art investments have been limited to the ultra rich who purchase masterpieces—often historical treasures—and remove them from public display when they enter their private collections. Masterworks is opening the doors to top-tier, blue-chip art investments to everyone. With Masterworks, you can invest in history."
Despite all the talk about History, their modern and easy to use platform makes it easy to get started.
Investing in Art for Beginners: Getting Started with Masterworks
To start with Masterworks, you first must request your invitation to join.

From there, you'll actually schedule a meeting with an advisor to learn more about the platform. Usually only a few days after requesting to join.
Then you can hook up your bank accounts, deposit funds, and start investing in art!
How Does Masterworks Work?
There are 4 steps Masterworks takes to make investing in art available for beginners. We'll walk through them below, but in as simple terms as possible – they purchase a painting and sell you shares.

1. Masterworks Purchases a Painting
Masterworks first buys a painting using their own capital. They have a team of people researching and purchasing blue chip artwork to make available to Masterworks's investors.
Although, they do call out, despite all the due diligence on their end artwork is still a very speculative (and risky) investment.
2. Files with SEC
After Masterworks has purchased the artwork, they file an offering circular with the Securities and Exchange Commission to offer it publicly.
This gives their investors the ability to invest in shares of the purchased artwork. And, as a shareholder, you are given certain rights afforded to you under securities laws of the U.S. and can rely on the disclosures in our public filings.
3. Investors can Buy Shares
Once the offering is qualified by the SEC, investors will be able to buy shares.
It's important to note here the fee structure that Masterworks employs:
1.5% annual management fee.
20% profit fee.
So, if you purchase $10,000 in investments, Masterworks will charge you $150 a year in management fees. Then, if you sell your art a few years later for $12,000, Masterworks will take 20% of the $2,000 profit – or $400.
4. Masterworks Sells the Painting
After a period of time, Masterworks will sell the painting and distribute the profits to the investors (if there is any).
Right now, there is no form of liquidity besides Masterworks selling the painting. There is no current functionality for you to sell your shares in the painting prior to the actual painting being sold by Masterworks – although they state they are working on this feature. This makes the investment highly illiquid.
Masterworks does comment that, "After 7 years, if there is no other means for shareholders to sell or redeem their shares, we will endeavor to sell the Painting on or before the ten-year anniversary of the offering."
So, you should never be without your money for more than 10 years.
Investing in Art with Masterworks: Pros and Cons
Pros
Diversification: Investing in art provides a unique layer of diversification outside of equities and bonds (similar to real estate).
Potential for High Returns: Masterworks boasts that blue chip art increased by 10.6% in 2018 while the S&P 500 declined by 5.1%. Certainly, like anything, if you pick the right investments you have a chance to beat the market. Though, with high potential also comes higher risk.
User Interface: Masterworks has an extremely sleek and easy to use interface.
Expert Curation: You don't have to go out and do all the research on your own. Masterworks employs experts to buy the art to make available to you, and gives your research tools to ensure you make the best decisions possible.
Cons
Fees: Masterworks makes it easy to invest in art with small sums of money, but there are still significant fees associated with art investing as laid out above. You'll want to make sure you calculate these fees into any potential returns you are forecasting.
Liquidity: Through Masterworks, you cannot access your money quickly or easily. Meaning you should not invest any money that you might need int he near future.
Risk: The S&P 500 is largely considered a "proven" way to earn a steady return over the long run. Art is considered more risky – you should be okay with losing your complete investment.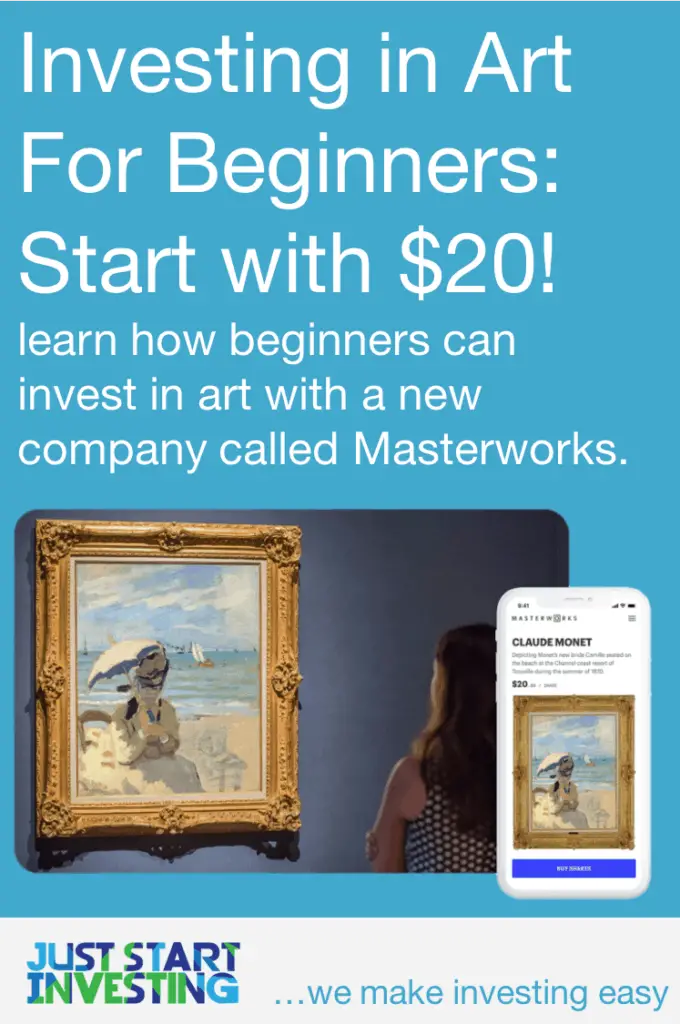 Summary: Investing in Art for Beginners
If you're interested in investing in art and aren't sitting on piles of money (which, unfortunately, most of us are not), then Masterworks is a great solution for you.
Art can be an interesting alternative investment to diversify your portfolio, but be sure to first consider if you're:
Then, art could be an interesting play for you to diversify your investments and own a piece of history.
Just Start Investing is a personal finance website that makes investing easy. Learn the simple strategies to start investing today, as well as ways to optimize your credit cards, banking, and budget. Just Start Investing has been featured on Business Insider, Forbes, and US News & World Report, among other major publications for its easy-to-follow writing.