Most of you have probably heard of the Financial Independence Retire Early (FIRE) movement (if not, don't worry, we'll explain shortly). Those of you who have heard of FIRE, you likely have a strong opinion on it – one way or the other.
But, whether you agree with the FIRE movement or not, I think there are important lessons that we can all agree on.
Well, at least I think that… I'm sure some of you will disagree with one or more of my 10 lessons from the FIRE movement below, but let's find out. If any of these supposed lessons get you fired up (…couldn't resist), let's duke it out in the comments!
But first, here's a quick primer on the FIRE movement so that we're all on the same page.
What is Financial Independence Retire Early (FIRE)?
Financial Independence Retire Early is really two distinct concepts wrapped up in one.
Financial Independence, as Wikipedia defines it, "is the status of having enough income to pay one's living expenses for the rest of one's life without having to be employed or dependent on others." Essentially, it means you have enough money to never have to work again.
To Retire Early simply means to retire before the traditional age of 65.
Now, the combined "FIRE Movement" is a little harder to pin down, but it encompasses a group of people who are focused on reaching financial independence and early retirement.
Some trying to get there quickly. Others slowly.
Some through meticulous saving and budgeting. Others through side hustling.
Some getting there by 29. Others by 50.
The FIRE movement takes many shapes and forms, but it's centered around the idea of "reaching FIRE".
The 4% Rule
Normally, at this point in the conversation, someone new to the FIRE movement would scoff, "retired at 29?! Good luck, buddy. I'll see you back in the workforce in a few years when you run out of money!"
And that would be the cue for the retired 29-year-old to whip out their spreadsheet and calculator to explain the 4% rule. I won't go deep into the origins and math of this "rule", but I'll give you the highlights.
The 4% rule at it's core is based on:
The stock market returning 7% each year on average.
A person withdrawing 4% from their portfolio to live off each year.
The remaining 3% staying behind to combat typical inflation.
With the above 3 points holding true, you can keep withdrawing from your portfolio without ever running out of money.
So, for example, someone who has yearly expenses of $30,000 needs $750,000 socked away according to the 4% rule ($30,000 / 4%).
To find your "FIRE number" – or amount you need to save to reach FIRE – simply multiple your annual expenses by 25 (or divide by 4%, same thing).
---
Now that we're all on the same page, I'll get on my soapbox and share my thoughts on the FIRE movement. Specifically, 10 things that I think we can all learn from this movement.
And to be clear, the 10 lessons listed below usually fit with the FIRE movement mantra, but not always. Some of the lessons are just things that the FIRE movement has made apparent (even if it doesn't fit with the movement's goals or path).
1. FI is For Everyone, RE is Not
In the definition of Financial Independence Retire Early, I called out that they are really two distinct concepts. And the first concept, financial independence is by and large the more important one to focus on.
Getting to financial independence gives you options:
Do you want to keep working? Fine.
Want to retire? You're all set.
Interested in "semi-retirement", getting a side hustle, and pursuing that in your spare time? Do it risk-free.
Want to do more charitable work? You now have the time to do it.
And so on…
Once you reach financial independence, money is no longer an issue. At all.
On the other hand, not everyone wants to retire early in the traditional sense. So while everyone should be striving to get to financial independence in some shape or form, not everyone has to retire early if work makes them happy!
2. Create a Plan
According to a survey by GOBankingRates, 64% of Americans Aren't Prepared For Retirement – and 48% Don't Care.
Yikes.
If there is one thing that is true about anyone seeking FIRE, 100% of them have a plan for retirement and all of them care (maybe even a little too much..).
Having a plan for retirement is super important. The last thing you want to do is wind up getting to retirement and realizing you can't because you didn't create a plan and stick to it early on.
Build a Plan:
You can create your own financial plan for free in just 5 minutes with
Savology
.
Check out our article on how to optimize your 401(k) so you can ensure you have the right plan with your biggest and most important retirement account.
3. Saving Money is Great
In that same GOBankingRates study, they found that 46% of Americans have $0 saved for retirement right now.
*nervous sweating*
I mean, come on people. I don't want to be insensitive, because I know life is hard and everyone's situation is different, but we all need to prioritize saving.
The FIRE movement is all about creating a budget, saving aggressively, and taking control of your spending. Which is something I think everyone could benefit from.
4. Investing Money is Even Better
If saving money is great, investing money is even better thanks to the magic of compound growth.
A quick example helps bring this to life.
Saving Sally saves $100 every year for 18 years. She ends up with $1,961 thanks to a modest 1% interest she earned every year in a savings account.
Investing Isabel invests $100 every year for 18 years. She ends up with $3,399 thanks to an average 7% return from the S&P 500 every year.
Investing provided an additional 73% more cash!
Its one of the best ways to build wealth, and those in the FIRE movement know this – it's why they invest their money aggressively in low cost index funds and ETFs.
You can learn how to start investing with Betterment here – a leading robo-advisor who makes it easy to get started.
5. Take Advantage of Personal Finance "Hacks"
People going after the Financial Independence Retire Early goal are aggressive by nature. And they're not afraid to exploit the system to their benefit.
Two common hacks employed by the FIRE movement are:
Bank Switching: Banks often offer sign up bonuses when opening an account. Many folks in the FIRE community will switch banks once a year (or more often) to take advantage of that free money (usually a couple hundred bucks).
Credit Card Optimization: Not only do FIRE seekers have the right credit card for them to maximize their rewards, but similar to with banks, many also switch cards frequently to take advantage of the sign up bonuses. You should be careful with this "hack" though, because it does have a negative impact on your credit score and should be done smartly and rarely!
On top of those, there are countless "hacks" to help increase your income or decrease your monthly bills. Below are some of the best resources out there.
Earn Money:
Mistplay: Make money playing games on your phone! Yes, literally get paid to play games.
S'more: Earn cash in exchange for placing ads and content on your lockscreen. If you don't mind ads, this is a no-brainer way to make a few bucks.
Cut Costs:
BillShark: Let BillShark negotiate lower prices on your monthly bills – saving you time, money, and hassle. The best part is there is no up front cost to you, as they only get paid if you save money. Check out our full Billshark Review here.
Gabi: Find the best (and lowest cost) car insurance in order 2 minutes. Gabi does the comparison shopping for you, saving you time and money.
Geoarbitrage: Save money by moving to a lower cost of living area (LCOL Area).
6. Spend on Things that Matter
Those in the FIRE movement are adamant about avoiding lifestyle creep – or spending more on things just because you have the money to do it.
And while I shared my thoughts here on why lifestyle creep is not always a bad thing, I do agree that we should be conscious about our spending. Conscious spending will help ensure that we buy things that add value to our life and free up money for lesson #3 – to save.
7. Cut Out Expenses that Don't Matter
Similar to lesson 6, those seeking FIRE cut out any expense that is not currently adding value to their life.
It's why many of them are cable cutters, apartment down-sizers, and bikers (not drivers).
Do you have to go to an extreme cost cutting mindset for everything? Of course not. But it doesn't hurt to take stock of your current expenses and see if there is anything you could save on.
8. Get a DIY Mindset
I'll be the first to admit that I'm not super handy.
But having some DIY (do-it-yourself) skills can be a great way to save some cash. And, it's a good confidence booster too.
So consider if you could fix something yourself before immediately grabbing the phone for help. Just don't hurt yourself..
9. Try to Increase Your Income
I know, obviously we all want a bigger income. What a dumb thing to suggest!
But hold on one second…
When was the last time you actually asked for a raise?
Or pursued a second source of income?
Or hustled to make a few extra dollars one day?
Sometimes, you just need a gentle reminder to actually take action. Here are some potential ideas:
Seek out a promotion.
Look for a higher paying job.
10. Retired Doesn't Have to Mean Retired
Bringing it all the way back to lesson #1, being retired doesn't always mean your retired.
I actually think that most people in pursuit of the Financial Independence Retire Early status don't actually want to just sit on a beach somewhere and waste away their remaining days. Maybe some do, but I doubt many.
Most people want to reach FIRE status so that they can spend their time how they want to. Not how some employer wants them to.
Whether it means spending more time with family, traveling, or doing whatever they want to do, FIRE seekers are really seeking freedom. And that's what retirement can provide – freedom.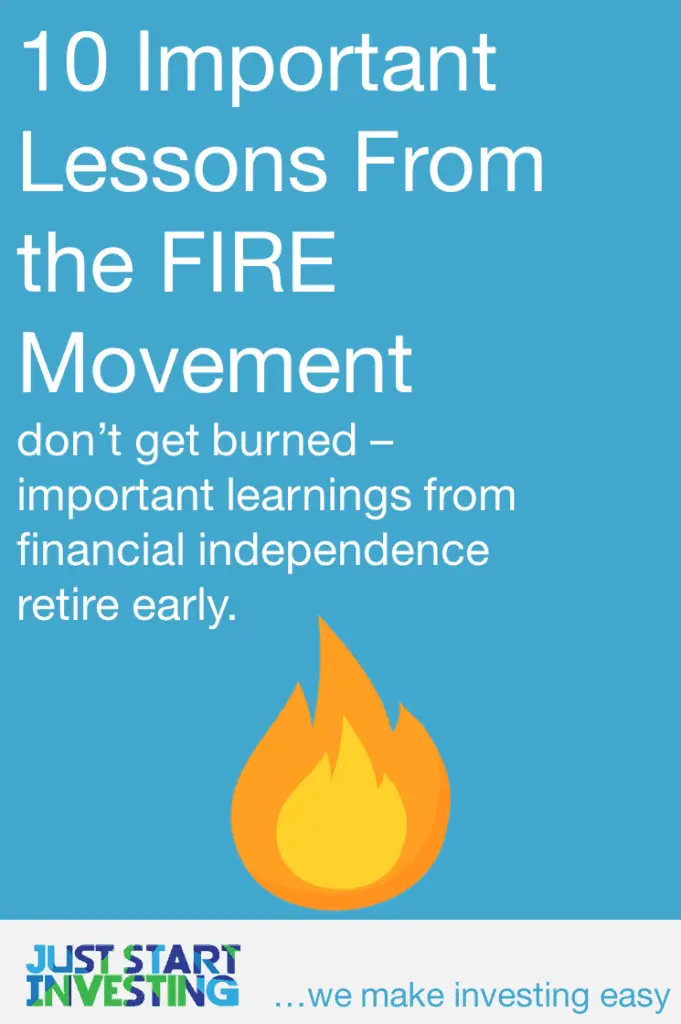 Summary: Financial Independence Retire Early
I've learned a lot from the FIRE movement, and I hope that now you have as well.
Have any lessons that you think I missed (or ones you agree or disagree with)? Let me know in the comments!
Just Start Investing is a personal finance website that makes investing easy. Learn the simple strategies to start investing today, as well as ways to optimize your credit cards, banking, and budget. Just Start Investing has been featured on Business Insider, Forbes, and US News & World Report, among other major publications for its easy-to-follow writing.