Free money… sounds too good to be true, right?
Not entirely.
In today's world, there are actually plenty of ways for you to earn some free cash, you just need to know where to look.
What is Free Money?
Before we dive into the 17 ways to get free money below, I wanted to define what "free money" really means.
In this case, free money does not mean absolutely free money. In other words, I won't be sharing magic ways for you to wake up and find a $100 bill on your nightstand every morning. Although, that would be nice.
Free money is money that you can get with very minimal effort. Oftentimes, it means getting paid for something you already do. Sometimes, you can collect free money online with almost zero effort at all!
Alright, let's dive in and start getting our free money now…
17 Ways to Get Free Money
1. Play Games
Mistplay is one of my favorite free money apps.
The app works in three simple steps:
Play games on your phone
Earn "units" as you play
Redeem your "units" for gift cards to Visa, Amazon, the Google Play Store, and more
That's right, Mistplay pays you to play video games!
While you won't get rich overnight using this app, it is a good way to earn points that can be redeemed a few extra bucks in gift cards. If you have some spare time while sitting on the couch, this app is a great way to earn quick cash while having fun.
Play Mistplay
2. Play the FREE Lottery
Lucktastic is another app that offers the chance to win free money – it is a digital lottery that is free to play.
The app gained popularity when a man in Las Vegas apparently won $1 million! And while I wouldn't bank on cashing out a million dollars after downloading this app, it is a good way to make a little extra cash.
They offer a few different games you can play, with the most popular one being free scratch cards.
You can try out Lucktastic on your phone below:
Play Lucktastic
3. Take Surveys
Not only is taking surveys a great way to earn money fast, but some survey sites will offer you a bonus for signing up too!
For example, right now, if you sign up and start using Swagbucks you could earn a $5 sign-up bonus. Plus, Swagbucks is more than just a survey site, and you can make money by watching videos, using their online shopping portal, and more.
Companies are always looking for opinions from consumers to help inform what to change about current products and what new potential products to launch. It's easy to take advantage of this need and make money online!
Check out these three top survey sites below to get started:
4. Maximize Your 401(k)
All tax-advantaged accounts, like Roth IRAs and 401(k)s, offer free money in the sense that you are minimizing your taxes. They are a great way to save for retirement.
Although, many 401(k)s offer truly free money through the form of an employer match.
An employer match is when the company you work for contributes money in your 401(k) when you do as well. For example, if you contribute 3% to your 401(k), they will match with an additional 3% contribution.
With the example above, if you make $50,000 per year, that means you are contributing $1,500 from your salary, and your employer is kicking in an additional $1,500 for free!
The catch is that in most cases in order to get the employer match, you need to contribute some money to your 401(k) first. Here are some common examples of 401(k) match programs:
Employer matches 1:1 up to 3%. To maximize, you contribute 3% and your employer contributes 3%.
Employer matches 1:1 up to 5%. To maximize, you contribute 5% and your employer contributes 5%.
Employer matches 0.5:1 up to 6%. To maximize, you contribute 6% and your employer contributes 3%.
If you have an employer match, you need to take advantage of it if you can.
Pro Tip:
Check out
Blooom
, the robo-advisor that will perform a free "health check" on your 401(k) to let you know how you're doing.
5. Earn Interest on Your Savings
Using a high yield savings account is an easy way to get some extra money.
Traditional, big banks typically pay a lower interest rate (0.01%-0.05%) on the money you store with them. Online savings accounts can offer up to 10x more in interest payments per year!
Getting a new savings account could be the difference between earning a few dollars, or a few hundred dollars every year.
Cit Bank offers a leading online savings account and is worth checking out. Though, they are not your only option, and you can get our full list of the best bank accounts here (including the best savings accounts).
Cit Savings
6. Negotiate Lower Monthly Bills
Are you overpaying for your cable, internet, phone, or another monthly bill?
Services like Trim and Billshark can help you find out.
Not only that, they can help negotiate lower bills on your behalf!
For example, Trim is a personal finance tool that offers a few services designed to save you money:
Negotiate lower monthly bills (cable, internet, phone, and medical)
Find and cancel unwanted subscriptions
Negotiate bank and credit card fees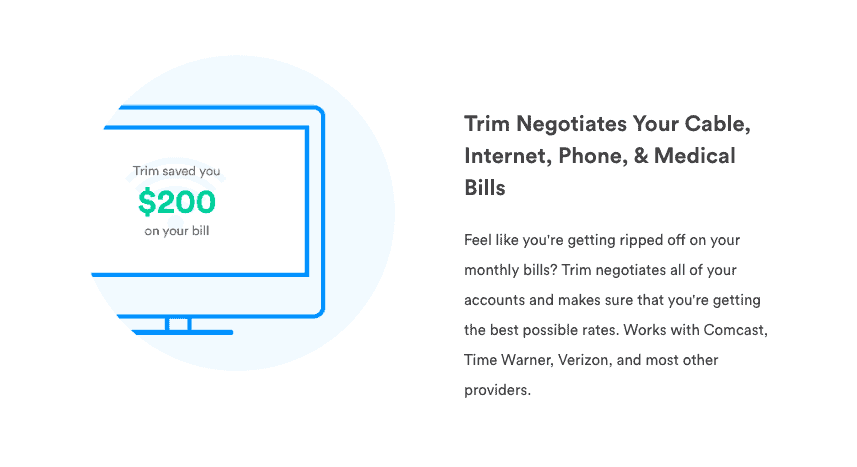 So far, people who used Trim have saved more than $20 million!
Try Trim
7. Lower Your Car Insurance
Gabi is another awesome tool design to help you save money. This time, by automatically finding you the best car insurance rates – for free.
Gabi works in three simple steps :
Provide some basic personal info
Connect your current insurance account
Gabi pulls up the best insurance policies for you to view
Learn more:
Check out our
full Gabi review
to learn more about how this service works and can save you money.
On average, Gabi saves its users $800 per year!
Plus, it's free to use, so there is no harm in trying their service to see if there is a better car insurance rate out there for you.
Try Gabi
8. Get Paid to Shop
Getting paid to shop is a tricky perk to navigate.
On one hand, you don't want to overspend or break your budget just to earn a few bucks in rewards.
On the other hand, earning and saving extra money on a purchase you were going to make regardless is awesome. It's literally free cash!
Rakuten (offers up to 40% cash back at over 2,500 stores) and Drop (a leading cash back app) are two services to check out that reward you when you shop online.
9. Earn Cash Back on Every Purchase
Another way to get paid to shop is to earn cash back with a rewards credit card.
There are a few different types of cash back credit cards that exist, but the most common one is a flat rate credit card. A flat rate card will offer you a percentage of cash back on every purchase that you make.
For example, 1.5% cash back rewards on every purchase.
For someone who spends $1,000 a month on necessities like food, transportation, and gas, you could be getting a free $15 per month by using a standard cash back credit card instead of a debit card or real cash!
10. Collect Sign Up Bonuses
Collecting sign up bonuses is one of the most common ways to get some free money fast. Credit cards, banks, investment apps, and online survey sites are just a few services that offer worthwhile bonuses.
Just remember to read the fine print and ensure you take the necessary action to earn the sign up bonus.
Here are some resources to check out to get started:
Credit Cards:
Typical fine print: Minimum spend in the first 3 months to qualify.
Banks:
Typical fine print: A new account minimum deposit to qualify.
Investment Apps:
Typical fine print: Usually, you just need to sign up.
Survey Sites:
Typical fine print: Take a certain amount of surveys after signing up.
11. Sell Your Unused Stuff
One of the fastest ways to earn free money is to sell old or unused items you have laying around your home.
I'm talking about things like old bikes, clothes, jewelry, and even electronics. You should consider unloading anything that you don't use or doesn't add value to your life.
Here are some of the most common places where you call sell your stuff:
12. Start a Low Maintenance Side Hustle
Starting a full-on side hustle, like a blog or flipping real estate, would not bring in any free money. That would be hard-earned money.
Though, taking on a more passive side hustle could be considered free money. A side hustle where you take some time to set it up, and then let it run on auto-pilot as best as possible.
Here are some ideas:
13. Get Free Stock
Free stock = free money!
I already mentioned a few of these platforms in the sign-up bonus section, but the below investment platforms offer free stock or free cash to users for signing up.
Most of these platforms are new and growing, and they want to continue to grow. This is how they incentivize new users to sign up:
Just remember, collecting free stock and sign up bonuses is great, but it shouldn't take the place of having a long term investment strategy in place.
Having the wrong investment strategy or investing in high-fee funds can quickly offset the benefit that comes with earning a free stock or two.
14. Refinance Your Loans or Mortgage
Student loan refinancing or mortgage refinancing can both be great ways to save money in the right market environment.
In simple terms, refinancing involves taking out a new loan to pay back your old loan.
For example, if you originally took out a loan with a 5% interest rate, but now you can get a loan with a 3% interest rate, you can use that new loan to pay off your old one. In the short term, you'll probably have to pay some fees, but in the long run, you'll save money by paying the lower interest rate.
This is most commonly down with mortgages and student loans. Credible is one company that can help you look into this to see if you can save money, particularly with student loans.
Try Credible
15. Save on Taxes
There are many ways to legally save on taxes, but one of the most common is to tax-loss harvest.
Tax-loss harvesting involves selling investments for a loss, but immediately buying similar investments to continue to hold a similar asset allocation.
Betterment is one of the leading robo-advisors that specializes in tax-loss harvesting and managing your investments for you. If you're interested in index investing but not sure where to get started, Betterment could be a good solution for you.
Try Betterment
16. Receive Dividends
Dividends might be the ultimate form of free money.
Yes, you do have to buy stock, ETFs, index funds, or some form of equity in order to receive dividends, but there is a reason some people make it their life goal to be able to live off dividends.
If you can stockpile enough money into the right types of investments, you could create a large enough dividend flow to live off.
For example, some companies pay dividends at a rate of 3% or higher. If you have an investment portfolio of $2 million (I know, this will take some time), you could earn an income of $60,000 per year without depleting your nest egg at all!
Even if you have just $10,000 in investments, an average 3% dividend would yield $300.
17. Find Unclaimed Money
I first learned of escheat when listening to one of my favorite podcasts, Planet Money.
I learned that Escheat, as Planet Money describes it, is like a State-run lost and found.
In summary, the government has the power to take control of its citizen's unclaimed assets, such as retirement accounts, insurance policies, and more. The intention of this process is to protect us against the companies that provide us with these assets from taking them. Although, sometimes the process backfires, and the government takes an "unclaimed" asset from someone who has no intention of giving it up.
Curious if anything has been wrongfully taken from you?
Check out Credit Karma, unclaimed.org, or your local state site to see if you have an unclaimed asset.
What to do With Your Free Money
There are a lot of things you can do with your newfound free money, although below are three of my favorite options if you get some cash that you need to utilize.
I know, they're not the most exciting options, but they are effective.
1. Pay Off Bad Debt
If you just received an influx of cash and are wondering what to do with it, one of the first things you should consider is to pay off any bad debt.
Bad debt is any debt with a high interest rate, like credit card debt, personal loan debt, and some types of student loans.
2. Save it!
Once you pay off bad debt, the next action to consider is to build up an emergency fund.
An emergency fund consists of money you stow away for a rainy day to cover unexpected expenses like medical bills, car repairs, or a loss of a job. Most experts recommend a minimum of 3 months of expenses saved up in an emergency fund, but the exact amount is up to you.
3. Invest Your Money
Last, if you still have extra cash, it's also not a bad idea to invest it.
In fact, it's a natural way to potentially keep the free money flowing through tax-loss harvesting (idea #15) and dividends (idea #16)!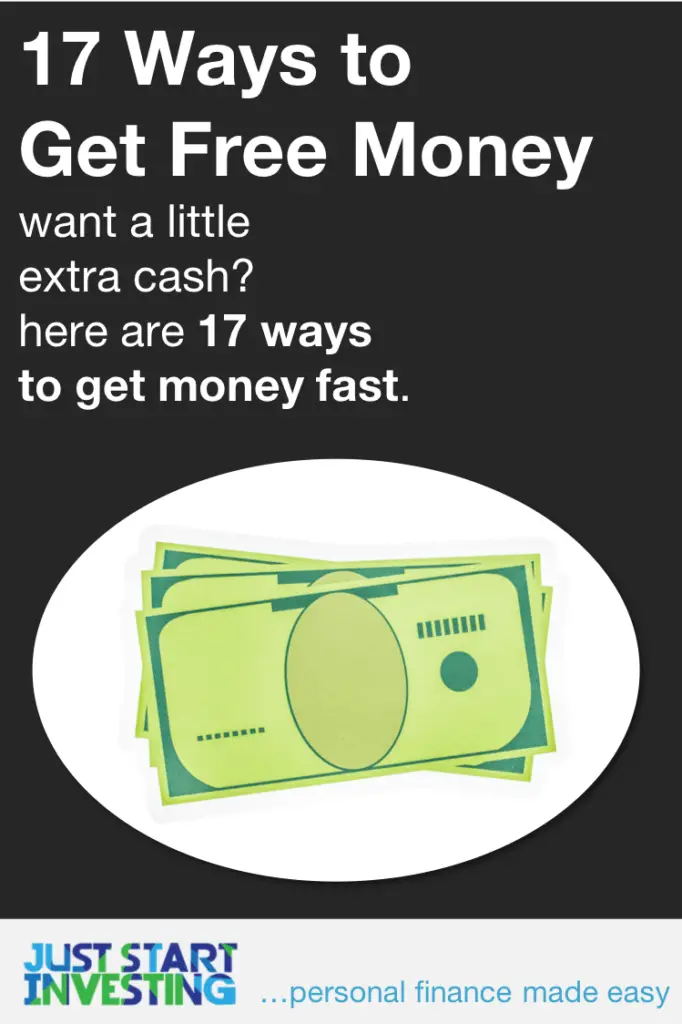 Summary: How to Get Free Money
As you can see, there are plenty of ways to get free money in today's world.
Some forms of free money are easier to attain than others, and some are more lucrative than others. At the end of the day, there is no shortage of ideas out there to earn some free cash.
Plus, there is no better feeling than getting free money! So pick one or two items on the list and get started today.
Just Start Investing is a personal finance website that makes investing easy. Learn the simple strategies to start investing today, as well as ways to optimize your credit cards, banking, and budget. Just Start Investing has been featured on Business Insider, Forbes, and US News & World Report, among other major publications for its easy-to-follow writing.