There are a lot of different ways to make 50 dollars fast, but some ways are faster than others.
I previously wrote about some ideas for how to make 200 dollars in one day, but there was a catch with those ideas. While you could do all the work to earn that money in one day, you didn't always get the money the same day or even the same month.
In this article, I'm focusing on the absolute fastest ways to earn $50.
You won't see anything that involves waiting months and months for a sign-up bonus or to collect your cash. Below are some fun and easy ways that outline how to make $50 in the fastest way possible.
How to Make 50 Dollars Fast in Five Steps
1. Play Games on Your Phone
Estimated Earnings: $5-10 | Estimated Timing: 30 Days
Start Playing
Mistplay is one of the best money making apps available to earn a couple of extra bucks. To be clear, you will not get rich overnight by using this app, but you can earn a few dollars relatively quickly by simply playing games on your phone in your spare time!
The app works in three simple steps:
Play games on your phone
Earn "units" as you play
Redeem your "units" for gift cards to Visa, Amazon, the Google Play Store, and more
And if playing games isn't your style, you could try Lucktastic, which is another app that gives you the opportunity to win real money by playing their free digital lottery.
You probably will not be as lucky as the man in Las Vegas who apparently won $1 million, but earning a few extra dollars is certainly within the realm of possibility.
With both of these apps, I estimate that you can have money in your hand (or bank account) in about 30 days. This is about the amount of time it will take you to play the games, earn rewards, and get them transferred over to you.
2. Take Quick and Easy Surveys
Estimated Earnings: $10 | Estimated Timing: 15 Days
Get Started
Survey sites are a popular way to earn money quickly, and there are plenty of them to choose from. Three of the most popular survey sites that allow you to make money online include:
If sign up and start using Swagbucks now you could earn a $5 sign-up bonus on top of the money you earn from taking surveys. Plus, Swagbucks is more than just an online survey site, and you can make money by watching videos, using their online shopping portal, and more!
The estimated timing to collect your cash depends on the survey site that you choose, but on average I would estimate about 15 days.
Based on the Swagbucks FAQ page, if you got paid to take a survey today, it would take a couple of days for the money to be available in your account. Then, another 10 days to redeem a gift card or transfer the money via Paypal.
And while $10 is a realistic estimate for potential earnings, you could earn upwards of a hundred dollars or more taking surveys, it just depends on how much time you invest!
3. Sell Some of Your Unused Stuff
Estimated Earnings: $5+ | Estimated Timing: 1-7 Days
Start Selling
One of the best ways to make money fast is to sell your unused items that are laying around your house or apartment.
This could be things like old clothes or jewelry, unused kitchen appliances, or an old bike. You know the saying… one person's trash is another's treasure.
Depending on the items you are selling and what city or town you are in, you could earn a few bucks or a few hundred bucks in a matter of days.
Obviously, opting to sell online through Facebook Marketplace or Craigslist is the fastest route to take, but if you have a lot of items you want to unload you could go the old-fashioned route and have a garage sale or a yard sale.
4. Cut Down On Your Monthly Bills
Estimated Earnings: $24 | Estimated Timing: 30 Days
Start Saving
Trim is a personal finance app that can save you money by negotiating lower bills on your behalf, finding and canceling unused subscriptions, and helping you better manage your budget.
Though, my favorite service that Trim offers is the bill negotiation service. On average, Trim claims it can save you $290 a year through its bill negotiation service alone, which comes out to $24 a month in savings!
To use the service, you simply sign up for Trim and provide them with the information on one or all of your monthly bills. This could include your phone, cable, and internet bill.
Trim will then contact your service provider on your behalf to negotiate a lower monthly payment. If they are successful in saving you money, they will take 33% of the savings. For example, if Trim saves you $430 a year, Trim will take about $140 for themselves, leaving $290 in savings for you!
If Trim is unsuccessful in saving you money, they charge you nothing. It's free to try and they only get paid if they actually save you money!
5. Do an Odd Job
Estimated Earnings: $20 | Estimated Timing: 7 Days
Start Working
Last but not least, you could do a one-off odd job to make extra cash.
Yes, there are alternatives to making money online!
Some ideas that require a little more work to bring in extra income include:
Mowing lawns
Shoveling Snow
BabySitting
Painting
Raking Leaves
Just think about things you have to do around your house that take up time and aren't necessarily fun to do, and there is likely someone else out there who will pay you to do those tasks for them.
It will probably take some time to find a paying customer, but if you hustle it should be easy to earn at least $20 in a week. At least, that was the going rate for mowing a lawn in my neighborhood growing up.
---
Between those five ideas alone, you can easily earn over $50 in less than one month! But why stop there…
Bonus: Three Best Ways to Make More than $50
Making money fast is not easy and you are often limited in the amount of money you can make. Below are three ideas that are more lucrative but also take longer to complete.
1. Earn Cash Back or Rewards with a Credit Card
Using a rewards credit card or cash back credit card is a great way to make extra money.
For one, the rewards alone can be worth hundreds of dollars. If you are using a standard 1.5% cash back credit card and spend $1,500 a month with your card, you'll earn $22.50 a month in rewards. That's $270 a year just for making your normal purchases with a rewards credit card!
Plus, a lot of credit cards offer sign up bonuses. Typically, you need to hit a spending threshold within the first three months of opening the card, but a welcome bonus is often worth hundreds of dollars if you are able to get it!
Just remember, you need to pay off your credit card on time and in full every month. Otherwise, you will be faced with debt, high-interest rates, and a falling credit score. Which is a trio you want to avoid.
Estimated Earnings: $270 / annually.
2. Switch to a High Yield Savings Account
Do you have an emergency fund or cash sitting in a regular savings account?
Most savings accounts from big banks pay next to nothing in interest. And while interest rates are currently very low in 2020, you can still make around 0.60% if you choose a high-quality high yield savings account.
For someone with a $10,000 emergency fund, that's $60 a year you could be making on your money through interest payments.
Get Started:
Check out
CIT Bank
, a leading high yield savings account provider to see how much more you could earn with your money.
Estimated Earnings: $60 / annually.
3. Start Investing
Last but not least, the absolute best way to earn extra money is to invest the money you already have.
Through compound interest, your money will grow exponentially over time. A $10,000 investment, assuming a 7% return, will grow to $10,700 in one year. However, after 40 years, it would be worth nearly $140,000!
Estimated Earnings: $700 / annually
---
Want even more money making ideas now that you know how to make 50 dollars fast? Check out some of our latest guides on how to earn quick cash: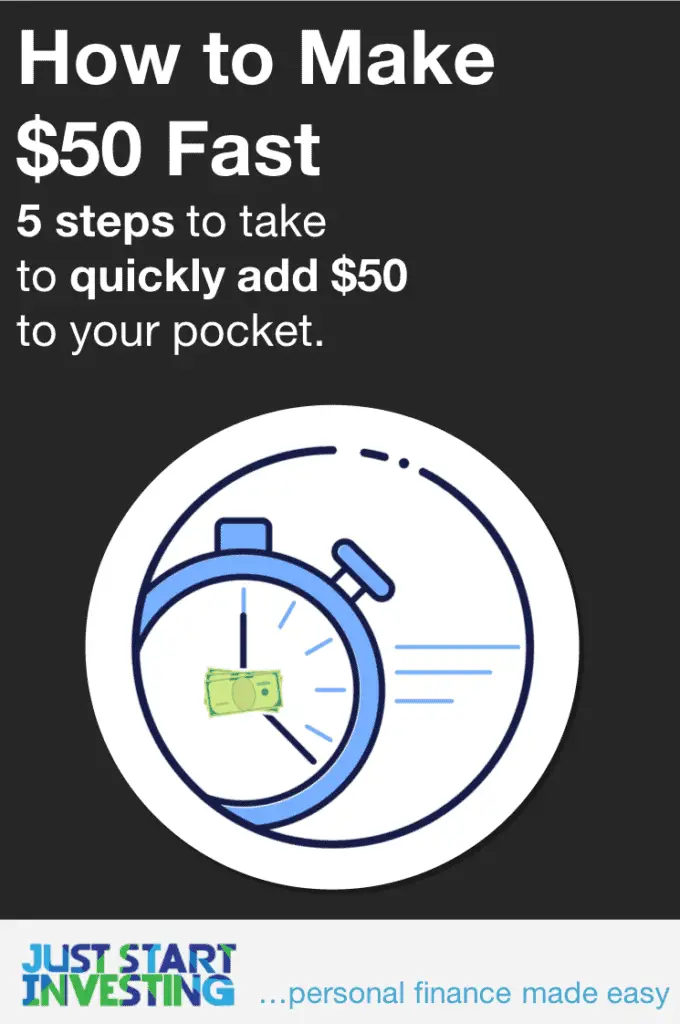 Summary: How to Make $50 Fast
At the end of the day, making $50 fast is not easy. In fact, earning any amount of money fast will take at least a little bit of work.
You need to be cautious of scams when looking for fast cash because in the world of money, if something looks too good to be true, it probably is.
However, you now know how to make 50 dollars fast with the five legitimate ideas above.
Just Start Investing is a personal finance website that makes investing easy. Learn the simple strategies to start investing today, as well as ways to optimize your credit cards, banking, and budget. Just Start Investing has been featured on Business Insider, Forbes, and US News & World Report, among other major publications for its easy-to-follow writing.