There are a lot of reasons you might need to know how to make 200 hundred dollars in one day.
Maybe you just need a little extra spending money, or maybe you're trying to accomplish a bigger goal, like:
Paying off credit card debt
Eliminating student loans
Saving up for a down payment on a car or house
Starting to invest in index funds
Investing in yourself with a course or new book
No matter the reason is, there are a lot of ways to make $200 fast. Today, we'll walk through the 10 best ideas to make some extra money.
10 Ideas: How to Make 200 dollars in One Day
1. Open a Bank Account
Many bank accounts will offer a sign-up bonus for new customers. Getting a sign-up bonus is one of the easiest ways to earn money! For example, CIT Bank.
If you don't have enough money to transfer to a CIT account to qualify for the deposit, don't worry, they still offer best-in-class interest rates!
As of Jan 2022, they're offering 0.29% interest on any account (with a $100 initial and ongoing deposits). If you deposit $25,000 or more, you'll earn a 0.45% APY!
The 0.45% interest is still better than the typical rate offered by big banks. For example, if you put $10,000 in the account, you'll make $45 in a calendar year.
CIT Bank isn't the only good option out there either. Do some research to find the best high yield savings account for you!
Make the Most of Your Money:
Open an account with CIT
today to start earning interest on your money, and maybe even a bonus too!
2. Cut Your Monthly Bills
Another form of earning extra money is saving money, and cutting down your monthly bills is one of the best ways to save money.
When you cut down on your monthly bills, unfortunately, you won't get your cash in one day. However, with only a few hours of work, you can set yourself up to save a ton of money down the line.
Plus, if you use a financial tool like Trim, the work that would normally take hours can be trimmed down to minutes!
Trim is a financial tool that does the heavy lifting for you, to help you:
Negotiate lower monthly bills (cable, internet, phone, and medical)
Find and cancel unwanted subscriptions
Negotiate bank and credit card fees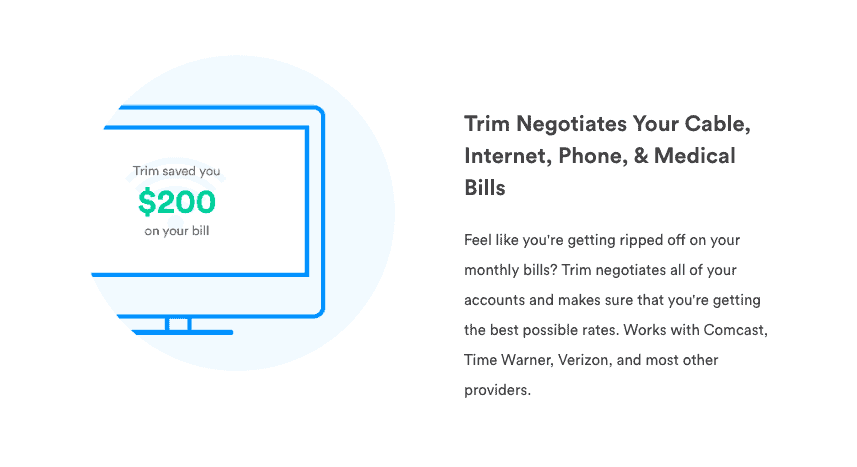 So far, Trim has saved its users more than $20 million by automatically taking care of their day-to-day finances.
Check out Trim to see how much you could save.
Bonus:
Check out Gabi
, a car insurance comparison platform, to see how much you could save on car insurance!
3. Sell Your Unused Stuff
One of the quickest ways to make money is to sell any unused stuff sitting around your house or apartment.
Things like old clothes, unused appliances, and out of style jewelry can all be sold to make some extra cash!
Here are some of the best platforms to sell your stuff on:
If you need some inspiration to help you get started, check out the site Millionaire Dojo. Nathan offers some of the best eBay selling tips out there.
4. Open a Credit Card
Again, this is another idea where you won't get cash today. However, you can take action now to get $200, $500, or even $1,000 three months from now!
How to do it: open a credit card.
Many credit cards, mainly the premium cards with annual fees, offer enticing sign up bonuses to try and attract new users.
The catch?
You usually have to spend a certain amount of money in a specific timeframe in order to get it. For example, spending $3,000 in three months.
The bigger the sign-up bonus offered, the bigger the spending requirement.
When getting these sign-up bonuses, it's important to remember not to overspend just to get the bonus. If you typically only spend $250 a month and go on a shopping spree to get the bonus, you negated any good that the bonus was going to bring by overspending!
Instead, it's best to sign up for cards where you can naturally hit the spending requirements. Or, where you can strategically pay up front for items to in order to hit the requirement. Like pre-paying gym memberships, vacations, and rent.
Last, it's worth noting that credit cards offer many advantages outside of the sign-up bonus. In fact, most credit cards pay you just for using them! Through the form of cash back, points, and other perks, most people make at least 1% back every month.
5. Freelance on Upwork (or other site)
Sites like Upwork and Udemy have made it easy for people to turn their skillsets into money-making side hustles. Making money online has never been easier.
Whether you have experience with graphic design, writing, proofreading, social media, teaching Spanish, or any other service that can be offered online, setting up a freelance profile on Upwork is the first step to profit off it.
Don't believe you can make significant money online? Just check out some of these rates for freelance logo design: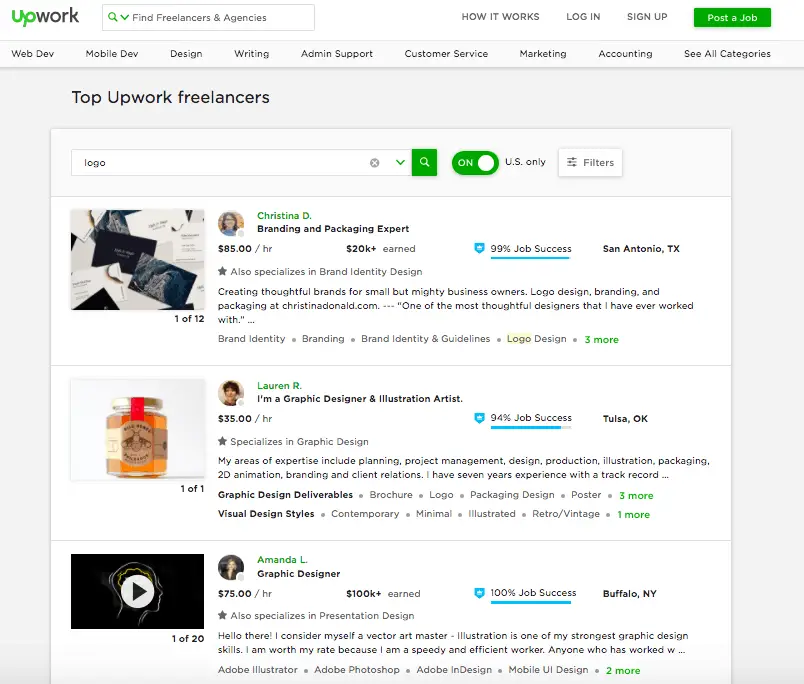 Just in the first few results, you see people charging anywhere from $35 to $85 per hour to design logos! That's a better hourly wage than most full-time jobs, and you'll likely see similar results for freelance writing, editing, and many other gigs.
Upwork is not your only option to make money online, either. Fiverr is another great freelance site to check out if you're interested in earning some side income.
6. Do Odd Jobs
Along the same lines as freelancing, there are many other "odd jobs" you can do to make extra money fast. These jobs don't require as specific of a digital skillset.
Usually, they simply require the motivation to get started. Here are a few examples:
Taskrabbit is the ultimate home of odd jobs! It offers a wide variety of ways for you to get paid:
7. Play Games
Mistplay is an android app that pays you to play games!
Yes, you read that right.
With this one, I'll be honest, it'll be pretty tough to earn $200 in one day. Though, it is relatively easy to earn some quick money. Getting $10 or $20 in gift cards in one day is not out of the question!
In this case, I think that earning something is better than nothing.
Bonus:
S'more
is another android app that pays you, except S'more give you free money in exchange for placing ads on your homescreen.
8. Take Surveys and Use Cashback Apps
Another idea that is good for earning $10 or $20 fast is taking online surveys. Companies are always conducting market research and looking for consumer opinions, like yours!
Plus, after a few weeks or months, you can easily make $200 or more by using a great survey site below.
Here are some of the best survey sites and online survey companies to start making money:
9. Rent out a Room or Car
Some of the best side hustles involve taking advantage of existing assets, like cars, spare rooms, and space in general. Typically, you can make a lot of money while not investing a lot of time.
Airbnb, as I'm sure you know, is an online marketplace for lodging. If you have a spare room (or even a couch), you could be renting it out to earn extra cash.
Turo is Airbnb for cars. At least, that's how I imagined the founders pitched it to potential investors. Anyway, you can use Turo to rent out your car, as Hertz would, and make money off an asset that loses value every day.
Spot Hero is a website and app that lets you rent out a spare parking space. It's a great way to turn some extra space into extra income.
Last, you could also make quick money by driving people around using Lyft and Uber. It's not passive income like some of the "rent it" options above, but it is a great way to use your car to make some extra money in your spare time.
10. See if the Government Owes Your Money
I first heard of escheat on one of my favorite podcasts, Planet Money. It was an infuriating episode to listen through, but you should definitely check it out.
I learned that Escheat, as Planet Money describes it, is like a State-run lost and found.
It is the process of the government taking control of our unclaimed assets (like retirement accounts, insurance policies, and more). On the one hand, this is a good thing, as it protects us against the companies who provided us these assets from using them and taking them from us. For example, Schwab couldn't just reclaim the $100,000 someone has sitting in an IRA but hasn't checked in on in years.
On the other hand, the government sometimes takes "unclaimed" assets when in fact, they could and should be claimed.
If this is piquing your interest, listen to that podcast episode linked above.
If this making you curious if anything has been taken from you, you can search for your state's unclaimed property site to see if the government has taken anything from you.
For Illinois, the site looks like this, and they have returned over $703 million in assets since 2015.
What to do with $200
Now that you know how to make 200 hundred dollars in one day, what should you do once you earn it?
Here are 4 ideas on how to use the money wisely:
1. Pay Down Debt
Specifically, pay down high-interest debt.
Typically, this is credit card debt, debt from a personal loan, or student loans with an interest rate of over 5%. Every dollar you can put towards debt will save you exponentially in the future!
2. Build an Emergency Fund
If you don't have an emergency fund of at least a few month's expenses, you might want to consider setting one up.
An emergency fund can help keep you from going into debt if you have a large unexpected expense or find yourself in a situation where you are unemployed. You can set one up with a CIT Bank account, too!
3. Start Investing
Yes, you can start investing with as little as $200!
Learning how to start investing is easy, too. In fact, that's one of the primary goals of Just Start Investing: making investing easy.
Charles Schwab is one broker that offers low-cost index funds and ETFs that make it easy to get started. You can check out our Charles Schwab Guide here.
Betterment is another option for new investors. They're a robo-advisor that does most of the work for you, and you can learn more about Betterment here.
4. Invest in Yourself
Last, but not least, you could invest in yourself!
Whether it's an online course you've always wanted to take, or a book you've had your eye on to help your career. Consider investing the $200 back into yourself.
Summary: How to Make 200 Dollars in One Day
Learning how to make 200 dollars in one day is the easy part, getting started and actually doing it is typically much harder!
I recommend starting with just one or two items from this list above and making money through those ideas, first. It's better to focus and master one or two money-making strategies before trying to tackle them all at once.
Once you've mastered one or two of the ways to make extra money, you can move on to another idea or two. The number of ways to earn extra money is nearly endless, you are limited only by your motivation to get started.
Just Start Investing is a personal finance website that makes investing easy. Learn the simple strategies to start investing today, as well as ways to optimize your credit cards, banking, and budget. Just Start Investing has been featured on Business Insider, Forbes, and US News & World Report, among other major publications for its easy-to-follow writing.