Choosing quality over quantity can be a wise decision in many aspects of life. It could save you money over the long run and leave you better off financially, and there are many other benefits to adopting this minimalist mindset.
From reducing stress to freeing up more time to do things you love, the benefits of opting for quality over quantity are nearly endless.
If you are struggling with maintaining a budget or just looking to improve your life, below you'll learn more about the quality over quantity mindset and how to apply it to various aspects of your life.
Quality Over Quantity Meaning
The saying "quality over quantity" simply means that you choose better things rather than more things.
For example, instead of buying five average t-shirts, you should buy one or two really high-quality shirts. Or, instead of picking up three books to rush through and read during a month, you take your time with one book.
Quality Over Quantity Definition: Choosing better things over more things.
To me, this concept has a strong connection to minimalism, which is a recent movement focused on finding freedom by uncovering what is really important to you. Typically (not always), many of the things you own are more of a burden than anything and don't truly add value to your life.
The "less is more" idea behind choosing quality over quantity can help prevent you from ever needing to purge a bunch of useless purchases. Obviously, no one will be perfect in only buying things you love, but this concept should be able to help.
It applies beyond just purchasing goods too. It can apply to relationships, your health, reading, and personal finance.
5 Benefits of Choosing Quality Over Quantity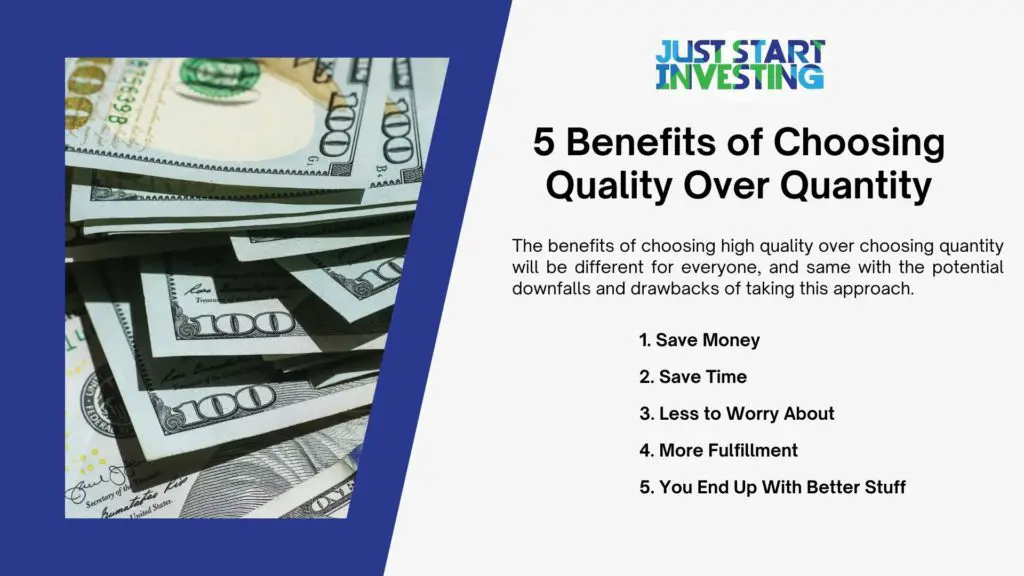 The benefits of choosing high quality over choosing quantity will be different for everyone, and same with the potential downfalls and drawbacks of taking this approach. However, below are five of the most significant and universal benefits.
1. Save Money
Choosing quality over quantity is a great way to save money in the long run.
The outlay upfront will be more with this method, which is not always possible depending on the person and situation. But if you can afford to spend more upfront, you can end up saving money over time.
As a straightforward example, let's say you are in the market to buy a new frying pan, and you are considering two options.
Option 1 costs about $20 and has an estimated lifespan of 3 years before it's scratched up and unusable.
Option 2 costs about $60, but it's much more durable and should last 25 years.
At first glance, a stingy person likely thinks the $20 option is the smarter purchase. However, the cost of that item actually comes out to $6.67 per year ($20 divided by 3 years). The more expensive $60 option comes out to $2.40 per year ($60 divided by 25 years).
This basic example doesn't consider the time value of money but still gets the point across—spending more money upfront saves you over the long haul when you are buying quality items that last longer.
2. Save Time
Having fewer things also saves you time.
For one, you shop less and can spend time doing other things you enjoy. Using the same frying pan example, instead of buying something every couple of years, you buy something once and are set for a much longer time.
Second, high-quality things also require less maintenance and generally work better. This means you need to spend less time on upkeep, and also leads to the next benefit – you have less to worry about.
3. Less to Worry About
When you buy quality items, you will have less to worry about for two reasons:
You own fewer things in general
The things you do own are more durable
Imagine owning four TVs. The chances of one of them breaking or needing to be replaced in a year are much higher than if you simply owned one. Well, the chances would be 4x higher, to be exact.
I know this example is a bit obvious, but it can really start to add up in life if you are consistently choosing quantity. When you expand beyond just TVs and look at all of the hundreds of things you own in your house, there is a lot that could wrong with any of them! By owning less, there is less that could go wrong.
This benefit applies to more than just owning physical items as well. For example, when investing, a simple 3 fund portfolio is much easier to manage than a complex portfolio of individual stocks, bonds, real estate, and more.
4. More Fulfillment
In theory, by focusing on quality over quantity, you can get more fulfillment from your purchases.
I think we can all admit that we have those purchases, whether it's an item of clothing or anything else, that we use one or two times and then forget we have them. Buying them was fun, but the value of owning the item was minimal since then.
On the flip side, we've also all likely had those purchases where we look back five years later and go, "that was one of the best purchases I've ever made; I use that thing all the time!"
Adopting a quality over quantity mindset can help you achieve more of the latter types of purchases.
Instead of buying low-quality items to get instant gratification or to practice retail therapy, you will only buy items that truly bring you value.
Again, like most of these benefits, this one applies outside of just physical items as well. For example, having high-quality friendships will likely bring more fulfillment than having a large number of acquaintances or distant friends.
5. You End Up With Better Stuff
The last example is a bit obvious, but you will end up owning nicer things.
You should not break your budget and justify overspending by saying, "Well, I am choosing quality today, so I can spend whatever I want!" But by mindfully spending money on high-quality things you value, you will start to accumulate a nicer collection of items that you genuinely enjoy.
Just remember to stay within your budget and not go into debt, which would offset any benefits that this mindset provides.
5 Best Areas of Life to Choose Quality Over Quantity
Choosing quality over quantity is most useful and apparent when purchasing items, but that is not the only area of life it can apply to. Below are five of the most common places when choosing quality over quantity makes sense.
1. When Purchasing Items
The best area to apply a quality over quantity mindset is when shopping or purchasing items.
All five of the benefits above apply to this area of life. Not only can you save money over the long term, but you can also save time, worry less, and end up owning nicer items.
Just remember not to break your budget, max out a credit card, or abuse buy now pay later apps to buy a high quality item – you still need to spend within reason.
2. Investing
Choosing a few high-quality index funds can be a good investment strategy. As mentioned above, a 3 fund portfolio is an effective investment strategy that is recommended by John Bogle, the founder of Vanguard.
Rather than having 10, 20, or 30 investment vehicles in your portfolio, you simply have a few high-quality ones that still provide diversification. This approach is much easier to monitor and manage and is still an effective way to invest.
3. Reading and Learning
You can't be an expert at everything.
If you spread yourself too thin and try to learn everything out there, you will likely end up burnt out and ready to quit. A better approach is to focus on a few areas you want to improve in and give 100% of your focus and attention to those areas.
One way to do this is to break down your goals into manageable timeframes.
If you have 21 books on your reading list, plan to read one or two a month to knock them out in a reasonable timeframe. Just make sure each one you choose to read is a high-quality book.
If you want to learn a new language, figure out how to play the piano, and also brush up on your coding knowledge, try tackling one at a time rather than taking on all three at once.
4. Exercise
Exercise is another area where doing a few high-quality workouts can yield better results than doing many workouts for a few reasons.
For one, if you are just starting out, it's safer and will help prevent overuse injuries. You should focus on good form rather than high quantity.
Second, it will save you time if you can get nearly the same results by doing fewer and more intense high-quality workouts.
5. Friendships and Relationships
Having a couple of deep friendships and relationships will probably bring more fulfillment than having countless acquaintances.
This realization becomes more clear thanks to social media. I'd guess that most people would be happier with five really close friends than with 500 friends on Facebook.
After all, best friends are the ones who can help you get through the lows of life and also celebrate the highs of life with you to make them feel more meaningful.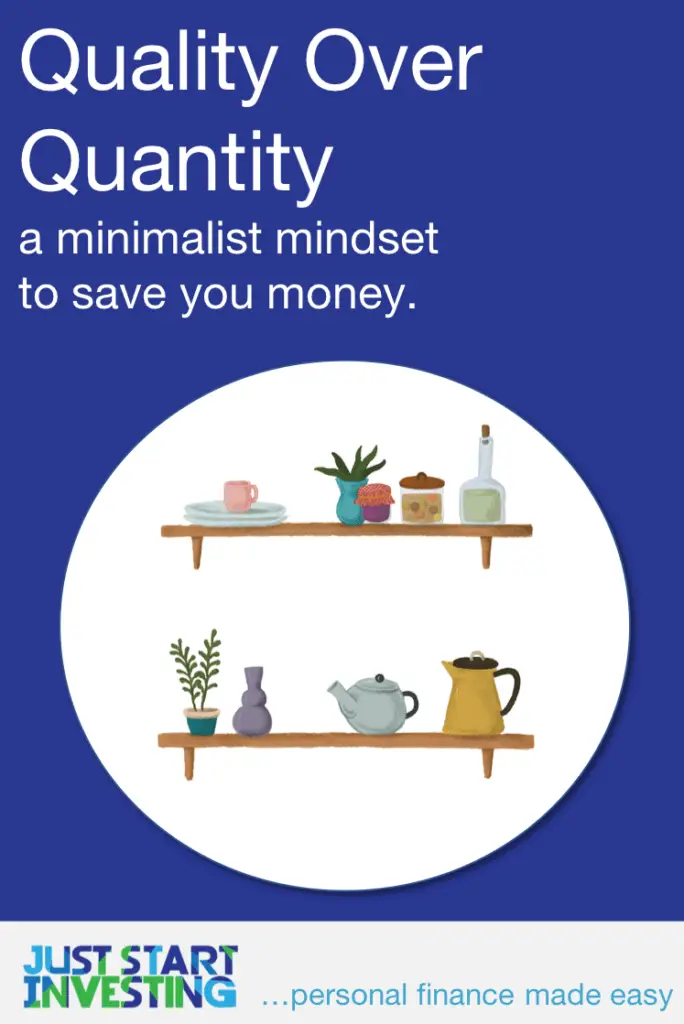 Summary: Quality Over Quantity
Focusing on quality over quantity is an awesome minimalist practice that benefits your personal finances, personal development, and life overall. Instead of having a constant desire for new and more things, you can choose quality instead and only purchase things that bring you value.
If you want to start practicing this mindset and don't know where to start, simply ask yourself before making your next purchase, "Is this item going to provide lasting value?"
If the answer is yes, it's most likely a high-quality item and a good purchase.
If the answer is no, you may find it wise to pass on it for a better item or might even pass on it altogether if it's something you don't truly need or even want.
Over time, purchasing items that only bring you to value and making one high-quality decision after the other will get easier and become second nature!
Just Start Investing is a personal finance website that makes investing easy. Learn the simple strategies to start investing today, as well as ways to optimize your credit cards, banking, and budget. Just Start Investing has been featured on Business Insider, Forbes, and US News & World Report, among other major publications for its easy-to-follow writing.