Buy now pay later apps like Klarna, Afterpay, and Affirm might seem like great products for consumers and businesses alike, but they come with a catch.
For consumers, these apps can help you pay for big-ticket items like a new mattress or television by breaking down the purchase into smaller, more manageable payments. However, these apps also come with potential late fees, high-interest rates, and subtle nudges to make you spend more than you can afford.
For merchants, these apps can increase customer conversion and bring you new business. Though they also come with fees that, on average, can be higher than typical credit card processing fees.
Below we'll walk through in more detail how these buy now pay later apps work, as well as the full list of pros and cons.
Buy Now Pay Later: How it Works
Different buy-now-pay-later apps work in different ways.
Some offer financing terms based on your credit score, and others offer interest-free loans if you opt to make payments quickly and on time. We'll walk through the details of the different apps further below. First, I wanted to look at an example of how this financing works using Peloton bikes.
Peloton Bikes: Affirm Example
I don't own a Peloton bike or plan to buy one, but I had a hunch they would offer a buy now pay later option for their bikes. And I was right.
When I visited their website, it quickly became apparent that Peloton partners with Affirm to offer its customers financing
You can see below how this works on their website. The "BIKE BASICS" package (the option on the far left in the image below) costs $1,895, but by utilizing Affirm, they can offer the package for as little as $49 per month for 39 months.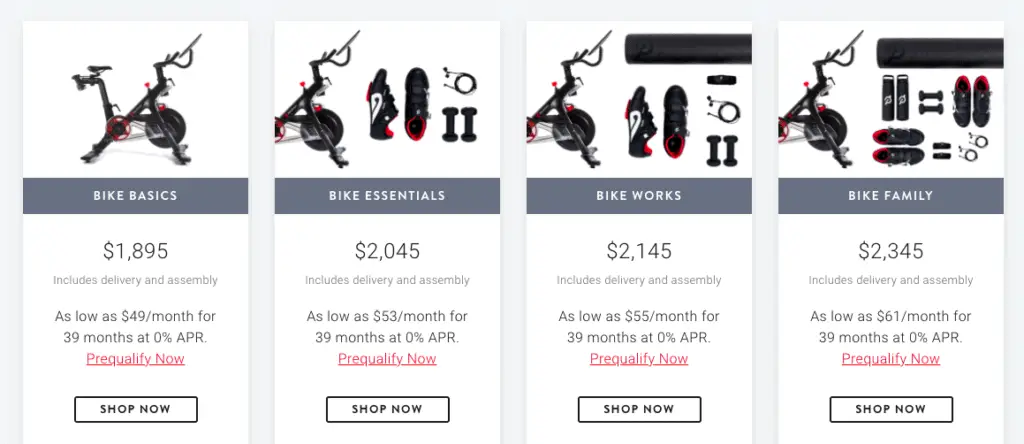 I was curious to learn more, so I clicked on the "Prequalify Now" red text.
It took me to the page below, where you can select between 12, 24, or 39-month payment options. A longer-term loan will come with a higher number of smaller payments.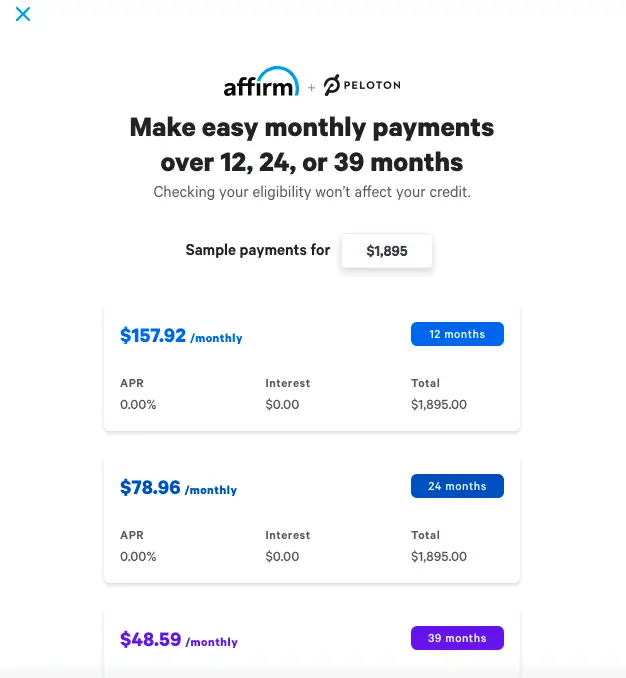 Once you select the length of your loan from Affirm, they ask for your phone number to kick off the credit check process. Affirm does a soft credit check from what I've gathered — meaning it will not negatively impact your credit score, which is a good thing.
You can see below what this page looks like from the Peloton website.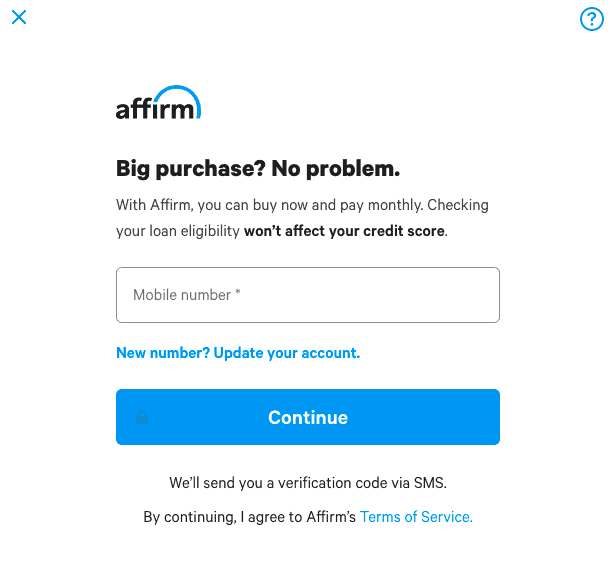 This is where I stopped in my Peloton-buying journey because I did not actually want to buy a Peloton, regardless of how small they could make my monthly payment with financing!
Though I do know that from here, Affirm would look at my credit score and other factors to determine what interest rate to charge for my loan. I am not guaranteed a 0% interest rate, and the $49 monthly payments, for a 39-month loan. Affirm could opt to offer me a 10% interest rate loan, which would mean my monthly payments would be higher, and I'd pay well above the $1,895 list price after the 39 months was over.
---
The above is just one example of how buy-now-pay-later apps can work. Below, we'll walk through some of the other popular apps out there and how they work.
Popular Buy Now Pay Later Apps
Affirm
Affirm offers different loan terms depending on the merchant. As noted above, their loan terms for Peloton were between 12 and 39 months, but they may offer terms between 3 and 12 months for a cheaper item.
Regardless, all of Affirm's loans are fixed-interest loans that range between 0% and 30% interest rates. Your credit score, credit history, and credit utilization, among other factors, determines the interest rate you receive from Affirm.
Klarna
Klarna is another popular buy now pay later app, but it offers more options for consumers than Affirm. Specifically, Klarna offers three different pay later options:
Pay in 4: With this no-interest payment plan, you would split the cost of your purchase into four equal payments that need to be made every two weeks, with the first payment being made at checkout. For example, if you buy a $1,500 mattress, you would owe $375 at checkout and make three additional $375 payments every two weeks.
Pay in 30: This is another no-interest plan. However, with the Pay in 30 plan, nothing is due at checkout and you simply need to pay off your item in full within 30 days of purchasing it.
Traditional Financing: Similar to Affirm, you can also take out a 3-36 month loan that would come with an interest rate between 0% and 29.99%.
The first two options are fantastic because they are interest-free options. However, if you miss your payments, you could end up in default or face late fees. Similar to credit cards, they are only useful if you can afford to pay them off on time.
Afterpay
Afterpay is similar to Klarna's "Pay in 4" option.
In fact, this is the only financing option Afterpay offers—an interest-free loan that has to be paid back via four installments that come due every two weeks. Again, as an example, if you buy a $100 item, you would owe $25 at checkout and then would make three additional $25 payments every two weeks.
Although this is an interest-free loan, similar to the other buy now and pay later apps, you will likely be subject to late fees if you miss your payments.
Quadpay
As you might have guessed from the name, Quadpay is a pay later shopping app that works like Afterpay and Klarna's "Pay in 4" plan. The only option they offer is to pay off the interest-free loan in four equal installments spread out every two weeks, with the first payment due at purchase.
Buy Now Pay Later Apps: Pros and Cons
Pros of Buy Now Pay Later
No-Interest Financing Does Exist: The biggest pro of these buy now pay later apps is that they do offer interest-free financing in some cases. For example, if you qualify for Klarna's "Pay in 4" plan, you can essentially get a 6-week interest-free loan. Similarly, if you can attain a 0% interest rate through Affirm, you could get an even longer-term loan without having to worry about paying interest. All other things equal, deferring payments with a 0% interest rate loan is almost always a good thing because of the time value of money (you could put the money in a Cit Bank Account and earn interest while you wait to make payments).
Typically No Hard Credit Check: From what I gathered, most of these apps perform a soft credit check before issuing a loan, so you don't have to worry about taking a hit on your credit score every time you apply for a pay-later loan.
Cons of Buy Now Pay Later
Risk of Overspending: Interest-free loans are mathematically a great thing for consumers, but they can also cause you to overspend, which is not so great. Take the Peloton "BIKE BASICS" package as an example-$1,895 is a lot of money, but $49 a month doesn't seem quite so bad. It can be easy to justify making big purchases by breaking it down into smaller payments, but at the end of the day, you have to realize you are still spending $1,895, even if you are only paying a dollar a day for 1,895 days. You need to stick to your budget and only spend money on items you can afford.
Interest Rates and Penalties: Not all buy-now-pay-later loans are interest-free, and those that sometimes come with late fees. Interest charges and other fees can quickly offset the benefit of a pay-later service.
Most Apps Don't Report to Credit Bureaus: Because of this fact, using these apps responsibly won't help you build your credit score over time.
They Charge Merchants, Too: Sometimes, you care about the retailer you are buying from, whether it's a small local shop or just a brand you really love. Buy now pay later apps can charge merchants more in fees than if you were to simply pay in cash or even with a credit card. For example, Klarna charges its retailers a $0.30 fixed fee and variable fees up to 5.99%.
Not Available to Everyone: Often, you need to have a good credit score, a high credit limit, excess money in your checking account, or some combination of those factors to get approved for a buy now and pay later loan.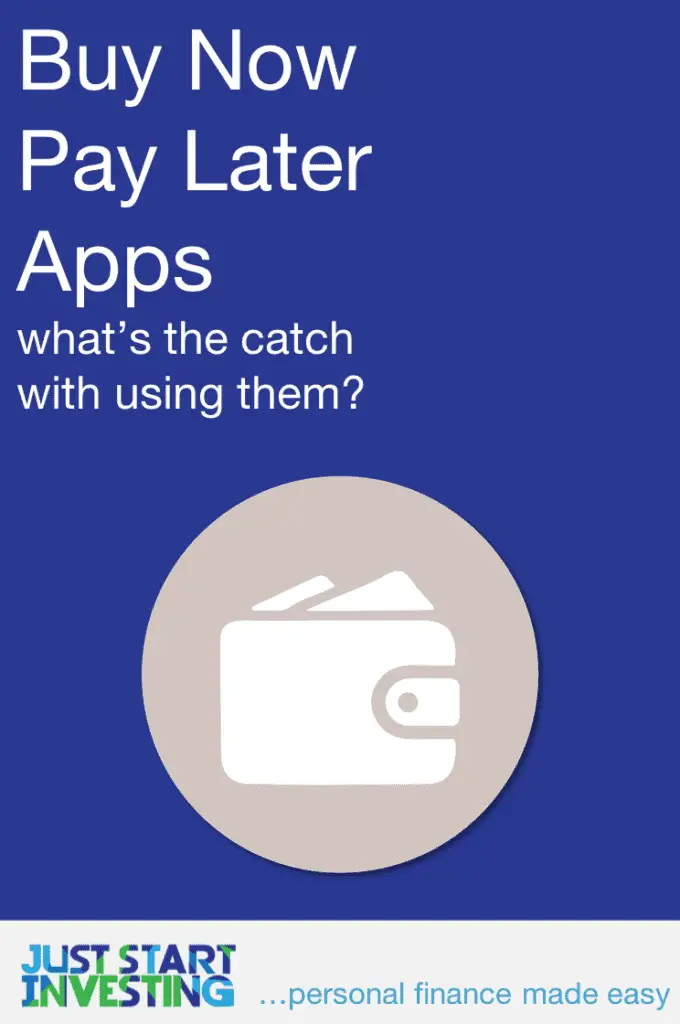 Should You Use Buy Now Pay Later Apps?
I think buy-now-pay-later apps can be a valuable tool for consumers looking for an interest-free (or low-interest) loan on a large purchase they need to make.
However, there are a lot of "catches" when it comes to these apps.
The biggest one for me is that it can incentivize you to overspend. You need to remember to use these apps as a tool to help you and not as a crutch to justify spending money on items that you know you shouldn't. In other words, spend responsibly.
The second catch is that you can also be charged with interest rates and late fees that you potentially didn't anticipate. It's important to fully understand the terms of the loan before agreeing to them, and once you do, you need to make your payments on time to avoid any additional fees.
Overall, I can see situations where you need to use one of these apps to finance a large purchase, and it's not a bad thing to use them in that case. But I wouldn't use these apps for everyday "wants" like a new pair of jeans, or for items that you can't afford.
Plus, imagine if you used a buy now and pay later loan for every single purchase you make… it's just a lot to keep track of! It's best to use these apps on rare occasions when you absolutely need to.
Just Start Investing is a personal finance website that makes investing easy. Learn the simple strategies to start investing today, as well as ways to optimize your credit cards, banking, and budget. Just Start Investing has been featured on Business Insider, Forbes, and US News & World Report, among other major publications for its easy-to-follow writing.