Choosing where to live is an important financial and personal decision. Financially, choosing a HCOL vs LCOL area can have an impact on how much money you are able to save every month. Personally, choosing a location that fits your lifestyle can have an impact on your happiness.
In this article, we'll focus on the financial implications of choosing where to live, but touch on some of the personal factors that you need to take into account as well.
In case you are not familiar, the acronyms HCOL and LCOL stand for "high cost of living" and "low cost of living", respectively. We'll dive more into those definitions below.
The Meaning of HCOL and LCOL
HCOL Definition
HCOL stands for "high cost of living" and the acronym is used to describe certain areas or cities. There is not a firm definition for a HCOL area, but generally speaking, if costs are "above average" then it is a HCOL area.
Of course, getting an average of something depends on your sample set and what you are comparing to. Comparing two or three cities will not be the same as comparing one city vs the national average.
For example, using Nerdwallet's cost of living calculator you can compare cities against each other to see which has a higher cost of living. Below, I pulled the data for three different cities to compare:
| | | | |
| --- | --- | --- | --- |
| | San Francisco, CA | Philadelphia, PA | Rockford, IL |
| Median Home Price: | $1,263,813 | $419,186 | $232,781 |
| Gas (Gallon): | $3.82 | $2.89 | $2.94 |
| A Loaf of Bread: | $4.59 | $4.49 | $3.47 |
| Yoga Class: | $21.14 | $18.40 | $12.83 |
While the above table does not contain exhaustive data, it does show the directional differences in cost between these three areas.
In the example above, San Francisco is the clear HCOL city, with Rockford being the LCOL city. However, just because Philly has lower costs than San Fran doesn't mean it's not a HCOL area. If you were comparing just Philadelphia and Rockford, then Philadelphia would be the clear HCOL area.
This is why your personal situation and the cities you want to compare matter when defining HCOL vs LCOL.
LCOL Definition
LCOL stands for "low cost of living" and is used to describe areas and cities that are below average in overall costs. Speaking of, "cost of living" is also a term that should be defined.
In the above table, we looked at costs within a few different areas to try to get a sense of the cost of living, including housing, transportation, food, and entertainment. Cost of living would also include taxes and anything else that you spend money on. It's meant to be comprehensive.
Cost of Living: The total cost to live in a certain area, including housing, transportation, food, entertainment, taxes, and all other expenses.
Back to the LCOL definition, the clear LCOL area in the table above is Rockford, IL. While it's not the cheapest place to live on every individual measure (i.e. gas), overall it is the lowest cost place to live in the set of three cities.
MCOL Definition
MCOL stands for "medium cost of living", at least that is how I interpret the acronym. Essentially, it's referring to any area that has an average cost of living.
For example, when looking at the three cities above in isolation, Philadelphia could be considered the MCOL city, as it represents the median between the three choices.
However, compared to the national average, Philadelphia is actually an HCOL area. Again, this is why it's important to define your sample set before diving into the definitions of HCOL vs MCOL vs LCOL areas.
What to Consider When Choosing Where to Live
Choosing between HCOL and LCOL isn't just about cost, although that does play a big role. You also need to consider other financial and personal metrics.
Some of the more important factors that you need to consider are:
Earning Power (Household Income)
Taxes
Education
Quality of Life
Proximity to Friends and Family
Transportation Access
And more…
To simplify it, the factors can be broken down into financial and personal considerations. A financial factor would be things like income, taxes, and cost of living. Personal factors would include education, closeness to friends, and quality of life.
Financial factors are easy to measure. Using a tool like Nerdwallet's cost of living calculator mentioned above makes it very easy to compare and contrast the cost of living between two areas.
Also, it's important to note that cost is not always the most important financial factor to measure. You should be focused on net savings, or your income minus your costs.
Personal factors, on the other hand, are a little harder to quantify but are equally important. There is no point in saving a ton of money by living in a LCOL area if it makes you unhappy.
Let's walk through the pros and cons of HCOL vs LOCL areas to dive more into the details.
HCOL vs LCOL: The Pros and Cons
HCOL Pros
Better Quality of Life
Generally, areas cost more to live in for a reason.
Either they are a desirable city with a lot of amenities (like New York City), a coastal town with access to the beach (like San Diego), or have other benefits that are building up demand and inflating the price to live there.
If a HCOL area doesn't offer a better quality of life, then you likely shouldn't even be considering it in the first place. Unless you are being offered a high-paying job…
Higher Paying Jobs
Again, on average, HCOL areas tend to offer higher-paying jobs.
The key is to make sure your income will be high enough to offset the higher cost of living and still leave you with money left over every month. This net savings is what you should be comparing against your other options.
HCOL Cons
High Costs
Obviously, HCOL areas are high in cost.
This doesn't mean that you can't live a stingy lifestyle in a HCOL area and save a lot of money, it just means that will be harder to do. Therefore, it will be harder to save money as well.
Not Always Offset by Income
High paying jobs are not always available to everyone in HCOL living areas.
If you can't offset the high cost of living with a high income, you'll end up with a lower savings rate, and potentially even saving no money at all.
LCOL Pros
Low Costs
Again, an obvious one, but low costs are the biggest pro of LCOL areas!
Potential to Maintain Earning Power
One huge opportunity when moving to a LCOL area from a HCOL area is trying to maintain your earning power.
Doing that successfully is called geoarbitrage, which is where you can take advantage of living in a lower cost of living area. When you maintain your earning power and move to a low cost of living area, you increase your net savings and put yourself on a faster path to financial independence.
Can Find Hidden Gems
Some LCOL areas are likely unquestionably undesirable areas for you to live in, but there can be hidden gems.
Maybe your entire family lives in Rockford, IL and you want to be close to them. That could make Rockford a hidden gem for you!
Similarly, if you love being off the grid and getting outside, you should have no problem finding a LCOL location to fit your lifestyle.
The best way to make a low cost of living area work for you is to find that fits all of your personal needs, without sacrificing too much on earning power.
LCOL Cons
Potential Lack of Jobs
Living outside of an expensive city and in a LCOL area could mean a lack of jobs, especially high paying jobs.
Even though your home might be cheap and gas under $3, you still need to make enough money to cover expenses.
Potential Lack of Amenities
On the same note, living in a LCOL city may mean having less access to amenities.
After all, San Francisco likely has enough restaurants to last a lifetime, while in Rockford you may run out of new places to try in a few months.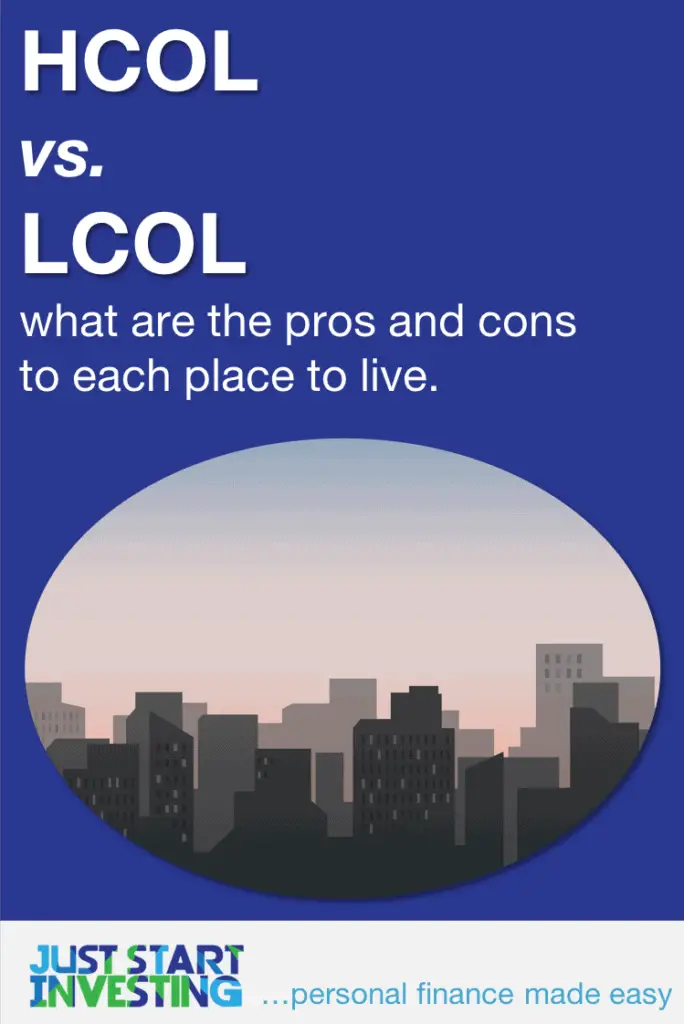 How to Choose: HCOL vs LCOL
From a financial standpoint, the key thing to consider when choosing between a HCOL and LCOL area is what your net savings will be.
Your net savings can be calculated by subtracting all of your expenses from your income. It helps take into account both earning power and cost of living. After all, moving to a low cost of living area does you no financial good if your income declines at the same time (unless you are retiring).
Then, you need to factor in lifestyle benefits to the decision. For example, if you could net an extra $10,000 living in the midwest compared to sunny California, but you love the ocean, you need to decide if the $10,000 is worth not having access to the ocean.
The same logic can be applied to things like proximity to friends and family, access to public transportation and entertainment, and more. Typically, moving to a LCOL area comes with tradeoff on the personal front.
Putting both financial and lifestyle factors together, you can make a decision on what is the best place to live for you.
Just Start Investing is a personal finance website that makes investing easy. Learn the simple strategies to start investing today, as well as ways to optimize your credit cards, banking, and budget. Just Start Investing has been featured on Business Insider, Forbes, and US News & World Report, among other major publications for its easy-to-follow writing.