A great way to build wealth is to acquire income producing assets that put your money to work and create multiple streams of passive income.
In fact, it's probably one of the best ways to reach your retirement goals and financial independence.
The reason why is because we all have one thing in common: we only get 24 hours in a day. We have a limited amount of time that we can directly trade for money.
Income producing assets allow you to take your already hard-earned money and multiply it while you sleep.
What are Income Producing Assets?
An income producing asset is something valuable that you own and that has the potential to make money.
Sounds pretty simple, right?
That's because it is. Don't let the formal sounding name make you think it's something out of reach, like a complicated Limited Partnership or a fancy hedge fund.
Income Producing Asset Definition: Something valuable you own that generates a recurring cash flow or return over time.
An income producing asset can be something as simple as an interest-bearing savings account. It could also be real estate, equity, or a business that you own.
As you'll see in the list below, there is no one-size-fits-all income producing asset. Multiple options exist for various situations and goals.
By investing in one or more of these assets, you'll be able to create passive or semi-passive streams of income, enabling you to earn money while you sleep, drive, vacation, and live your day-to-day life!
14 Best Income Producing Assets
1. Interest-Bearing Checking and Savings Accounts
We'll start with the easy one and work our way up…
An interest bearing account is a great way to earn reoccurring revenue on your savings within a safe, FDIC-insured account. As you'll see, as we work our way down the list, these assets and investments carry some degree of risk. A riskier asset usually generates a higher potential return.
A bank account is one of the least risky income producing assets that exist. Therefore, you should expect a smaller return.
Especially right now (Jan 2021) when interest rates are basically at an all-time low!
The best type of account to consider here would be a high yield savings account or money market account. Typically, you will get the best return on your money when compared to regular checking or savings accounts.
You could also consider a prize-linked savings account, like PrizePool.
Get Your First Income Producing Asset:
Cit Bank offers a high yield savings account that generates income on your savings. Check them out
here
to sign up today.
2. Certificates of Deposit (CDs)
Certificates of Deposit, or CDs for short, are another type of interest bearing account.
They typically offer slightly better returns than high yield savings accounts because they are less liquid. With a high yield savings account, you can access your money at any time. With a CD, you agree not to withdraw your money for a specified period of time. If you withdraw early, you typically pay a penalty.
The longer the term of the CD, the better return you can expect. For example, as of December 2020, here is what Discover is offering with their CD interest rates:
6-Month: 0.25%
12-Month: 0.50%
3-Year: 0.55%
5-Year: 0.60%
…as mentioned earlier, rates are low right now.
3. Bonds
Bonds are a step between bank accounts and equity investing, both in risk and potential return.
For example, a typical bond fund would return anywhere from 1.5% – 3.0% right now.
Many types of bonds exist for you to invest in and generate income from, but one of the easiest ways to do it is through bond index funds and ETFs.
4. Equity: Dividend Investing
Stock and equity can not only grow in value, but many companies also pay dividends to their shareholders. These dividends generate income that you can either spend or reinvest into your existing positions.
Dividends are how publicly traded companies share their profits with their investors. You may never work for one of the companies you own stock in, but you can make money as they make money!
You have a few options when it comes to dividend investing too.
You could invest in individual stocks, but that requires time to research companies and their financial performance and outlook. It also poses an increased risk if you don't properly diversify your portfolio when choosing dividend stocks.
A better option might be to invest in an index fund or exchange traded fund (ETF) that holds companies that pay dividends. You could opt for a dividend-focused fund, or a total stock market fund that holds some dividend-paying stocks and others that do not (growth stocks).
A great place to start investing in ETFs is Betterment.
5. Renting Out a Room
The next couple of income producing assets on the list start to focus on real estate.
Leveraging an empty room in your home is an excellent way to make money without much active effort or upfront investment.
Let's say you use one room in your apartment as an office. Can you move the desk in your bedroom and rent out that space? Sure, adding another person may seem like an assault on your privacy, but look at it with the glass half full – you have someone paying part of your mortgage/rent, splitting utilities, and maybe even take out the trash once in a while!
6. Real Estate Investment Trusts (REITs)
A Real Estate Investment Trust, or REIT, is a fund that invests in real properties, similar to mutual funds or index funds that invest in stocks and bonds.
There are many different types of REITs, from retail properties and shopping centers to senior care and medical facilities, as well as office complexes and industrial buildings.
VNQ and O are among popular REITs; just make sure you look at the property portfolio, geographic diversification, and financials to make sure it is a good option, just like evaluating any investment.
Start Investing in Real Estate:
Start investing in real estate today through
Fundrise
, a leading passive real estate investing company.
7. Buying Rental Property
The last and most involved real estate option on the list is to buy a physical property yourself.
It's relatively simple once you know what you're doing, but not necessarily easy or appealing to all.
With the housing market red-hot and consistently hitting records, purchasing a rental property might be out of reach for some. If starter homes in your area are not particularly expensive, and you can afford a 20% down payment (required for owning rental properties), then it is something worth examining further.
To bring this option to life, this is a high-level example of what a successful rental property investment could look like:
You purchase a $100,000 single family rental property and put 10% down, taking out a $90,000 loan. With a 30 year loan and a 4% interest rate, your monthly payments for your mortgage and interest would be about $600.
Ideally, you'd be able to rent this place out for $1,000 per month, generating a $300 passive income source every month (budgeting $100 per month for insurance, upkeep, and repairs).
This property would yield $3,600 per year in net rental income, or a whopping 36% annual return on your initial $10,000 investment!
Obviously, this is an ideal rental scenario, but it shows the potential that this income generating investment can offer.
Plus, depending on the return in the real estate market, you could sell this asset for a return 10, 20, or 30 years from now. Or continue to earn passive income ongoing and pocket the monthly cash flow.
8. Sell Your Photos
Now we are entering the side hustle portion of the list!
When it comes to selling photos, you can use platforms like FOAP or Shutterstock to submit photos you take with your phone or camera.
Once you get the hang of taking captivating shots and highly sought-after images, you can start to build a reputation and easily earn money on photos that you list on a platform, even while you sleep!
9. Create an E-course
Remember when we said that some income generating assets take more upfront work? Creating a course can be considered one of them.
Don't let that deter you, though!
Many people without a teaching background have successfully launched a course or even several courses that continue to generate income from online students that enroll in them.
Creating a course is a perfect option for someone who has a skill or passion for a particular subject that they can monetize.  There are courses on SEO, pottery, cooking, carpentry, blogging, real estate, and more!
Check out sites like Teachable and SkillShare to learn more about this option.
10. Create YouTube Videos
We've all been watching (or binging) YouTube videos for over a decade, but have you ever wondered what people make on YouTube?
Here's a little trivia for you, do you remember the name of the 7- year old kid who made over $22 million in a year by playing with and reviewing toys?
While that is a rare occurrence, many people are making several hundred if not thousands of dollars per video.
YouTube offers one of the best income producing assets within the side hustle category because YouTube videos are free to watch, so you don't have to convince people to buy anything.
You create a video with compelling content, maybe with some affiliate links in the description, and make money off the ads included in the video.
11. Write an E-book
Writing an e-book is similar in concept to creating YouTube videos or a course.
It is another strategic way to diversify your income stream while also appealing to a broader audience. With Amazon's Kindle Direct Publishing, pretty much anyone can upload a book, create a cover, and offer it on the Amazon marketplace.
Though, to be successful, you'll also want to offer a unique book which there is a market for, edit it professionally, create a compelling cover, and also have to market it!
Once you start to build an audience and garner reviews, your book will appear in more searches, and thus you'll begin to create an income stream from something you're no longer actively working on.
12. Peer-to-Peer Lending
Peer-to-peer lending, or crowdfunding, is a form of borrowing where instead of using a bank, borrowers connect directly with individual lenders through platforms like LendKey.
As such, peer lending eliminates the middleman resulting in better loan terms and other benefits.
It's a unique way to potentially generate returns from investing in other people's business and products.
13. Farmland
Investing in farmland is similar to investing in real estate.
FarmTogehter is one company that makes it very easy for investors to purchase farmland to earn recurring rent from farmers and hopefully see their property increase in value over time.
Again, this is another unique option that requires some research before diving in.
14. Other Businesses
Last, any business that you start has the potential to be an income generating asset.
We mentioned a few ideas above in the list, from e-books to online courses, but that is only scratching the surface of ideas for businesses that can generate income. Whether you have a passion or particular skillset, you can potentially turn it into a profitable product or business that generates revenue for you month after month.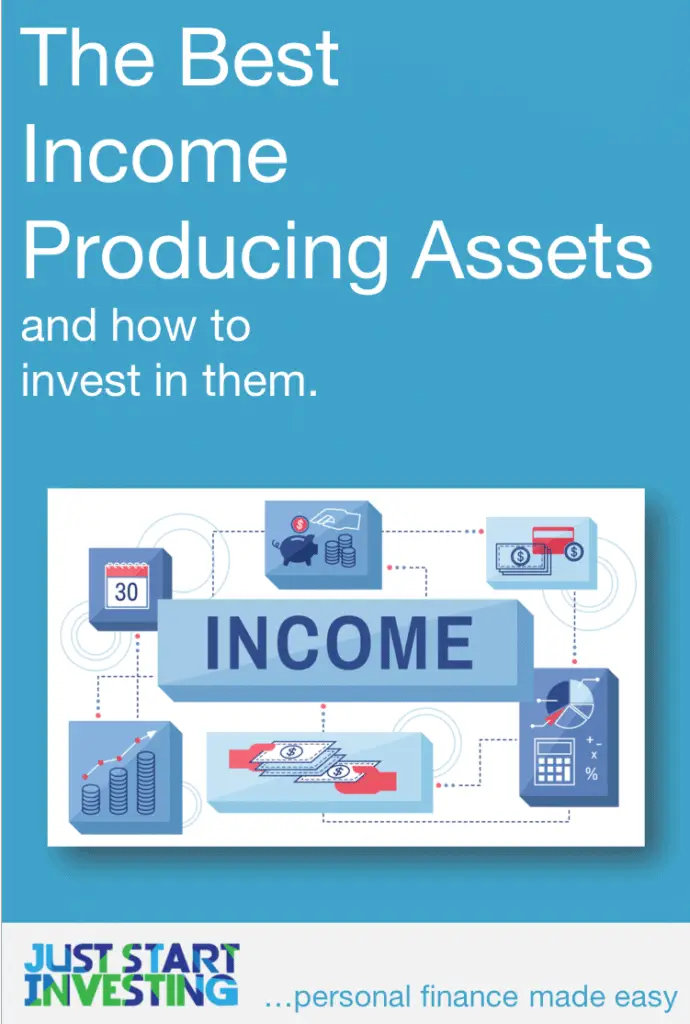 Summary: Best Income Producing Assets
As you can see, there is an exhausting array of ways to generate passive income by acquiring income generating assets. All of which can improve your personal finances and help you on your journey towards financial freedom.
I know you might look at this list and say, "You want me to write a book and create an online course after work? I thought these were supposed to generate income for me, not add extra work!"
Keep in mind, the items on this list span a spectrum.
Some assets require very little work and upfront capital and typically offer smaller returns.
Others might require a lot of work or a more significant upfront investment, but they usually have the prospect for better returns over time.
You have options when it comes to the best income-producing assets, so pick the couple that seem like they will work best for you, and start accelerating your net worth growth today!
Gary Grewal is a financial planner, entrepreneur, and author of Financial Fives: The Top 325 Ways to Save, Earn, and Thrive to Retire Before 65. He also writes at financialfives.com.