With the release of the final James Bond movie that Daniel Craig starts in, we thought to look at the actor's net worth. Daniel Craig is quoted as the best James Bond ever. His portfolio of Bond movies includes Casino Royale, Quantum Of Solace, Skyfall, Spectre, and No Time To Die.
Despite being a fabulous Bond actor, Daniel Craig isn't the Bond actor with the highest net worth. That title goes to the ever handsome Sean Connery.
Since Daniel Craig is always in the spotlight, what better way to highlight his lucrative acting career than to showcase his actual net worth.
| | |
| --- | --- |
| Net Worth: | $160 Million |
| Born: | March 2nd, 1968 |
| Source of Wealth: | Actor, Voice Actor, Producer, Soundtrack |
| Nationality: | England |
| Updated: | 2021 |
Daniel Craig Net Worth
So how did Daniel Craig amass his millions? Let's look at that.
Early and Personal Life
Early Life
Daniel Wroughton Craig was born March 2nd, 1968, to Timothy and Carol Craig in Chester, England. At a young age, Craig took an interest in acting. After the separation of his parents, Craig spends his early life with his sister in Liverpool. At the Liverpool Everyman Theater, Craig began his acting career from a very early age. Daniel has said that his mother was the primary drive for him to go into acting. His first taste for the art came at the age of six, where he starred in this primary school's play.
From a very early age, Daniel had seen Bond movies. His first Bond movie was Roger Moore's Live and Let Die. His first Bond viewing experience was with his father. Considering that Daniel hadn't seen his father as much due to the separation, the movie inspired Daniel to continue his pursuit of an acting career.
By the age of 16, Daniel had starred in several plays. Those include Romeo and Juliet, Cinderella, and Oliver, all at his High School. It was then that Daniel decided to audition at the National Youth's Theater in Manchester. His love for Liverpool has made him a Liverpool FC supporter, but his love for acting had sent him to London. Unfortunately. his acting career didn't go to plan. Quite the opposite, he was considered a struggling actor. Because of this, Daniel spent a lot of time washing dishes at restaurants around London.
But he wasn't going to give up. His chance to revitalize his acting career came in 1988 when he got accepted at the Guildhall School of Music and Drama. There, he studied with some of Britain's rising movie stars. The list includes the likes of Damian Lewis, Ewan McGreggor, Joseph Finnes, and more.
Under the tutorage of Colin McCormack, Daniel graduated and made his first movie debut in 1992 in the movie The Power of One.
Personal Life
There is no escaping the fact that Daniel Craig is a handsome man. So there is no surprise when we tell you that Daniel has had quite a few relationships and a few marriages. His first taste of love came in 1992 when he married fellow actress Fiona Loudon. The marriage didn't last long, and they separated in 1994. They did have a daughter together, Ella Craig.
The next love endeavor was with German actress Heike Makatsch. They didn't marry, but the relationship did last for several years before eventually ending in 2004. In 2005 he dated Satsuki Mitchell. and the pair had engaged. The relationship lasted for five years before both of them split. So far, Daniel has had quite a few failed relationships and a failed marriage. But in 2010, it all changed. This was the year where Daniel met his current wife, Rachel Weisz. It is widely reported that they live a happy life and are even happier married.
In 2018, Rachel gave birth to their child, an adorable baby girl who the pair never made the name public. But according to some sources, his daughter's name is Grace.
As mentioned previously, Daniel Craig is a huge Liverpool FC fan. But he also loves rugby, having played it from an early age. Daniel has said that he always watches Liverpool's games whenever he can. In 2019 Daniel gained American citizenship and was appointed to the status of a Commander in the Royal Navy. This was an honorary rank for his James Bond role since James Bond is a Royal Navy Commander.
Daniel Craig Net Worth of $160 Million
Daniel Craig is no stranger to making millions of dollars from acting. Unlike other actors, he makes most of his money from acting.
Acting
Daniel Craig has quite the acting portfolio to back his millions. From the very first acting role in 1992's The Power of One to the latest Bond movie, No Time To Die, Craig has constantly appeared before the big screen. His most notable role includes James Bond, but he also captivated the audience for his acting in Knives Out as detective Benoit Blanc.
Between the five Bond movies, Daniel Craig starred in numerous other films such as The Girl With the Dragon Tattoo, Defiance, Cowboys and Aliens, Munich, and more. He is credited for 73 actor roles and a couple of voice acting gigs, most notably for James Bond video games.
His biggest acting paycheck was for the two Knives Out movies, amassing a total of $100 million! For Spectre and No Time to Die, Daniel Craig made a total of $55 million. That puts Daniel Craig's net worth at $155 million from those four movies alone. Due to his successful acting carrier, many ask the question of what Daniel Craig's net worth actually is. But considering that Craig lives an expensive lifestyle, with multiple multi-million dollar properties all around the world, it will take one or two blockbuster roles to break the $200 million barrier.
With all that said, Daniel Craig is one of the most expensive actors in the world, slightly behind Dwayne "The Rock" Johnson.
Television
Daniel certainly is no stranger to television roles. Before his debut as the new James Bond in 2006, Daniel appeared in quite a few television series. The most notable ones are Convington Cross and Boon, where he appeared in two episodes. This helped Daniel secure a couple of other roles the following year. In 1993, he appeared in Zorro, Drop the Dead Donkey, Between the Lines, Screen Two, and Shape's Eye.
His most successful television role was the 1996 British Television drama, Our Friend in the North. He made a total of 8 appearances in the highly successful BBC drama written by Peter Flannery.
Daniel Craig Charity and Humanitarian Work
While everyone is quick to point out that rich people aren't humanitarians, that cannot be said about Daniel Craig. Having grown up in a relatively middle-class family, Daniel certainly knows his roots. Having lived in Liverpool, which is a very socialistic city in England, Daniel understands the importance of giving to those who need it.
As such, Daniel took part in one of the biggest charity events ever; the 2007 UK Comic Relief charity fundraiser. The event raised more than $90 million. Some of his other humanitarian work includes raising awareness for AIDS, funding a Mongolian hospital, and doing tons of humanitarian work in Kenya. Daniel is also involved with an organization called Opportunity Network. The goal of the organization is to provide low-income students with access to education in the New York area.
With tons of other fundraising and charity events, Daniel Craig has cemented himself as one of the world's caring James Bond actors.
Lessons From Daniel Craig's Path to Wealth
Being one of Hollywood's most successful actors, many would assume that Daniel Craig would leave his inheritance to his two children. But to a surprise to everyone, Daniel doesn't plan on doing that. The 53-year old revealed in an interview that he found inheritance to be quite "distasteful".
So what life lesson can we learn from this? Is giving away your fortunes something that more actors can learn? Daniel also said that "if you die rich, then you've failed". This philosophy perfectly aligns with Craig's humanitarian spirit. Even though he hasn't disclosed how much of his wealth he plans to give away, he did say that he doesn't plan on spoiling his kids.
If this came to you as a surprise, do know that Daniel isn't doing this for good PR. He has openly said that his children never fly first-class. His reasoning behind this decision is that they haven't earned anything in life to ride first-class. No doubt his two daughters will be quite displeased with Craig's comments, it is something that they will have to go along with.
Finishing Thoughts On Daniel Craig Net Worth
With a fortune amassing more than $160 million, Daniel Craig is one of the most successful James Bond actors. No doubt his Bond role is the highlight of his acting career, with five movies under his belt, it's too early for Daniel to retire. The future also looks bright with the upcoming release of Knives Out 2 and a third movie announced earlier this year.
His humanitarian work and philanthropic spirit teach us a valuable life lesson that says always to give what you can to those who need it.
Want to read more about what other celebrities are worth? Check out these articles: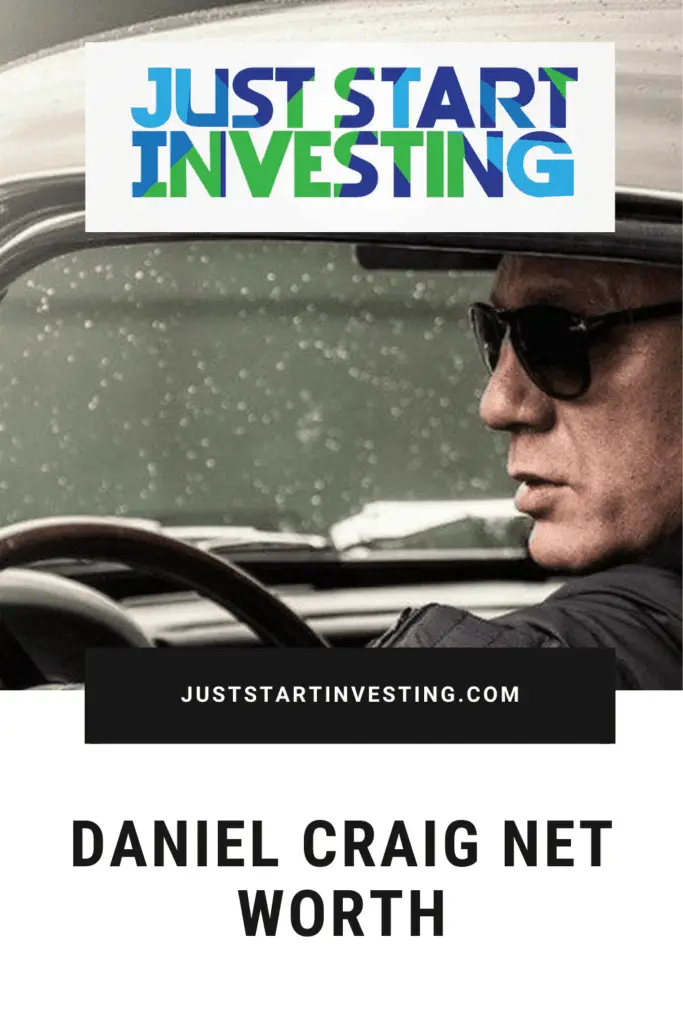 Just Start Investing is a personal finance website that makes investing easy. Learn the simple strategies to start investing today, as well as ways to optimize your credit cards, banking, and budget. Just Start Investing has been featured on Business Insider, Forbes, and US News & World Report, among other major publications for its easy-to-follow writing.