Lionel Messi Net Worth 2021: $400 million
Recent news of Barcelona minus Messi might have saddened the world, but that doesn't take away the Argentine footballer's legacy — especially the years of hard work which helped solidify it. 
| | |
| --- | --- |
| Net worth: | $400 Million |
| Born: | June 24, 1987 |
| Source of Wealth: | Professional athlete, Endorsements, Investments |
| Nationality: | Argentina |
| Last Updated: | 2021 |
Considered by many as one of the best players to ever grace a soccer field with his presence, I know some of you can't help but ask: "What is the net worth of Lionel Messi?"
Lionel Messi's net worth in 2021 is $400 million. The majority of which he earned from his years as a forward for FC Barcelona.
In a shocking turn of events, however, on August 10, 2021, it was announced that Messi is going to open a new chapter in his career as he leaves Barcelona to make Paris Saint-Germain his new home. 
Measure Your Net Worth:
You can create your own financial plan for free in just 5 minutes with
Savology
and start tracking your net worth.
Early Life and Personal Life
Lionel Andres "Leo" Messi was born in 1987 in Rosario, Argentina. His father, Jorge Messi, was a steel factory manager, and his mother, Cecilia Cuccitinni, was a cleaner. 
As a young boy, Messi would constantly play soccer with his older brothers, Rodrigo and Matias, along with their cousins, Maximiliano and Emanuel Biancucchi, who went on to become pro football players as well. 
You can say that this close relationship between a family of football fans definitely sparked Leo's passion for the sport early in his life. 
In fact:
These close-knit family ties stayed with Messi throughout his career. His immediate family members actually handle his professional affairs: his father has been his agent since age 14, his older brother Rodrigo handles his schedule and publicity, and his mother and brother Matias oversee the Leo Messi Foundation. 
Still, not everything went smoothly for him at first. At the age of 10, he was diagnosed with a growth hormone deficiency. 
Due to a lack of funds to pay for his growth hormone treatment, Messi's parents agreed to move to Spain after FC Barcelona offered to pay for their child's medical bills.
Lionel Messi Career and Path to Wealth
Rising through the Ranks
Lionel Messi made his competitive debut at age 17 for FC Barcelona. During the 2005-2006 season, he got his Spanish citizenship and also earned a spot on Barcelona's front three alongside Ronaldinho and Samuel Eto'o. 
Despite being a starter for the first time, his performance was so well-received by the audience that he received a standing ovation. In the same season, he won the first of his many Champions League titles. He may have been sidelined during the game due to an injury, but Messi will go on to shatter numerous records…and then some more. 
An All-Out Assault on the Record Books
In 2012, Lionel Messi became the first player to score five times in a Champions League match. Weeks later, he became Barcelona's all-time leading scorer at 24 years old. By the end of 2012, Messi had:
accumulated 91 goals in local and international competitions
snatched the Guinness World Records for most goals scored in a single season
won the FIFA Ballon d'Or for the fourth time
Towards the end of the superstar's nearly two decades run at Barcelona, he has recorded mind-boggling numbers that only a few may be able to achieve in the near future:
778 appearances
672 goals
288 assists
Now, you'll probably agree that Lionel Messi's legacy shouldn't be condensed to numbers which makes sense but ultimately, these stats remind us not only of the fact that there are big shoes to fill, but also of his overall impact on the club, and how all these achievements contributed to his success.
Lionel Messi Net Worth of $400 Million
Lionel Messi's net worth of $400 million was accumulated from his professional football contracts, endorsement deals, and investments. 
Professional Football Contracts
Let's face it: a whopping $400 million net worth is more than mouth-watering to many of us. Unfortunately, this hefty amount wasn't enough to put him on the top spot of this year's best-earning athletes, which he enjoyed back in 2019. 
Forbes ranked Lionel Messi second on the list, just above his nearest rival, Cristiano Ronaldo. 
In 2019, Messi's contract with FC Barcelona reportedly bagged him $610,000 a week. Before signing the latest deal, the football superstar was estimated to be worth around $410,000 a week. 
According to Forbes, Messi's total earnings in 2020 were reportedly around $126 million.
Earnings Estimate: $126 million
Contract with Paris Saint-Germain
In August 2021, Lionel signed a deal with PSG. His two-year contract will reportedly give him an annual income of roughly $41 million, including additional bonuses. The contract also comes with an option for a third year. 
The contract signing created even more buzz when Paris Saint-Germain disclosed that Messi's financial package included cryptocurrency. 
Earnings estimate: $41 million
Endorsements
Messi has landed lots of endorsement deals throughout the years, but perhaps the most remarkable one is his lifetime endorsement deal with Adidas. The partnership, which began in 2006, kept up with the ongoing rivalry he has with Cristiano Ronaldo, who represents Nike. 
In 2017, Lionel extended his contract with the German sportswear brand, which is said to rake in over $12 million each year. 
Reports from Forbes suggest that the football legend makes around $33 million a year through endorsement deals.
Messi also has deals with huge global companies, including:
Pepsi
Gatorade
Gillette
Turkish Airlines
MasterCard
Earnings estimate: $33 million
Investments
Known to his former teammates and friends as an introverted and a reserved person, it's not surprising how little is known about Messi's business ventures. 
One particular investment of the superstar, however, is in his birthplace Rosario, where he has put money in the Azahares del Parana project, which boasts seven gated communities out of the city. 
The said project comes with different properties, from a sports center to a tennis court and football fields to a beach. 
With Lionel Messi's massive net worth, one can assume that there are certainly more ventures he may have set his eyes into, but are kept from public knowledge. 
Similar to Will Ferrell and Steve Carell, Lionel Messi's net worth might be higher than what is publicly known. 
Lessons from Lionel Messi's Path to Wealth
It sure is interesting to know how Lionel Messi has persevered throughout the years to be where he is right now. Here are some lessons we can learn from his humble beginnings and that perhaps we can also implement in our own lives:
Surround Yourself with People You Trust
At times, toxic family culture can get in the way of family relationships. But this is not true in Messi's case. He knows his family well, and he knows that he can trust them, even when it comes to handling his professional and financial affairs. 
That said:
He never forgot the close family ties that helped enrage his passion for football when he was still a young boy, and still decided to be with his loved ones in his journey. 
Stay Low-Key
Staying low-key means being subtle and not putting on a big show, which is kind of Messi's thing.
Now, don't get me wrong — we all know how immensely popular and wealthy he is for the game-winning attitude that he puts on every game — but in terms of personal matters, he prefers to keep a low profile. 
We can all learn a thing or two from Messi being a public figure yet staying low-key and humble despite his status in life.
Favorite Lionel Messi Quotes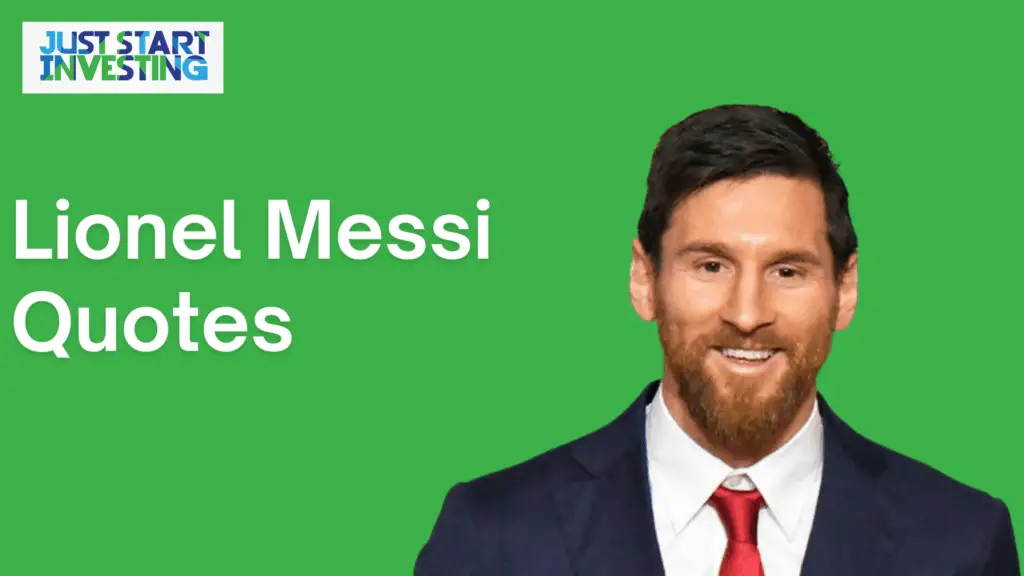 Aside from the morals, we can learn from his inspirational story of making it to the top, Lionel Messi has also given us several inspirational words to live by. 
A few of them include:
"I start early and I stay late, day after day, year after year. It took me 17 years and 114 days to become an overnight success."
– Lionel Messi
"You can overcome anything, if and only if you love something enough." – Lionel Messi
"Something deep in my character allows me to take the hits and get on with trying to win." – Lionel Messi
Summary: Lionel Messi Net Worth and What We Can Learn
What is Lionel Messi's net worth? – $400 Million 
Through his hefty contracts and endorsement deals, Lionel Messi was able to build his wealth. I hope you enjoyed learning about his journey on becoming one of the finest players the game has ever seen and the lessons that came with it:
Surround yourself with people you trust.
Stay low-key.
You can use these lessons to help you successfully manage your personal finances, but more importantly, I hope you can apply these learnings to your life in general.
Just Start Investing is a personal finance website that makes investing easy. Learn the simple strategies to start investing today, as well as ways to optimize your credit cards, banking, and budget. Just Start Investing has been featured on Business Insider, Forbes, and US News & World Report, among other major publications for its easy-to-follow writing.