Will Ferrell Net Worth 2021: $160 million.
Will Ferrell is one of the biggest movie stars in the United States, but there is a lot we can learn from him regarding personal finance as well.
---
| Net Worth: | $160 Million |
| --- | --- |
| Born: | July 16, 1967 |
| Source of Wealth: | Actor, Producer, Writer, Businessman |
| Nationality: | United States of America |
| Last Updated: | 2021 |
---
Will Ferrell progressed seamlessly throughout his career from being a cast member on Saturday Night Live, to a movie star, and eventually a businessman.
As of 2021, his net worth is estimated to be $160 million. Below is his journey of how he got there and three lessons we can learn from it to improve our own financial situation.
Measure Your Net Worth:
You can create your own financial plan for free in just 5 minutes with
Savology
and start tracking your net worth.
Early Life and Personal Life
John William Ferrell, who we all know as Will Ferrell, was born in 1967 in Irvine California. His parents were Betty Kay and Roy Lee Ferrell Jr., an elementary school teacher and musician in the Richestous Brothers, respectively.
Will grew up in Irvine and eventually attended University High School. He was reportedly known to have his comedic moments early on, but was also involved in sports.
He balanced his time kicking for the High School football team and performing short comedy skits on the school's morning announcements.
After high school, Will would go on to attend the University of Southern California where he studied sports broadcasting and got a Sports Information degree. Lucky for us and millions of comedy fans, he ultimately pursued a different career.
Today, Will Ferrell is married to Viveca Paulin, a Swedish actress. Together they have three children.
Will Ferrell Career and Journey to Wealth
Starting Out
Ferrell's career had a pretty natural, if not predictable, progression for a comedian and actor.
He got his comedy start through an improv and sketch comedy troupe called The Groundlings. The Groundlings is known for producing more than a few comedic talents, including Chris Kattan, Maya Rudolph, Melissa McCarthy, and many others.
Ferrell honed his skills throughout the early 90s with The Groundlings until Lorne Michaels and Saturday Night Live (SNL) came knocking.
Saturday Night Live (SNL)
Ferrell joined the NBC show SNL in 1995.
In the early '90s, the show was coming off a few years of bad ratings and was in need of a refresh. In 1995, producer Lorne Michaels cleaned house and brought in a new cast, including Will Ferrell, in the hopes of turning around the show and the ratings.
It worked.
Will Ferrell helped carry the show for 7 years, widely regarded as one of the funniest cast members of all time. He gave 100% in every skit he did and was well known for his impressions of Chicago Cubs announcer Harry Carrey, George W Bush, and others.
In the final season of his 7 year career on SNL Ferrell was making over $350,000 per season.
Films
Ferrell's success quickly translated onto the big screen as well. He landed his first big film in 1997, while still on SNL, with a role in Austin Powers: International Man of Mystery.
Soon after, in 1998, he and SNL co-star Chris Kattan starred in A Night at the Roxbury – a film based on a long-standing skit the two had.
Ferrell went on to star, act, and do voices in countless hilarious comedies for over a decade. Here are some of his best movies:
Zoolander (2001)
Old School (2003)
Elf (2003)
Anchorman: The Legend of Ron Burgundy (2004)
Kicking and Screaming (2005)
Talladega Nights: The Ballad of Ricky Bobby (2006)
Semi-Pro (2008)
Step Brothers (2008)
The Other Guys (2010)
The Lego Movie (2014)
Daddy's Home (2015)
Will Ferrell also was a well-known cameo actor, with famous cameos in the movie Wedding Crashers and sitcom The Office (working alongside John Krasinski).
Ferrell eventually left SNL in 2002 to focus solely on movies. His salary increased dramatically at that time as well.
He went from making $350,000 for a season of SNL, to reportedly making $7 million in 2004 for his work on Anchorman. That salary quickly jumped up to $20 million per movie the following year on Kicking and Screaming.
Ferrell continued to command about $20 million per movie throughout most of the 2000s, as he starred in some of the highest grossing movies of the decade. He also got the awards and nominations to go with it, including a few Golden Globe nominations, a Teen Choice award, and an Emmy award.
Other Ventures
Producer: Around 2006, Will Ferrell and comedy partner Adam McKay started Gary Sanchez Productions. Their production company was a part of many movie and TV hits, including:
Note: As of 2019, Gary Sanchez Productions is reportedly finishing all projects and ceasing operations.
Businessman: In 2007 Ferrell launched Funny or Die, a comedy website, also alongside Adam McKay. The site took off, hit some roadblocks later it's life, and is now poised to live on in the streaming era as a streaming video website.
Reportedly, back in 2016, the duo sold a stake in the site (minority ownership) to AMC with a valuation between $100-$300 million. It's unknown how much exactly AMC bought, and how much of the site Ferrell still owns.
Writer: Will Ferrell is not only a hilarious actor, but has been a screenwriter for many movies, including Talladega Nights: The Ballad of Ricky Bobby, Step Brothers, and a number of Funny or Die skits, to name a few.
Investor: Most recently, Ferrell became a part-owner of the Los Angeles Football Club. Again, it's unclear exactly how much the team Ferrell owns, but Forbes recently valued the team at a whopping $475 million in 2019.
Will Ferrell Net Worth of $160 million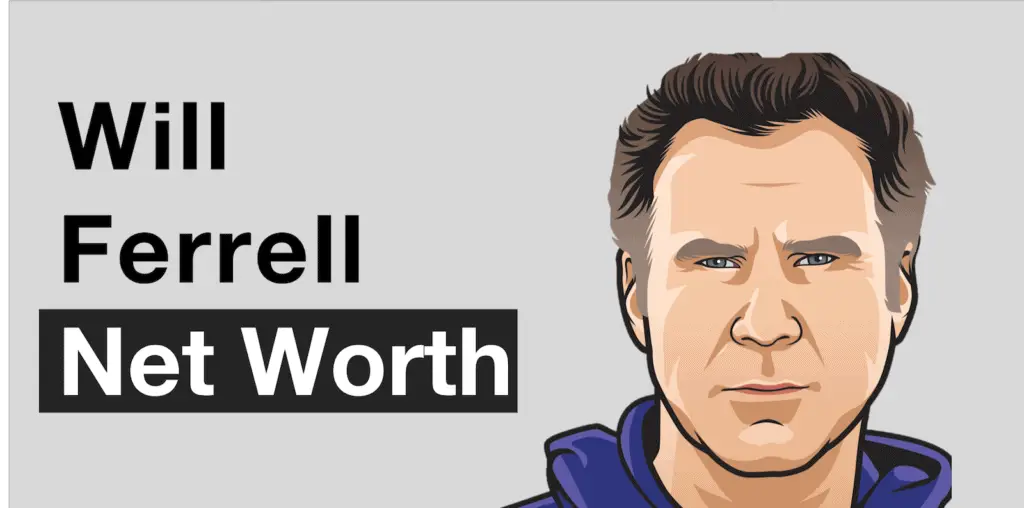 Will Ferrell's net worth of $160 million accumulated mainly from his film earnings. Here's an estimate of how it stacked up over the years:
Saturday Night Live:
Ferrell was on SNL for 7 years, and made $350,000 in his final year. We know he didn't earn this salary all 7 years, but I'd say its safe to assume he made at least $1 million during his time there.
Earnings Estimate: $1 million.
Films:
It's rumored that Ferrell starting making $20 million per movie in 2005. Prior to that, it's estimated that he made about $7 million for Anchorman in 2004. Before 2004, I couldn't track down any data on what he made per movie.
Between Zoolander, Old School, Austin Powers, and a few others, we know Will did about seven movies prior to 2004. On the low end, he likely made $1 to $2 million between all of those movies combined.
Then you have the $7 million for Anchorman, and he made a pair of movies in 2005 at his new $20 million rate.
Ferrell then did six more movies through 2008, when it's rumored that his $20 million movie salary may have been decreased after the box office flop Land of the Lost.
Regardless, Ferrell likely made at least $100 million throughout his film career before the rumored 2008 salary drop. I'd assume he's made at least another $50 million on the 10 or so movies he's done since 2008.
Earnings Estimate: $150+ million.
Is $160 Million a Low Estimate?
Based on the sheer number of movies Ferrell has made, I'm guessing the $160 million Will Ferrell net worth estimate is on the low side (similar to Steve Carell and Jimmy Fallon). I'm not certain, but it seems that way.
Unless he went on a mad spending spree blowing through that earned income, I'd be surprised if only $160 million was left in net worth.
Based on what we do know, it seems like Ferrell has made some smart investments:
Owns real estate in LA
Started a successful online company that is valued north of $100 million
Invested in a popular LA soccer team (Los Angeles FC)
Not to mention any classic investments we don't know about like stocks or bonds that have likely appreciated in value throughout his career.
At the end of the day, I wouldn't be surprised if Ferrell's net worth was closer to $200 million, if not more.
3 Investment Lessons from Will Ferrell's Net Worth
Learning about how Ferrell made his money and the interesting side hustles and investments that he took on is fun. Though, there are some valuable lessons we can all learn from his path to wealth.
Even if we aren't famous comedians and actors…
1. Persistence
Like many entrepreneurs, Ferrell was not an overnight success story. Building his career and wealth took time.
Ferrell was an SNL cast member for a couple of years before landing his first movie deal, and it took another few years before he started raking in a huge amount of cash for his blockbuster films.
Similarly, we cannot expect to grow our fortune overnight.
Investing takes time. It's usually a couple of years after starting that you really start to see your money grow.
Fun Fact: Ferrell has also participated in a few marathons, including in New York City and Boston, further showcasing his persistence and drive.
2. Invest in What You Know
Will Ferrell's three most-known investments, whether in time or money, are:
Funny or Die
Gary Sanchez Productions
The LA Football Club
Ferrell put his time and money into things he knew – like comedy and soccer.
For the rest of us, investing in a fancy bio-tech stock or options trading might seem exciting, but we likely don't know much about either.
It's why I like to stick with index investing, which I know fairly well, but also inherently spreads my risk across a number of different investments. Since I'm not an expert in any specific investment field, I have the ability to invest in all fields rather than trying to pick just one.
3. Have Fun Along the Way
This one is a little obvious and cheesy, but as a comedian, I have no doubt that Will Ferrell enjoyed his road to fame and wealth.
It's something that can be occasionally overlooked by those seeking FIRE or anyone aggressively saving in order to invest. Its not just about finding a lucrative side hustle and stowing away money, you need to enjoy the journey to the destination.
Just like it can be easy to overspend and wind up in debt, it can be easy to over save and forget that the point of money is to help us purchase things we value.
Money should be a tool to help us enjoy life, and we should balance spending in the present and investing for the future.
Favorite Will Ferrell Quotes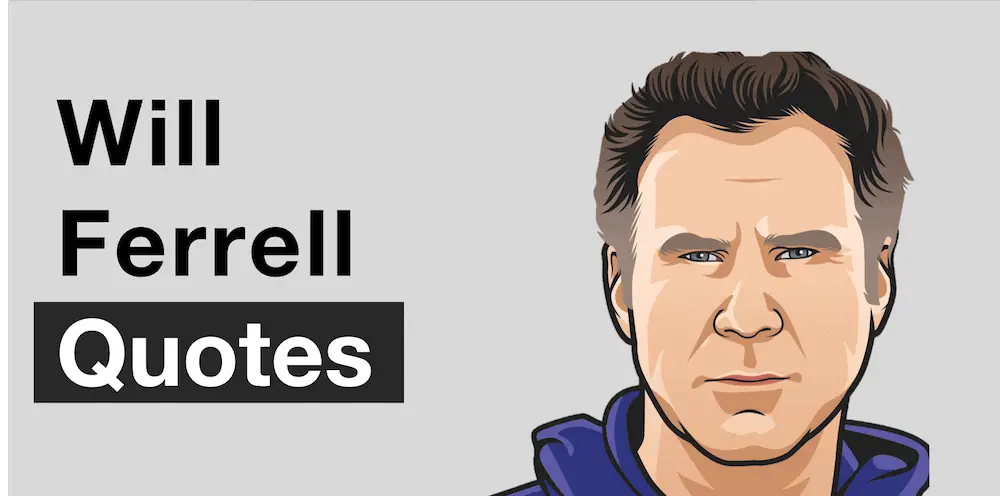 Last but not least, ending on a fun note, here are some of my favorite Will Ferrell quotes from movies and sketches he's done over the years.
Hopefully, they give you a good laugh or inspire you to dust off your favorite Will Ferrell movie:
---
"If Bruce Dickinson wants more cowbell, we should probably give him more cowbell!" – Will Ferrell, SNL
"You're my boy, Blue!" – Will Ferrell, Old School
"I feel like I'm taking crazy pills!" – Will Ferrell, Zoolander
"Stay Classy San Diego" – Will Ferrell, Anchorman
"You sit on a throne of lies!" – Will Ferrell, Elf
---
That last one is what you should yell if anyone ever tries to sell you a mutual fund with over a 1% expense ratio…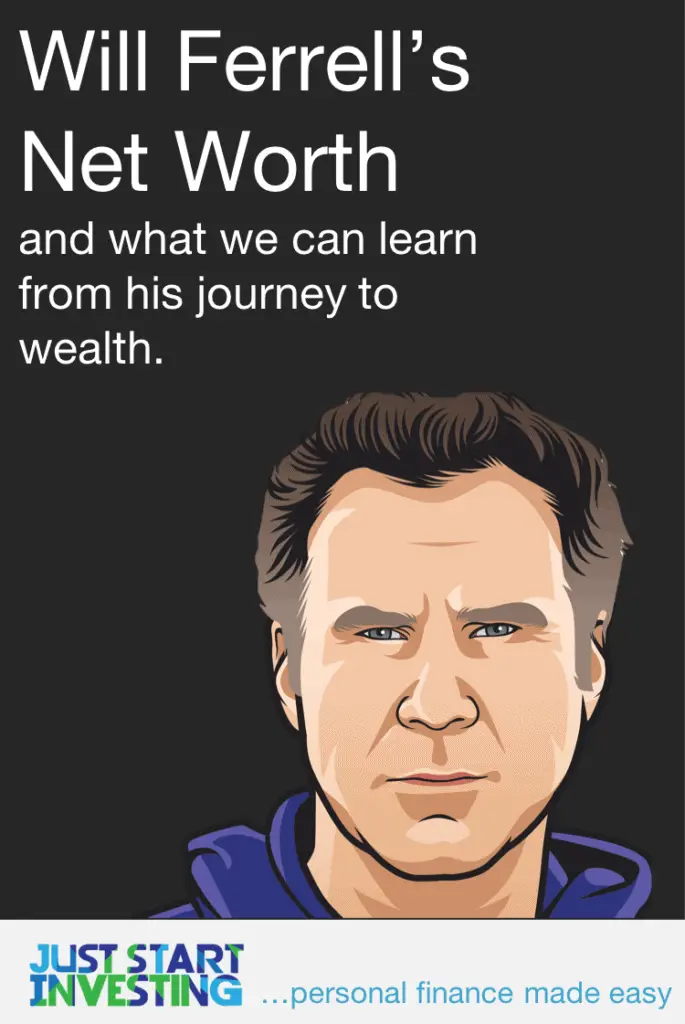 Summary: Will Ferrell Net Worth and What We Can Learn
Will Ferrell Net Worth: $160 Million
Will Ferrell has a huge net worth, and I hope you enjoyed learning how he was able to build his wealth.
Measure Your Net Worth:
You can create your own financial plan for free in just 5 minutes with
Savology
and start tracking your net worth.
More importantly, I hope you found the lessons we can learn from Ferrell helpful:
Be Persistent
Invest in what you know (or in everything)
Have fun along the way
These lessons can make all of our personal financial situations stronger, and help us smartly build our own net worth and wealth.
Just Start Investing is a personal finance website that makes investing easy. Learn the simple strategies to start investing today, as well as ways to optimize your credit cards, banking, and budget. Just Start Investing has been featured on Business Insider, Forbes, and US News & World Report, among other major publications for its easy-to-follow writing.