Steve Carell Net Worth 2021: $80 million.
Steve Carell is best known for his role as Michael Scott on the hit television show The Office. The show made him millions of dollars and helped propel Carell towards financial and professional success.
---
| Net Worth: | $80 Million |
| --- | --- |
| Born: | August 16, 1962 |
| Source of Wealth: | Actor, Comedian, Producer, Writer, Director |
| Nationality: | United States of America |
| Last Updated: | 2021 |
---
Steve Carrel progressed from being a supporting actor in movies to becoming a TV and movie star, and eventually being called one of the funniest people of all time.
As of 2021, his reported net worth is $80 million, although I believe it could be slightly higher (more on that later). Below is his journey of how he built his wealth and three lessons we can learn from it to improve our own financial situation.
Measure Your Net Worth:
You can create your own financial plan for free in just 5 minutes with
Savology
and start tracking your net worth.
Early Life and Personal Life
Steven John Carell, who we all know as Steve Carell, was born in 1962 in Concord, Massachusetts. His parents were Edwin A. Carell and Harriet Theresa, an electrical engineer and a psychiatric nurse, respectively.
Steve grew up in Acton, Massachusetts, and eventually attended Middlesex School, where he showed an interest in history, ice hockey, and lacrosse. His interest in history got him involved in reenactment groups, which based on what I could find, was the first time Steve forayed into acting.
After high school, Steve would go on to attend Denison University in Granville, Ohio where he earned a degree in history. He also continued playing hockey as the goalie for the school's hockey team. Lucky for us and millions of comedy fans, he also joined Burpee's Seedy Theatrical Company, a student-run improvisational comedy troupe.
Today, Steve Carell is married to Nancy Walls, who he met on Saturday Night Live (SNL). Together they have two children.
Steve Carell Career and Journey to Wealth
Starting Out
Steve Carrel got his start in 1991 with The Second City, a well-known comedy troupe in Chicago. Carrel was the understudy to now-famous late-night host Stephen Colbert.
1991 was a big year for Carrel, as he also got his first movie role. It was a minor role in a film called Curly Sue, but it made him a professional actor.
Carrel went on to appear in a variety of TV shows and films from 1991 through 2005. From what I gathered, the three below were the most notable in forming Carrel's career:
The Dana Carvey Show (1996)
The Daily Show (1999 – 2005)
Anchorman: The Legend of Ron Burgundy (2004)
The Office
In 2005, Steve Carrel signed on with NBC to remake the popular British TV series, The Office. Personally, this is one of my favorite TV shows of all time. It continues to be hilarious every time I rewatch it.
In the US version of the comedy series, Steve Carrel plays the role of Michael Scott, an ill-equipped but loveable Regional Manager of Dunder Mifflin. The show was famous for breaking the third wall with its documentary-style approach. Other members of The Office cast included John Krasinski, Jenna Fischer, Rainn Wilson, Ed Helms, BJ Novak, and Mindy Kaling.
What I didn't know until doing some research was that the show almost didn't make it to its second season. The first season of the sitcom suffered from mediocre ratings, but NBC took a shot on season two with the hope of getting a boost in interest from The 40-Year-Old Virgin that was coming out in 2005.
Thankfully, everything worked out and The Office went on to have a successful 9-season run until its final season in 2013, with Carrel leaving a few years earlier in 2011 to focus on his film career.
Films
One of Carell's first major comedy roles was in Anchorman: The Legend of Ron Burgundy in 2004. In the movie, he played the role of weatherman Brick Tamland.
Carell nailed it with Anchorman and impressed Judd Apatow so much that Judd created a starring role for him with the movie The 40-Year-Old Virgin in 2005. From there, Carell went on to be in countless comedies, as well as a few serious roles:
Evan Almighty (2007)
Get Smart (2008)
Despicable Me (2010)
Dinner for Schmucks (2010)
Crazy, Stupid, Love (2011)
Despicable Me 2 (2013)
Foxcatcher (2014)
The Big Short (2015)
Despicable Me 3 (2017)
Welcome to Marwen (2018)
While Carell has mainly been on the big screen since leaving The Office, he has also starred in two very prominent television series. One appearing on Apple's new streaming service, and the other a new Netflix series:
Throughout his acting career, Carell received multiple nominations for Golden Globe Awards, Academy Awards, and Emmys. Most notably, Carell won a Golden Globe Award in 2006 for his performance in The Office.
Steve Carell Net Worth of $80 Million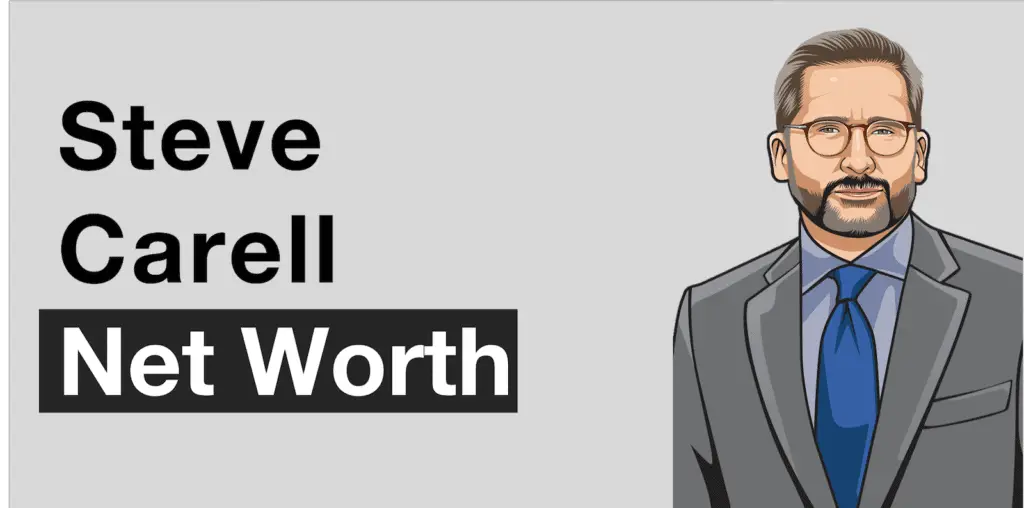 Steve Carell's net worth of $80 million accumulated mainly from his earnings as an actor in The Office and multiple hit movies. However, it might be a low approximation.
Here's an estimate of how his earnings stacked up over the years:
The Office:
Steve Carell was in The Office through season seven.
From a few different sources, I found that Carell made $87,000 as a per episode salary for the first two seasons of The Office, and $175,000 per episode for season three.
That would put his earnings at:
Seasons one and two (28 episodes): $2.4 million
Season three (25 episodes): $4.4 million
From seasons four through seven, there were another 99 episodes made. Likely, Carell made more than his $175,000 per episode rate that he made in season three (it was rumored at one point he was making $300,000 per episode), but being conservative let's say he made the same rate per episode ongoing after season three:
Seasons four through seven (99 episodes): $17.3 million
All in all, Carell would have made about $24 million from acting in The Office, and that's just from acting. Since then, The Office has made money from syndication deals (for example, with Netflix), and I assume Carell is seeing a piece of that as well.
I'll round this estimate up to $30 million to capture total earnings from The Office.
Earnings Estimate: $30 million.
Films:
As mentioned above, Carell has made countless hilarious comedies as well as dramatic movies.
Early in his career, for roles in Anchorman: The Legend of Ron Burgundy and The 40-Year-Old Virgin, he was rumored to be making well less than $1 million per movie.
However, as early as 2007 (for Evan Almighty) Carell was making $5 million per movie. Plus, in 2010, he made over $12 million for both Dinner for Schmucks and Date Night.
Finally, Carell was reported to be making $15 to $20 million for the second two installments of Despicable Me (2013 and 2017) and the spinoff Minions (2013). Yes, that's per movie!
Using this information, I assume that Carell's movie salary has risen over time from:
Pre-2005: Less than $1 million
2006-2010: About $5 million
2010-2013: About $12 million
2013-present: $15 million or more
Between the 30 movies Carell has made since 2007, I estimate his earnings to be well over $100 million.
Just from the Despicable Me movies alone, he likely made over $45 million!
Earnings Estimate: $100+ million.
Is $80 Million a Low Estimated Net Worth?
Based on the success of The Office and countless films since then, I think $80 million is likely a low estimate for Steve Carell's net worth.
Similar to my assessment on Will Ferrell and Jennifer Garner, unless he has gone crazy with spending and setting money on fire, I assume Carell's net worth is actually north of $100 million.
3 Lessons from Steve Carell's Path to Wealth
Watching Steve Carell in TV shows and movies is incredibly entertaining, but we can also learn something from his success.
Below are three key lessons to take away from Steve Carell's success and path to wealth.
1. Patience
Steve Carell wasn't making millions for his first movie in appearance in 1991. In fact, from what I can gather, it took him over 15 years to finally earn over $1 million from a movie appearance.
That's right, 15 years of hard work, and patience, paid off in the end.
This lesson in patience applies broadly to life, but what comes to mind for me is investing. Many people start their investing journey looking to get rich overnight, when in fact, they should be playing the long game and looking to make money over a 15-year timespan or longer!
2. Take Calculated Risks
Blindly taking risks can be costly and even dangerous.
However, taking calculated risks can be smart, and sometimes necessary.
Steve Carell took a calculated risk when leaving The Office in 2011 to pursue his movie career. He left a hit TV show knowing that he had a higher probability to make more money (and potentially live a happier life and have a better career) by pursuing film.
While I certainly missed him in the last two seasons of The Office, I'd say this move paid off for him.
In my life and yours, we need to take calculated risks all the time. Especially when it comes to personal finance.
For example, when buying a house, you are taking a calculated risk. You hope that the home will go up in value and that it will be a great place to live, but you can never be 100% certain. You need to calculate as much as you can to make sure it's the right move for you, and then make a decision.
3. Know When to Say "No"
Steve Carell has said publicly that he has no interest in a reunion show of The Office. Despite many fans asking for a reboot, and potentially some Hollywood folks willing to support it, Carell has stated that he's a "no" for a comeback.
It makes sense, as it would be hard to recreate the magic of the first nine seasons, and some things are just better left untouched.
In the personal finance world, there are a lot of instances where people may be pushing certain "solutions" that sound great on paper, but might not be the best fit for you.
In these situations, you need to learn to say "no."
One example that comes to mind is with bitcoin. It can be hard to look the other way when you hear stories of people making thousands of dollars investing in bitcoin. Though, if you have a long term investment plan and are sticking with it, you need to say "no" to these short term opportunities that are not right for you.
Favorite Steve Carell Quotes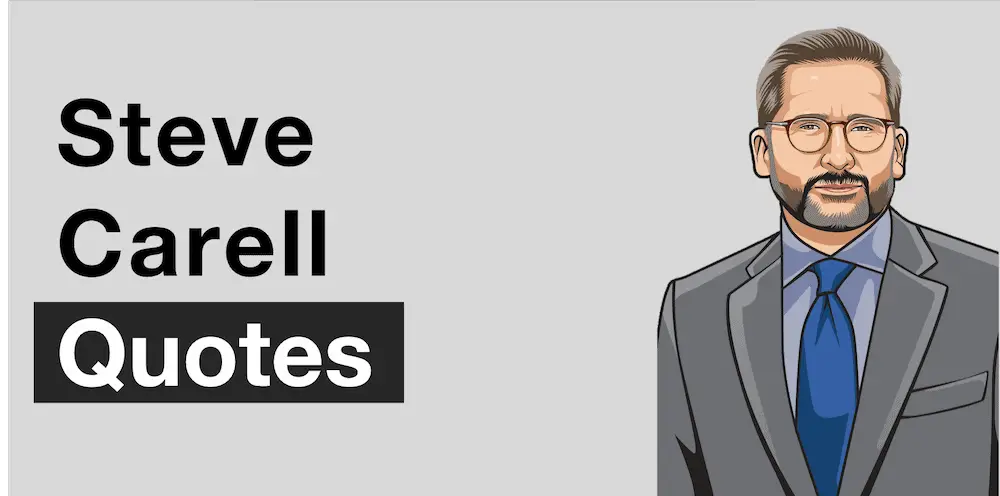 There are so many good Steve Carell quotes just from The Office alone, let alone all his blockbuster films.
Below are just a few of my favorites:
---
"What bothers me isn't that fraud is not nice. Or that fraud is mean. For fifteen thousand years, fraud and short-sighted thinking have never, ever worked. Not once. Eventually, you get caught, things go south. When the hell did we forget all that?" – Steve Carell, The Big Short
"You miss 100% of the shots you don't take. – Wayne Gretzky" – Steve Carell, The Office
"Would I rather be feared or loved? Easy. Both. I want people to be afraid of how much they love me." – Steve Carell, The Office
"Nothing to me feels as good as laughing incredibly hard" – Steve Carell
---
Couldn't agree more with that last one. If you're looking for some good laughs right now, I'd recommend flipping on The Office!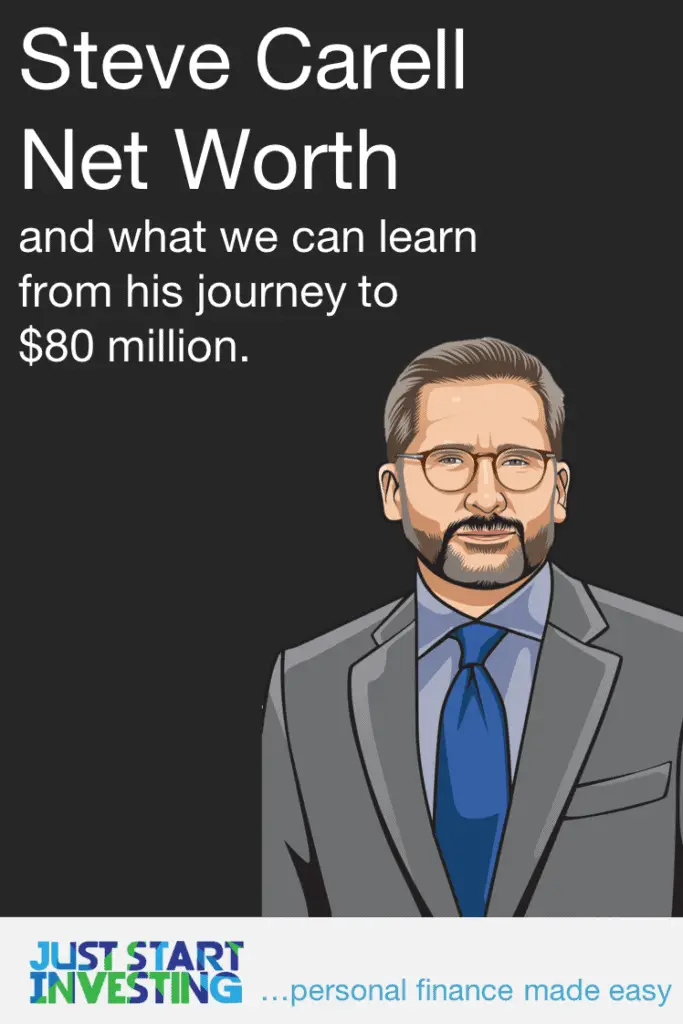 Summary: Steve Carell Net Worth and What We Can Learn
Steve Carell Net Worth: $80 Million
I hope you enjoyed learning about how Steve Carell built his net worth through his successful acting career.
Measure Your Net Worth:
You can create your own financial plan for free in just 5 minutes with
Savology
and start tracking your net worth.
More importantly, I hope you found the lessons we can learn from his path to wealth helpful:
Be Patient
Take Calculated Risks
Know When to Say "No"
These lessons can be applied to improve all of our personal financial situations, and help us successfully build our own financial wealth.
Just Start Investing is a personal finance website that makes investing easy. Learn the simple strategies to start investing today, as well as ways to optimize your credit cards, banking, and budget. Just Start Investing has been featured on Business Insider, Forbes, and US News & World Report, among other major publications for its easy-to-follow writing.