Jimmy Fallon Net Worth 2021: $60 million.
Jimmy Fallon was first known as a long-time cast member of Saturday Night Live (SNL) before hosting the late-night television shows Late Night with Jimmy Fallon and The Tonight Show, both of which have made him millions of dollars each year.
---
| Net Worth: | $60 Million |
| --- | --- |
| Born: | September 19, 1974 |
| Source of Wealth: | TV Host, Comedian, Actor, Screenwriter |
| Nationality: | United States of America |
| Last Updated: | 2021 |
---
When Jimmy Fallon started his comedy career, his ultimate goal was to be on Saturday Night Live. He would eventually accomplish that goal and go on to host his own successful and unique late-night television shows.
As of 2021, his reported net worth is $60 million. However, it seems likely that it's quite a bit higher than that. Below is an outline of his path to fame and fortune, as well as some lessons we can learn from his journey to wealth.
Measure Your Net Worth:
You can create your own financial plan for free in just 5 minutes with
Savology
and start tracking your net worth.
Early Life and Personal Life
Jimmy Fallon was born James Thomas Fallon on September 19, 1974, in Brooklyn, New York City. His parents are Gloria and James W. Fallon.
As a child, Jimmy Fallon attended St. Mary of the Snow, a Roman Catholic school. During childhood, he considered becoming a priest when he grew up but eventually decided that his passion was for comedy.
As a student at Saugerties High School, Fallon participated in many stage productions during his four years there. He also became practically obsessed with Saturday Night Live in high school, watching it nearly every weekend and re-enacting his favorite sketches.
After high school, Fallon attended The College of Saint Rose in Albany, New York. On weekends, he spent his time performing stand up comedy. One semester before graduating, he decided he couldn't wait any longer and dropped out to move to Los Angeles and pursue comedy full time.
Today, Jimmy Fallon is married to Nancy Juvonen, who he met on the set of the movie Fever Pitch. Together they have two daughters.
Jimmy Fallon Career and Journey to Wealth
Starting Out
After moving to Los Angeles, Jimmy Fallon joined the improv group The Groundlings. He spent his time perfecting his craft and polishing his stand-up act, performing at the famous Improv comedy club where they paid him $7.50 per set (barely enough to buy a decent dinner!).
During this time, he found a manager and began getting bookings, including his first feature film, Father's Day. Believe it or not, his one line was cut from the film, but you can still see him in the background of the movie!
While movie features were nice, Fallon's ultimate goal was still to join Saturday Night Live. Two years after arriving in Los Angeles, he got a big break with his first audition opportunity. Unfortunately, he didn't land a role the first time around, but the second time's the charm…
Saturday Night Live
In 1998, Jimmy Fallon was able to snag a second audition for Saturday Night Live and nailed it. During this audition, he made creator Lorne Michaels laugh, which was a difficult feat!
You can check out the video of his audition here if interested!
Fallon was featured at the beginning of SNL's 24th season and quickly became a star by his fourth episode. His hilarious impressions are what made him notably famous.
While on the show, he also co-hosted SNL's popular "Weekend Update" with Tina Fey.
In 2004, Fallon's SNL run would end when he decided to leave to pursue an acting career.
Late Night with Jimmy Fallon
After attempting an acting career for a few years, with his most popular movie being Fever Pitch with Drew Barrymore, Fallon moved back to what he did best: comedy and late-night TV shows.
In 2009, Fallon joined the late-night talk show Late Night with Jimmy Fallon. He made a name for himself through his unique approach to late-night TV. Fallon went beyond the typical monologue jokes, featuring music, dancing, impersonation, and games, which were not the norm for late-night television.
He was a second-wave late night talk show host, getting ready to replace long time hosts Jay Leno and David Letterman. Jimmy Kimmel, Conan O'Brien, and Stephen Colbert were also part of this second wave of late-night hosts.
Fallon hosted Late Night with Jimmy Fallon until 2014.
The Tonight Show
In 2013, NBC announced that Jimmy Fallon would be taking Jay Leno's place as the new late-night host of The Tonight Show. Another big break for Fallon!
Jay Leno was the late show host for 22 years, so Fallon had big shoes to fill.
Fallon's official The Tonight Show debut was on February 17, 2014, and over eleven million viewers tuned in! Fallon continues to host The Tonight Show Starring Jimmy Fallon today as one of the highest paid and best known late-night hosts.
In 2015, the show won a Primetime Emmy Award; the most recent of a few Emmy Awards won throughout Jimmy Fallon's career. He has also won a Grammy Award and a few People's Choice Awards during his comedy career.
Jimmy Fallon Net Worth of $60 Million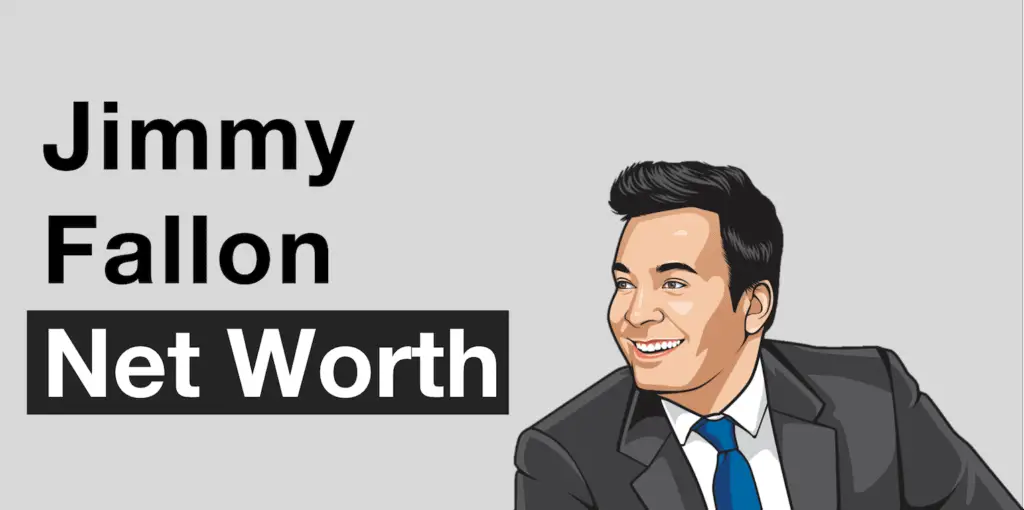 Jimmy Fallon's net worth of $60 million compounded mostly thanks to his successful career in comedy and late-night television. But this estimate seems to be on the low side considering his most recent gigs hosting his television shows.
We know that he was making a paltry $7.50 per set when he started in Los Angeles and was doing sets at the Improv comedy club. However, there is a considerable gap (and I mean considerable) between those humble beginnings and his next reported salary of $11 million per year in 2013 while he hosted his show, Late Night with Jimmy Fallon.
It's now reported that Jimmy Fallon earns $16 million per year while hosting The Tonight Show, where he has been the host since 2014.
Late Night with Jimmy Fallon
Looking at just his time on Late Night with Jimmy Fallon, he hosted for five years topping out at $11 million his last year (2013). We can assume he didn't make as much the previous years, so we'll make a conservative estimate that he got a two million dollar raise each year.
2009: $3 million
2010: $5 million
2011: $7 million
2012: $9 million
2013: $11 million
Earnings Estimate: $35 million
The Tonight Show
The reported $16 million per year that Fallon is making while hosting The Tonight Show, which he has been doing for the last six years, adds even more to his earnings.
By this time, Fallon was already a highly paid late-night TV host, and The Tonight Show is a top-rated show. We can estimate a one million dollar per year raise, but not going lower than the $11 million he was making at his previous show.
2014: $11 million
2015: $11 million
2016: $12 million
2017: $13 million
2018: $14 million
2019: $15 million
2020: $16 million
Earnings Estimate: $92 million
Is $60 Million a Low Estimated Net Worth?
Considering our estimation that Jimmy Fallon earned $127 million just from his late-night TV hosting, it's safe to say that $60 million is probably a low net worth. And that's not even taking into account his years at Saturday Night Live, where he likely made a decent salary, along with all of his other movies and business ventures.
Similar to Will Ferrell, Steve Carell, and Jennifer Garner, it's more likely that Jimmy Fallon's Net Worth is higher. Likely, it's close to $100 million, or even more.
3 Lessons from Jimmy Fallon's Path to Wealth
We probably won't ever accumulate the massive net worth that Jimmy Fallon has been able to, but we can still learn valuable lessons from his journey.
1. Know Your Goal
After deciding that he wanted to pursue comedy and move to Los Angeles, Jimmy Fallon had his eye on the prize.
He was laser-focused on his goal of getting on Saturday Night Live and worked hard to perfect his art so that when he finally got the second opportunity to audition, he was able to nail it and avoid the mistakes he made the first time around. All of the weekend stand up gigs and the several years of participating in the improv group he joined were worth it to land a role on Saturday Night Live.
When it comes to investing, or anything in life, having a goal is extremely important. It gives you something to strive for, and otherwise, you're more or less wandering without direction.
2. It's OK to Try New Things
When Jimmy Fallon left Saturday Night Live to pursue an acting career, it may have seemed like a natural next step.
It was something that he wanted to try, so he went out and did it.
Though it eventually led him to realize that wasn't where he was meant to be, Fallon shows us that it's OK to branch out and try new things even if it doesn't work out.
Everything is a learning experience, and it ultimately pointed him onto his next, very successful venture – late-night television.
3. Follow Your Strengths
After trying out acting and movies, Jimmy went back to comedy and late-night TV, a career that better showcased his talents.
Although he tried movies and other entertainment avenues, Fallon realized where he belonged, and that was late-night TV. This move led him to his most successful ventures yet, hosting Late Night with Jimmy Fallon and The Tonight Show.
Whether it's a new side hustle or just a new hobby, the balance with trying new things is knowing when it is time to call it quits. Not quitting to give up, but quitting so that you can move on to the next thing!
Favorite Jimmy Fallon Quotes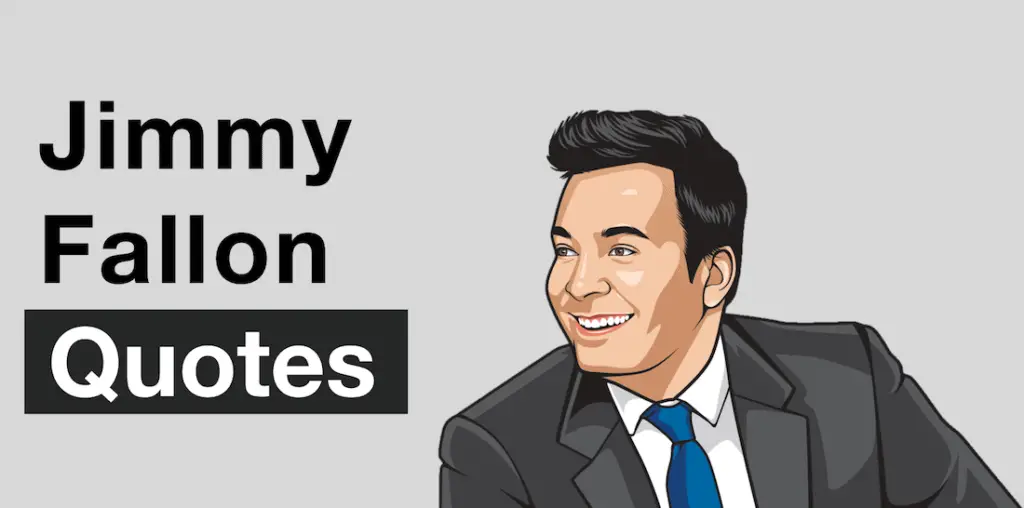 Of course, there are tons of great Jimmy Fallon quotes given his background as a comedian. Below are some of my favorites.
---
"I'm on so late I'm definitely the last seconds of anyone's attention. So I just want to give them something dumb to laugh at, so they go, 'That's funny,' then fall asleep." – Jimmy Fallon
"Politics is pop. Our job as comedians – especially me, as a late-night talk show, which is a broader audience – is to amplify what we think America is thinking." – Jimmy Fallon
"You only think of the best comeback when you leave." – Jimmy Fallon
---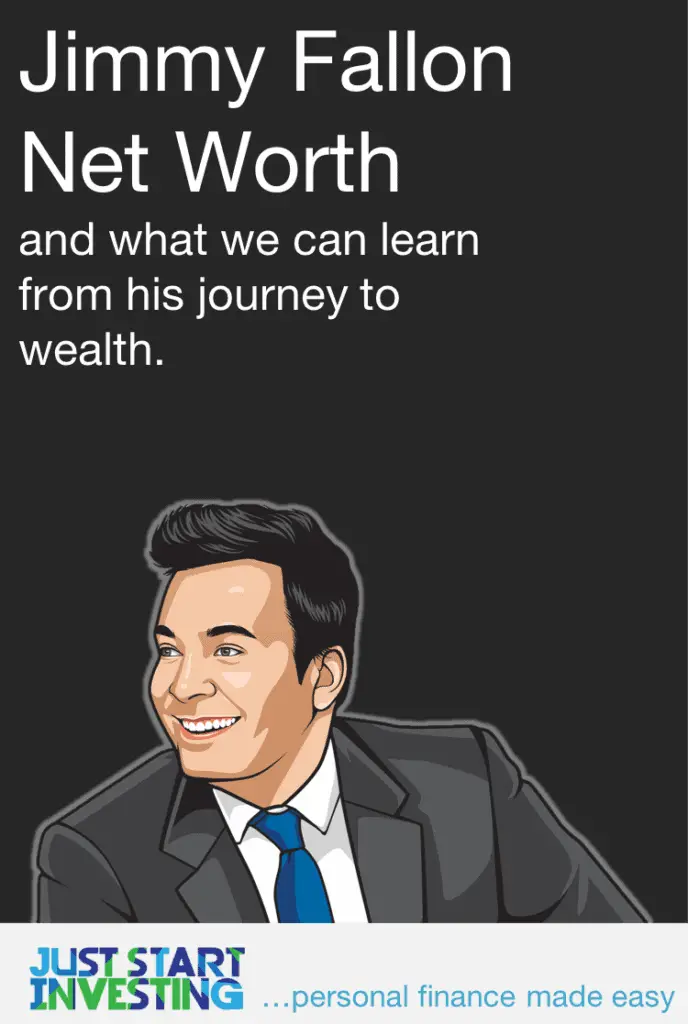 Summary: Jimmy Fallon Net Worth and What We Can Learn
Jimmy Fallon Net Worth: $60 Million
Hopefully, you enjoyed learning a little bit more about how Jimmy Fallon built his wealth.
Measure Your Net Worth:
You can create your own financial plan for free in just 5 minutes with
Savology
and start tracking your net worth.
Jimmy Fallon's path to wealth started with his ultimate goal of making it onto Saturday Night Live. However, he didn't stop there once he accomplished it. He kept going and building upon his success.
And while Fallon might seem like an overnight success story, we also need to remember that there were years of hard work before he found success. Some of the lessons Jimmy has taught us are:
Know your goal
It's OK to try new things
Follow your strengths
These are lessons that we can all use to accomplish our own goals and build financial wealth.
Just Start Investing is a personal finance website that makes investing easy. Learn the simple strategies to start investing today, as well as ways to optimize your credit cards, banking, and budget. Just Start Investing has been featured on Business Insider, Forbes, and US News & World Report, among other major publications for its easy-to-follow writing.