What do Kandi Technologies Group, Li Auto, and NIO Incorporated have in common? They are the best value electric car stocks available now in Q3.
If you want to find out more about the fastest-growing electric car stocks or the electric car stocks with the most momentum, read more into my article.
You're also going to read about who are the biggest players in electrical vehicles production and how you can invest in EV stocks. 
How To Invest In Electric Vehicle Stocks?
If you are looking for one of the hot commodities to invest in next year, then electric car stocks are a good bet. 
While we might still be years away from it becoming a truly mainstream product, one can just take a look at Tesla Motors to see how popular electric cars are becoming. 
The future and growing popularity of electric vehicles has made investing in the sector very attractive to many investors.
With the current U.S. administration's push to back electric vehicles, this could be a great opportunity to make money. However, the segment is larger outside the U.S., especially China where manufacturing and technology are dominated by Chinese players. 
Another factor that is influencing the rising interest of the electric vehicle sector is the eventual phase-out of fossil-fuel automobiles and, some sources predict that lithium consumption will quadruple by 2025, with demand for electric vehicle batteries potentially exceeding world lithium supply. This is because as the number of electric vehicles on the road grows, so does the demand for the materials used in their batteries.
Source: Link
New EV registrations by area – Europe has more than one million, China has also more than one million and Europe has only as much. 
Best Electric Car Stocks For Q3 2021
Best Value Electric Car Stocks
Source: Link
Kandi Technologies Group is a Chinese company that specializes in the event and production of electric vehicles (EVs), components, and off-road vehicles. It makes tiny electric cars, all-terrain vehicles (ATVs), go-karts, and bicycles.
The company revealed its new K32 utility terrain vehicle (UTV) in late May, which has pure electric four-wheel-drive power and a fully enclosed cabin with air conditioning.
The first sales of the brand new car are expected to begin in 2021.
Li Auto Inc. is a Chinese company that develops and manufactures smart electric vehicles. Its main product is the Li ONE, an intelligent electric sport utility vehicle (SUV).
The company also provides ancillary products and services, like charging stations and Internet connection services for automobiles.
NIO is a Chinese manufacturer of intelligent and related electrical vehicles, as well as related components. Its vehicles are equipped with assisted-driving features.
The company also provides car charging services. In May, NIO delivered 6,711 vehicles, a 95.3 percent increase year over year.
Due to semiconductor supply issues, NIO's vehicle deliveries were hampered for many days, according to the company.
Fastest Growing Electric Car Stocks
XPeng Inc. is a Chinese company that designs and produces intelligent electric vehicles. Its automobiles include seamless integration with advanced Internet, artificial intelligence (AI), and autonomous driving technologies.
The company also provides a variety of related services, such as supercharging, maintenance, and vehicle leasing. XPeng shipped 5,686 vehicles in May, up 483 percent year over year.
We can't compute an EPS growth rate for the desk above since the company reported a net loss for the most recent quarter.
NIO Inc.: For a description of the company, see above. We can't compute an EPS growth rate for the desk above since the company reported a net loss for the most recent quarter.
Workhorse Group Inc. designs and manufactures electric vehicles and aircraft, including cargo vans, medium and light-duty pickup vans, supply drones, and electric vehicle take-off and landing (eVTOL) aircraft.
Its products are targeted at providing alternatives to the industrial transportation sector. The company also creates real-time telematics efficiency monitoring solutions that are cloud-based.
Electric Car Stocks With The Most Momentum
Blink Charging is a company that owns and manages a network of electric vehicle charging stations.
Residential clients, as well as building owners, parking garages, municipalities, athletic venues, and other public locations, are served by the business.
Blink Charging announced in May that it has paid $24 million for Belgium-based electric vehicle charging company Blue Corner NV. Blink will now be in charge of Blue Corner's portfolio of 7,071 charging stations and the European charging community.
GreenPower Motor Co. Inc. is a Canadian company that makes all-electric transit, faculty, and constitution buses. The company also provides commercial vehicles for delivery, micro-transit, vanpools, and other uses.
NIO Inc.: For a description of the company, see above.
The Best Electric Vehicle Stocks To Buy And Watch Now
The current market sell-off has badly harmed the charts of electric vehicle stocks, with few in the buy zone. However, as of Aug. 20, these stocks got the highest ratings.
Tesla Inc. (NASDAQ: TSLA)
General Motors Company (NYSE: GM)
Ford Motor Company (NYSE: F)
Global electric vehicle stock, 2010 – 2019 
Source: Link
Global electric vehicle stock by transport mode, 2010 – 2020
Source: Link
Conclusion
Electric vehicle stocks are one of the best investments that you can make in your portfolio. In the future, most people will drive electric vehicles as gas prices increase and the world puts more pressure on oil producers to keep up with demand.
By and large, the case for top electric car stocks continues to grow each day. Given all of this, you may be considering investing in some of the best EV stocks yourself.
Want to learn more about other attractive stocks? Check out these articles: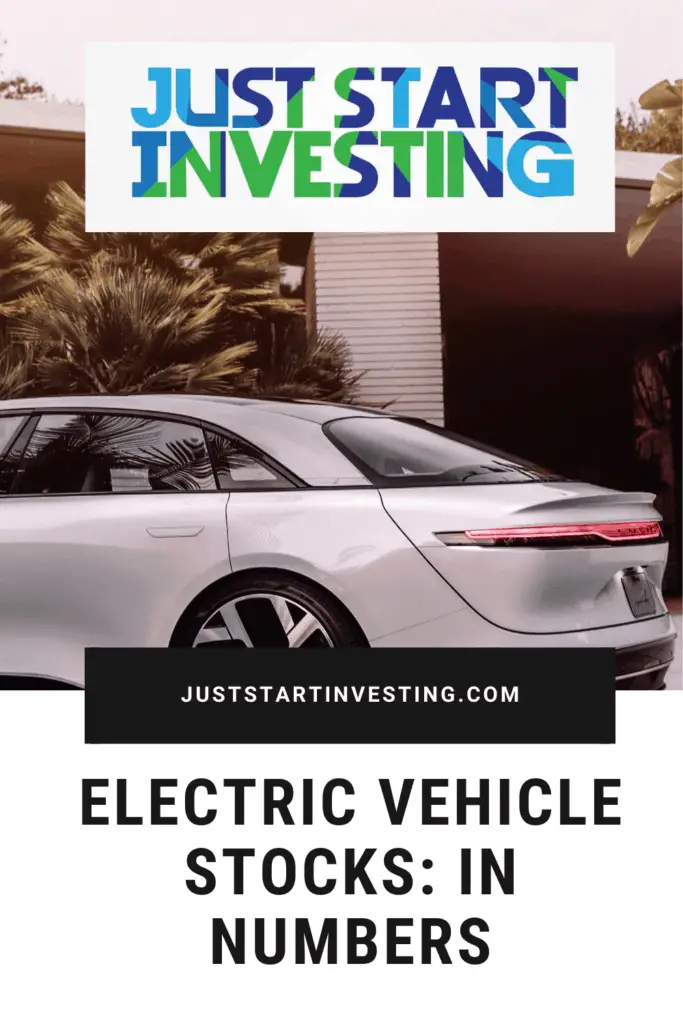 Just Start Investing is a personal finance website that makes investing easy. Learn the simple strategies to start investing today, as well as ways to optimize your credit cards, banking, and budget. Just Start Investing has been featured on Business Insider, Forbes, and US News & World Report, among other major publications for its easy-to-follow writing.