Have you ever asked yourself, "how many bank accounts should I have?" You're not alone, with thousands of options available, consumers are faced with the challenge of finding the right bank accounts for their needs.
Some people will choose to open several bank accounts to take advantage of the various features that each provides. While others might prefer a simpler approach and only open one or two accounts.
To find out the right number of bank accounts you should have, keep reading. We'll dive into the different types of bank accounts, the pros and cons of having multiple accounts, and ultimately, how many accounts you should have!
Types of Bank Accounts
Bank accounts come in many different forms. You could have a checking account, standard savings account, high yield savings account, or many others. You could also open an account through a regular bank or through a credit union.
Each type of account has it's own benefits and features, making it important to analyze which option is right for you.
More than likely, you'll want to combine at least two of these accounts:
Checking Accounts
Checking accounts are the most common type of bank account. Many individuals and families will use these accounts as their primary way of accepting a paycheck, transferring funds, paying bills, and completing everyday purchases.
A checking account should act as the central hub of your personal finances.
Many checking accounts use physical checks or debit cards to facilitate transactions, as well as online transactions such as ACH transfers.
Debit or ATM cards immediately withdraw funds from your account as they are used. A physical check can take a few days to process, making it important to balance your checkbook or create a budget to ensure you do not receive an overdraft fee.
There are different types of checking accounts, too.
Some charge maintenance fees if you cannot maintain a balance threshold, while others may not have any requirements at all. The important thing is to find an account that works for you, and that will not charge fees for you to make your regular transactions.
Savings Accounts
For those wanting to grow their money in a safe manner, savings accounts offer an easy way to earn better interest rates on your cash compared to checking accounts. 
If you're going to open a savings account, its recommended that you opt for a high yield savings account, as it will offer a higher interest rate.
Many savings accounts offer some sort of interest payments that vary based on current market conditions and the institution itself. High yield savings accounts can pay anywhere from 1% to 2% interest on your account balance. Usually, high yield savings accounts are also online savings accounts.
Some big banks only pay 0.1% interest (or less) on their regular savings account offerings, which is essentially worthless. These types of savings account should be avoided.
Typically, most people will store their emergency fund in a savings account.
Open a High Yield Savings Account:
CIT Bank
offers a savings account that pays above average interest and also offers a welcome bonus – it's one of the best savings accounts out there.
It's important to note that due to government regulations, savings accounts limit the number of withdrawals completed per month to six. You should not (and cannot) use your savings account to make everyday transactions.
Certificates of Deposit (CDs)
CDs are a form of a bank account in which money is deposited and cannot be withdrawn for a certain period of time. For example, there are 3-month, 6-month, and 12-month CDs, as well as many other time increments. In exchange for not being able to withdraw your money during this time period, you are usually paid a higher interest rate.
Most CDs will charge an early withdrawal penalty if you absolutely need the cash, so it's wise to stick with a high yield savings account if there is any possibility of needing this money in the short term. 
Note, you can find some CDs that will allow you to withdraw money early without penalty. These accounts, known as liquid CDs will typically have lower interest rates.
Money Market Accounts
Similar to a CD or savings account, a money market account allows you to store your cash while earning interest on your balance. This account does not have early withdrawal penalties like CDs, but you are also only allowed 6 withdrawals per month.
The difference between a money market account and a savings account is that money market accounts will typically come with a debit card or physical checks. This makes them more of a checking and savings account hybrid.
Business Bank Accounts
Just as people need a safe place to access and store money, so do businesses. A business checking account can oftentimes be extremely similar to an individual checking account in its functionality. However, obviously, only businesses can open up them.
Having a business checking account comes with several benefits:
Makes bookkeeping and tracking transactions easier
Allows multiple signers, which makes it easy for multiple business participants to write checks and complete transactions 
Keeps personal expenses separate from business expenses
Having a business account is also required for certain business structures.
Other Types of Accounts
Outside of traditional bank accounts, there are a few other types of accounts that are widely used to manage money and investments – investment accounts.
While these accounts are not considered "bank accounts", it's important to understand them so you get a full view of the places you can store your money.
Brokerage Accounts
An individual brokerage account is the most basic and flexible type of investment account. In the simplest terms, a brokerage account allows you to buy and sell investment vehicles through a licensed broker (like Charles Schwab) with very little restrictions.
While these types of accounts don't have any tax benefits, they are great options for both new investors and anyone who has maxed out their retirement accounts.
Retirement Accounts
Retirement accounts are somewhat similar to brokerage accounts, although their purpose is solely for retirement savings.
These types of accounts include 401(k)s, Individual Retirement Accounts (IRAs), and HSAs, among others.
Retirement accounts offer various tax advantages for those saving for the long-term. For example, a 401(k) lets you contribute pre-tax dollars, while a Roth IRA lets your money grow tax-free.
However, there are also penalties for withdrawing before retirement age. Therefore, you should consider these investments as "untouchable" until you retire, unless you want to pay large fees.
Pros and Cons of Having Multiple Bank Accounts
Pros of Multiple Bank Accounts
Having multiple bank accounts can have many benefits, but the biggest benefit is allowing you to take advantage of the various features that different accounts offer.
1. Take Advantage of Different Features
High yield savings accounts offer great interest rates, but lack flexibility and don't allow you to move money around easily.
Checking accounts don't offer good interest rates, but have no limits on transfers in and out of the account. They also offer debit cards to help facilitate the movement of money. Plus, with the rise of online banking, moving money through ACH transfers has never been easier.
Combining these two types of accounts can allow you to get the best of both worlds – high interest and flexibility.
Though, it doesn't stop with just checking or savings accounts. You can also use premier accounts, CDs, and other accounts as needed to make your banking experience easier and more advantageous.
2. Sign-Up Offers
Another reason some people will choose to open a new account or go to a new bank and have multiple bank accounts is to take advantage of sign-up offers.
These offers typically are a few hundred dollars and are associated with savings accounts. They can add up quickly if you get a few of them by opening multiple savings accounts – its a super easy way to make money.
Just note, sign-up offers will often have terms associated with them. For example, you might need to maintain a minimum required balance or minimum monthly direct deposit amounts.
Be sure to check out the full details before registering.
Credit Card Sign-up Bonuses:
Credit cards also offer welcome bonuses, check out the best ones
here
.
3. Diversification and Insurance
This won't apply to everyday Americans, but for someone who is looking to store over $250,000, it would be wise to split that money between a few accounts.
Having a single bank account has risk because the Federal Deposit Insurance Corporation (FDIC) will only insure up to $250,000 per account.
By spreading your money between different banks and accounts, you'll keep your additional savings safe and fully insured.
4. Budgeting
For some, having separate savings accounts can help with budgeting and making financial decisions. By opening multiple accounts, each can have a specific savings goal, and it makes it easy to bookmark money for certain tasks.
Some may find having separate accounts is a good idea for them. For others, it may be too complex or time-consuming to manage.
Cons of Multiple Bank Accounts
There are also some drawbacks to opening multiple bank accounts:
1. Difficult to Manage
Because your money is dispersed among several different accounts, it can be more difficult to track. You run the risk of suffering from an overdraft fee if you cannot keep your funds organized correctly.
Because you'll have money floating around in various accounts, knowing how much money you have in each account at a certain moment is important.
For someone who wants simplicity, having one bank account (specifically, one checking account) might be best.
However, there are solutions to this problem, like getting a budgeting app.
2. Delays in Transfer
Just as keeping track of your money is difficult, there will also be delays in the transfer of your money between external accounts.
Because your funds must be verified by both banks, you can expect a 2-3 business day buffer on your money, a drawback for many who need their money immediately.
How to Open Multiple Bank Accounts
Opening a new bank account is quite simple.
You'll need to gather a few personal identification forms (like a government-issued photo ID or passport) so the bank can validate who is opening the account and most accounts will require a small initial deposit. Some online banks make registering for a bank account more simple by allowing for the digital upload of required documents to expedite the process.
One you have everything in order, here are the accounts you should open:
First, open a checking account
It's common to start by opening a standard or free checking account before considering other types of bank accounts. As mentioned, a checking account is the hub of your finances and is used to move your money around to other types of accounts.
Second, open a savings account
Once you have a checking account, it's smart to open a high yield savings account to earn some interest on your money. While this won't bring significant income, it's a great place to store your money while decreasing the impacts of inflation.
Having a checking account and savings account is usually the bare minimum for bank accounts to open.
Then, explore other accounts
When it comes to additional accounts, you'll need to assess from there if they are necessary.
For example, a CD might be helpful if you have known payments upcoming like taxes on a property or tuition.
Additionally, multiple savings accounts could be helpful to save for different life goals.
It's up to you to ensure every account you add brings value.
Conclusion: How Many Bank Accounts Should I Have?
When it comes to the number of bank accounts you have, there is no right or wrong answer.
The best advice I can give is that you should do what suits your lifestyle and goals.
If your goal is to easily manage your money without much delay, having the basic two accounts will be the most beneficial.
If you wish to take advantage of different features of different types of accounts, there is no problem with opening several accounts. Just ensure that you keep up with your money to avoid any fees that might be enforced.
At the end of the day, your accounts should make your life easy and make you money. If you have an account that isn't doing one of those two things, it might not be worth it!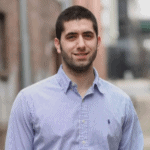 Forrest is the owner of Don't Work Another Day, a personal finance, investing, and entrepreneurship blog dedicated to helping others live a life on their own terms.