If learning how to invest is lesson 1 in personal finance 101, then learning how to choose a bank is the pre-requisite to that class.
Understanding how to choose a bank is one of the first things you should learn to do as a consumer! But, for some reason, no one really ever shows you the ropes. Or at least, no one showed me.
That ends today!
I blindly chose a bank for myself when the time came to get my first bank account. And I don't want you to feel as lost as I did when selecting one.
We'll walk through exactly how to choose the right bank for you. Which is straight forward when you know what to look for.
What Type of Accounts Do You Need?
The first step in choosing a bank is figuring out which accounts you actually need to open. And you have a few options.
Checking Account
A checking account is an account that allows you quick and easy access to your money. This account is best used as the central hub of your finances. All of your income should flow through and out of this account (for the most part).
This flow chart below helps visualize how a checking account can be used: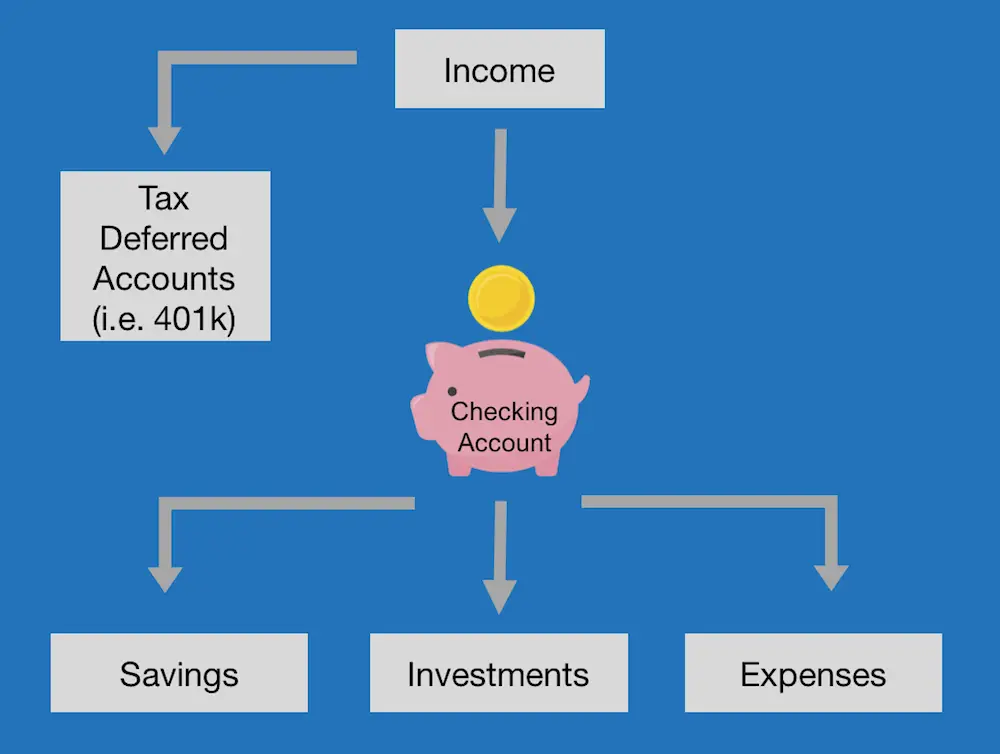 A checking account is extremely flexible, which makes it a great first bank account to open.
Savings Account
A savings account is an interest bearing account where you can store funds and access them 6 times per month. Savings accounts, especially the high yield variety, are best for emergency funds and longer term savings.
To be clear, all of your savings should not be in a savings account.
But a portion of them can be for emergencies or large purchases. For example, if you are going to buy a house, you likely want to build up money in a safer and less volatile account before you make a down payment.
Money Market Account
A money market account is a bank account that typically requires a higher minimum balance, but in exchange it offers better interest rates and check writing ability (something usually only available with checking accounts).
I view it as a hybrid between a checking and savings account.
Though, with the growing popularity of high yield savings accounts, interest rates on money market accounts are not always best in class (which used to be the big draw for them).
Certificate of Deposit
A Certificate of Deposit (CD) is an account with a fixed time period over which it pays higher than average interest rates. However, you cannot access your money during that time period without paying a penalty.
Essentially, you are giving up your right to your funds for a certain time period in exchange for better interest than a typical savings account.
For example, say you open a 24 month CD with 2.5% interest. The 2.5% interest is a pretty good rate, but you cannot access your money for 24 months until the term expires. What you gain in interest payments you lose in flexibility.
Other accounts and services
Other types of bank accounts exist, but the four listed above are usually the most popular options for beginners to choose from.
And if you have no idea what you need, it's safe to assume that you need one checking account and maybe one savings account.
Money market accounts and CDs are for more experienced consumers (and are not usually necessary). And having more than one checking or savings account is not necessary off the bat either. Keep it simple.
If interested, you can get more details on how to use a checking account vs a savings account here to help determine if one or both are right for you.
Online vs Brick-And-Mortar Banks
Now that you know what accounts you need to open, it's time to decide what is important to you: bare bones service with low costs? Or a more full service bank that does not offer as good of interest?
In general, that is the trade off between online banks and brick-and-mortar banks.
Online banks
Online banks are, you guessed it, banks based primarily online. Usually, you can only access them through your computer or an app. Examples include Ally Bank or Discover, and they usually include nice sign-up bonuses (check out the latest Discover Bank Promotions).
They are great for when:
You value lower fees and higher interest rates (traditionally found with online banks).
Convenience is king and you want access to your accounts anytime online without the hassle of having to go into a branch.
You don't mind having limited services available.
Brick-and-Mortar banks
Brick-and-mortar banks are more traditional banks with physical locations. Sometimes, they have an online platform, but that is not their only platform. Examples include Chase and Capital One.
They are great for when:
You need specific banking services (i.e. a safe deposit box).
1 on 1 assistance is important to you with banking.
You frequently write and deposit checks.
You value the ability to make transactions in person with another individual.
I don't want to stereotype anyone, but that is exactly what I'm going to do here.
In general, online banks are the banks for millennials. And brick-and-mortar banks are better suited for baby boomers.
Can an older consumer get an online bank and a younger consumer a traditional one? Yes, obviously. It all depends on what is more important to the consumer.
For me, I take a split approach. And this might work for you too…
I use an online savings account to maximize my interest payments on my emergency fund. And a brick-and-mortar checking account (with a great online platform as well) to maximize convenience with my "central hub" account. I can transfer money between the two in a matter of days and the system works for me.
You just have to find a system that works for you.
I would recommend starting with one bank (just because it's easier). And if you want to split your checking and savings account down the line to two banks, then go for it.
Just do whatever you feel comfortable with starting out.
Other Factors to Help Choose a Bank
So, the two most important factors when choosing a bank are:
Knowing what type of account(s) you need.
Choosing between an online vs brick-and-mortar bank.
There are some other factors you can and should consider as well, and I have listed some of the most common ones below.
Sometimes, these additional factors fall within the first two. For example, getting a good interest rate (additional factor #2) usually is based in choosing an online or brick-and-mortar bank. But regardless, you should still consider and examine these factors on their own.
FDIC insured
Interest rates
Monthly fees
Minimum balance requirements
Check writing ability
ATM access
Customer service
Loans
If you have questions on any of them above, just reach out.
Using the above factors, and the previously mentioned ones in the article, you can make an informed decision on how to choose a bank. Rather than blindly choosing the one your roommate (or sibling, or parents, or whoever) recommended to you.
The image below is a cheat sheet. Feel free to download the image, or just copy down the steps onto a sheet of paper or excel document.
Then, simply check the box of your desires/requirements in steps 1-2. And rank the importance of the factors in step 3.
One you have that information captured, you can go out and and find a bank that fits all of your needs!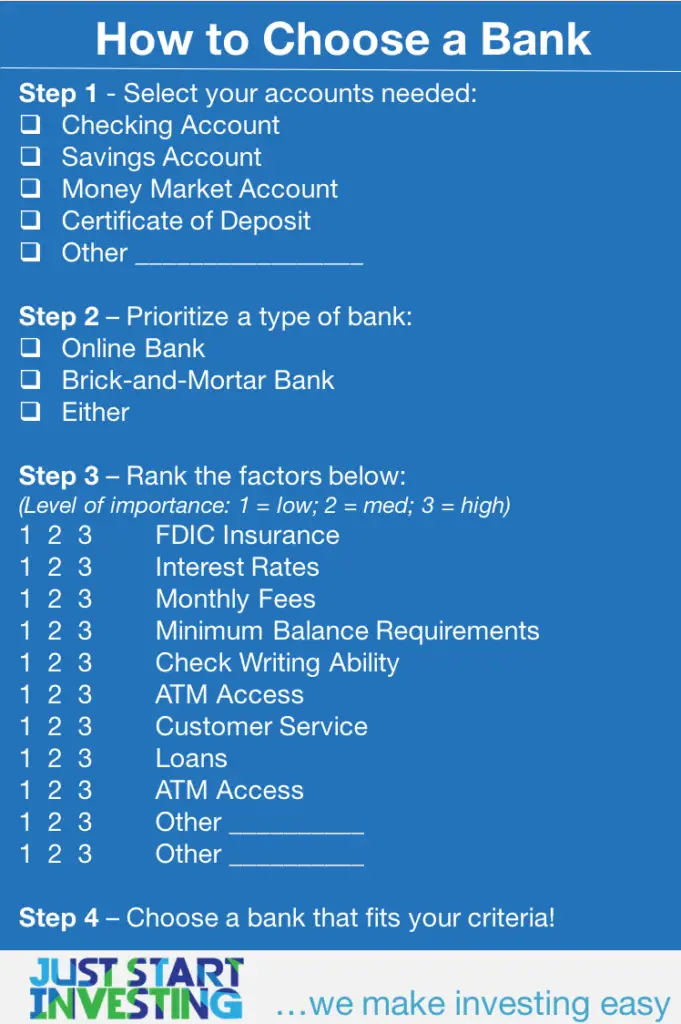 It's pretty simple once you know what you want.
How to Choose a Bank
Now, go out and find your bank!
If you're not sure where to start, here are some popular options that Just Start Investing used or researched heavily: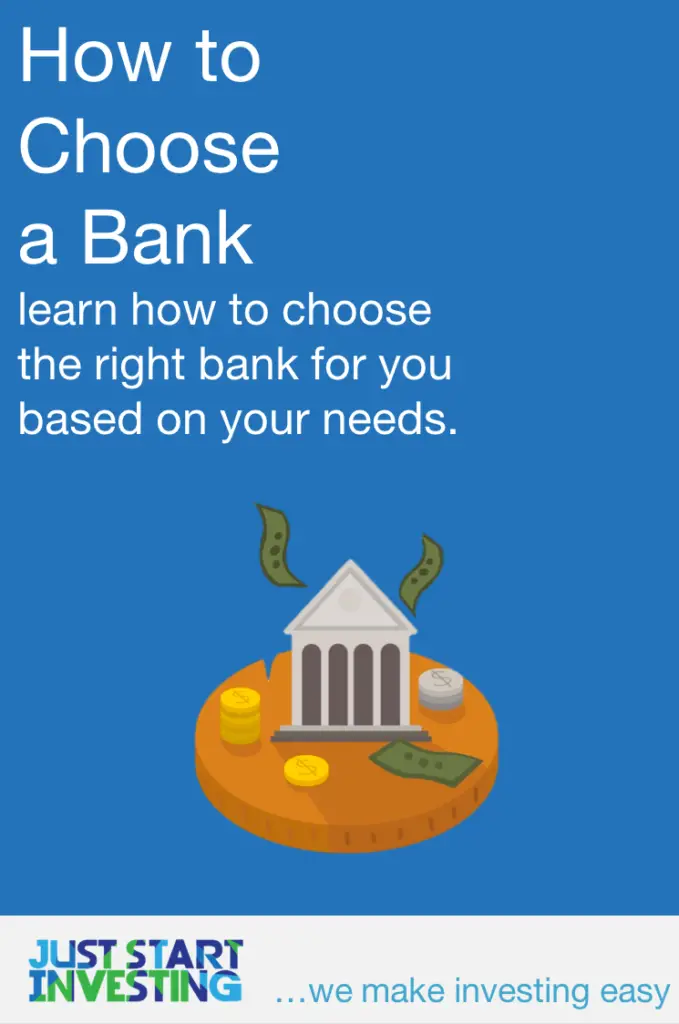 And you can get our full list of top banks here.
Just Start Investing is a personal finance website that makes investing easy. Learn the simple strategies to start investing today, as well as ways to optimize your credit cards, banking, and budget. Just Start Investing has been featured on Business Insider, Forbes, and US News & World Report, among other major publications for its easy-to-follow writing.