Klarna Bank AB, more commonly known as Klarna, is a Swedish fintech company that might do an IPO as soon as 2022. While there isn't any news as to when the IPO will happen, experts are predicting it might launch as soon as 2022. The Swedish fintech company is on the radar of many eager investors. While the privately held company doesn't plan on doing anything yet, the lack of funding might encourage it to go public. As such, the Klarna IPO might be one of the most anticipated IPOs of 2022. 
Stick around as we'll talk about everything you need to know about the most anticipated IPO of 2022.
What Is Klarna?
Klarna Bank AD is a successful fintech company worth around $46 billion. But Klarna Bank AD is no ordinary bank. The company specializes in the BNPL (buy now pay later) model. This model allows customers to shop in specific retailers and split purchases into multiple installments. More on that later.
Klarna is a successful company that partners with more than 25,000 retail stores across 17 countries. Some of Klarna's most notable partners include Samsung, AliExpress, Shopify, H&M, Ikea, and more. When shopping in these stores, you can split your purchases in the following ways:
Pay in four interest-free payments every two weeks
Pay within 30-days, also interest-free.
Or use the flexible option that allows you to pay anywhere between six and thirty-six payments, also interest-free.
Klarna Bank AD is one of the best IPOs of 2022 due to several reasons. The company reports show profits for the past 14 years, with the only exception being 2019-2020. This shouldn't worry potential investors as the company expected losses during the first round of funding. Germany is the biggest market for Klarna, followed by Sweden, the US, the UK, and the Netherlands. By 2022, the company will enter several additional markets including Belgium, France, and Australia. 
The BNPL model is very profitable, with Klarna making $1 billion in 2020. The flexible financing solution is going to get even bigger in the following years. Thus, experts are predicting the Klarna IPO to be one of the best IPOs of 2022. However, we have no real date on when the upcoming IPO is going to be. More on that later. 
Klarna IPO Plans To Go Public
For eager investors scouting potential IPO candidates, there isn't a bigger buzzword than Klarna IPO. Thus, a Klarna IPO is a highly anticipated project. But why is that? The reason why a Klarna IPO would be the best IPO of 2022 to invest in is the simple fact that it is the most valuable privately-held company in Europe.
Klarna is a giant in the fintech sector. It has already gone through multiple rounds of funding, one with $650 million and another round of $1.1 billion. That puts the total valuation of the company at $46 billion. Any multi-billion-dollar company going public presents a unique opportunity for investors. Klarna CEO Sebastian Siemiatkowski told Bloomberg of the possibility to launch on the London Stock Exchange as early as 2022. 
In a later interview, this time for CNBC, Siemiatkowski told he was feeling "nervous" about an IPO due to market volatility. It is more likely that the company will wait for the markets to calm down before committing to an IPO. He also said the company is in no rush to do an IPO. But despite recent stock market volatility and the imminent collapse of Chinese property developer Evergrande, investors are eager for a Klarna IPO.
Why Is Klarna IPO An Interesting Investment Opportunity?
The Swedish fintech company is one of the largest players in the BNPL (buy now pay later) market. This particular niche market allows customers to split larger purchases into multiple monthly installments. They typically allow customers to split purchases into three or four installments. And the best part – they don't charge fees. This model has skyrocketed revenues for Klarna Bank AD, with the BNPL model accounting for 2.1% of the total global e-commerce transactions.
So with reports that BNPL is going to double in usage, Klarna is right at the center of it all. The company is not only one of the pioneers of this model but also a firm believer in a zero-fee BNPL model. 
Fintech stocks are proving to be successful in this economy. Thus, fintech companies planning to go public are highly anticipated. And from all the upcoming IPOs, such as the Discord IPO and Rivian IPO, none is more interesting to investors than Klarna IPO. 
Klarna IPO Date
As we mentioned previously, Klarna doesn't plan on going public just yet. While Siemiatkowski has dismissed plans for an IPO this year, he hasn't dismissed anything about 2022. Thus, we can expect a date somewhere in the next twelve to twenty-four months. Even so, investors are eagerly anticipating the date to get in on the Klarna stock price train.
How To Buy Klarna Shares
Since the company is privately-held, investors can acquire pre-IPO shares from secondary markets. What this means is that you can buy shares from an employee of Klarna Bank AD. While this won't always be possible, there are a few markets out there that handle pre-IPO shares.
In the case of Klarna, the few markets that might handle pre-IPO shares are:
Early investors and employees looking to offload pre-IPO shares can do it through EquityZen. This is a platform that might arrange pre-IPO shares of Klarna stocks, but only to qualified investors. 
Another platform that helps employees liquidate company shares, it might be possible to find Klarna shares through SecFi. 
Tioex Technologies is a Swedish-based platform that, according to multiple reports, might have Klarna shares. It is one of the possible dozens of platforms that you can contact for the possibility of acquiring Klarna shares from employees and early investors.
Other than going through third-party platforms that specialize in selling pre-IPO shares of companies, there is no other way to buy Klarna shares but to eagerly wait for a Klarna IPO date.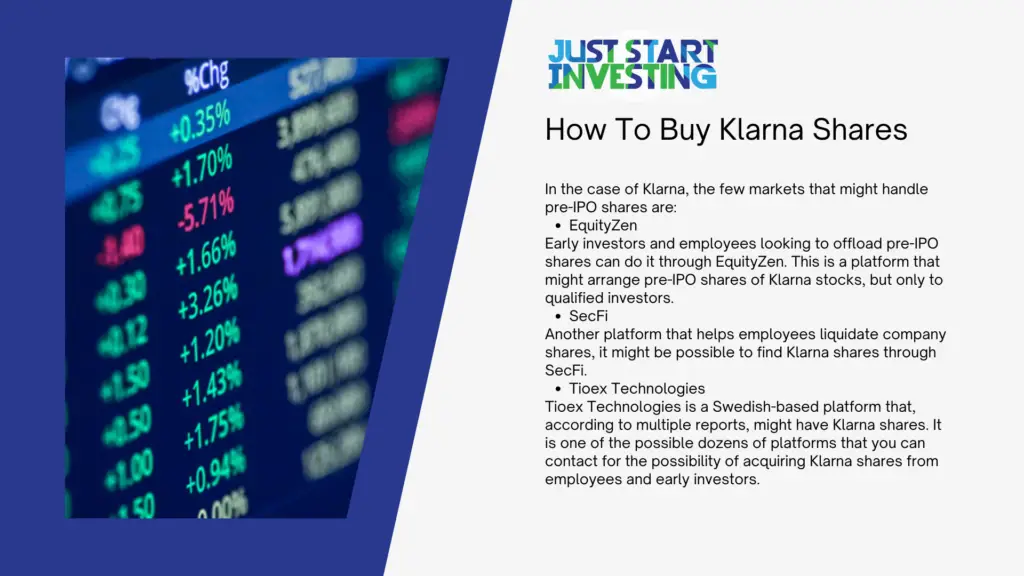 Finishing Thoughts
Klarna is one of the most highly anticipated IPOs of 2022. If the company does indeed go public the next year, investors shouldn't think twice about investing in this project. With consistent revenues and expected growth in the BNLP market, the Rivian IPO is one of the hottest projects to get into. 
While we don't know the current Klarna IPO date, it will be major news once the CEO, Sebastian Siemiatkowski breaks the news.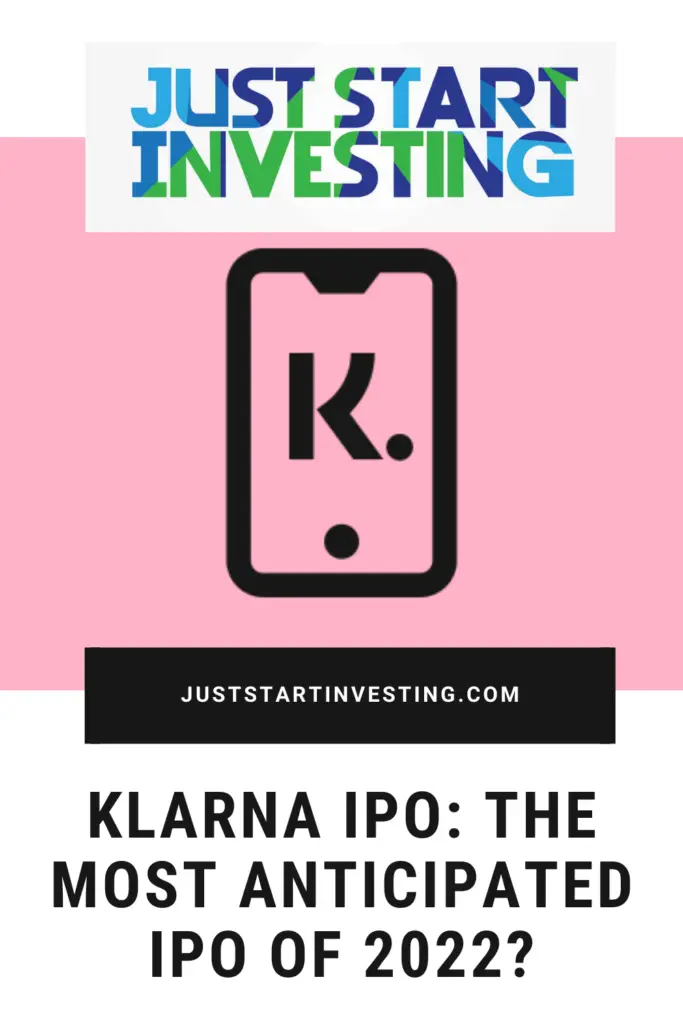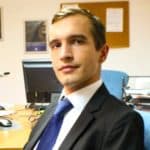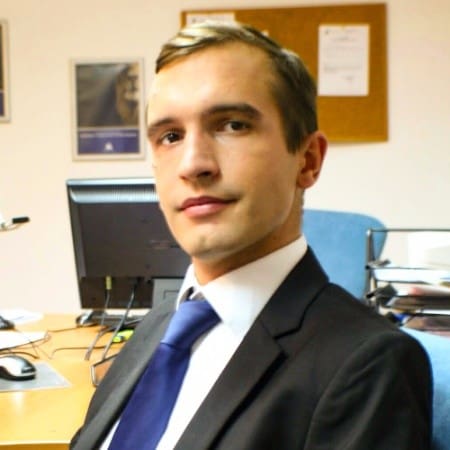 Partner at Vega Capital Management - a private funds management company.
An experienced portfolio manager with 10+ years of proven and reputable track record in investment management and financial analysis. Currently, a partner at one of the fastest-growing private fund management companies in southeast Europe, Kiril has been tending to a loyal international base of client-investors and partners. When he is not crunching numbers and increasing his client's wealth, he reminisces about his Michelin-star restaurant cheffing years and fondness of the culinary arts.