What if instead of receiving spam emails and lame 25% off deals in your inbox every morning, you received relevant (and entertaining) news that made you smarter in 5 minutes? That's what Morning Brew is striving to do, and we've got a comprehensive review of their free service below.
I'm not the first to say this, but to me, Morning Brew is a modern newspaper. Morning Brew delivers informative, extremely efficient, and entertaining information to you every morning in the form of an email newsletter.
If you want to sign up now and check it out, you can do so here (it's free!).
The company was founded by Alex Lieberman and Austin Rief (both members of Forbes 30 under 30 class of 2019) in 2015 with the insight that people just didn't have enough time to read a newspaper anymore.
Today, they have well over a million subscribers dedicated to getting the latest news and interesting stories.
JSI Newsletter:
We also have our own email newsletter. It's weekly, it's about personal finance, it also makes you smarter in 5 minutes.
Sign up here
if interested.
What is Morning Brew?
Morning Brew is a daily newsletter that provides easily digestible content across a variety of different topics, but is focused mainly on happenings in the business world.
Morning Brew Details:
Cost: Free
Frequency: Daily (Monday – Saturday)
Content Topics: Wide variety, from Sports to Market News
Morning Brew Content
I've mentioned a few times that Morning Brew provides info on a variety of different topics, and I've included some examples below to show you what you can expect.
All of this info is from the newsletter sent out on February 8th, 2020.
Market Info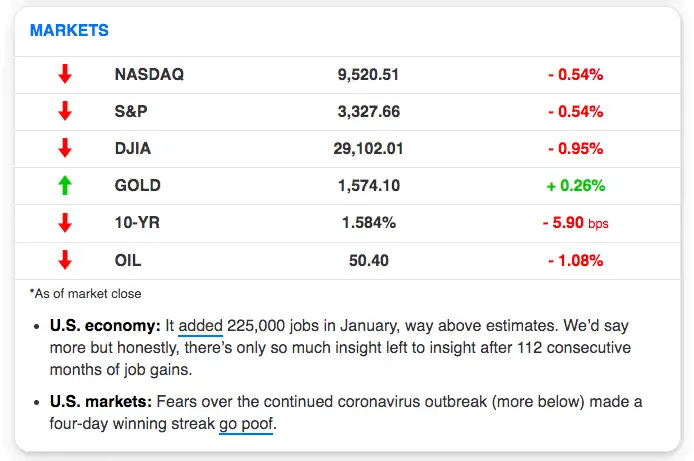 The first section within the newsletter is typically the Market section. It provides high-level information regarding major stock market indexes and important business news.
I know index investors often avoid watching the daily movement of markets (or at least try to, unlike most of Wall Street). Though, it never hurts to be informed on where the market is moving, as long as you don't get spooked or overly excited and make rash decisions based on it.
My favorite part of this section are the brief bullet points below the index performance.
They provide a little context on why the markets are moving where they are, which is the most important piece to understand and helps you become more financially savvy. Plus, as you'll see more in the newsletter, there are links (underlined in blue) that you can click throughout to get more information as needed.
Sports Content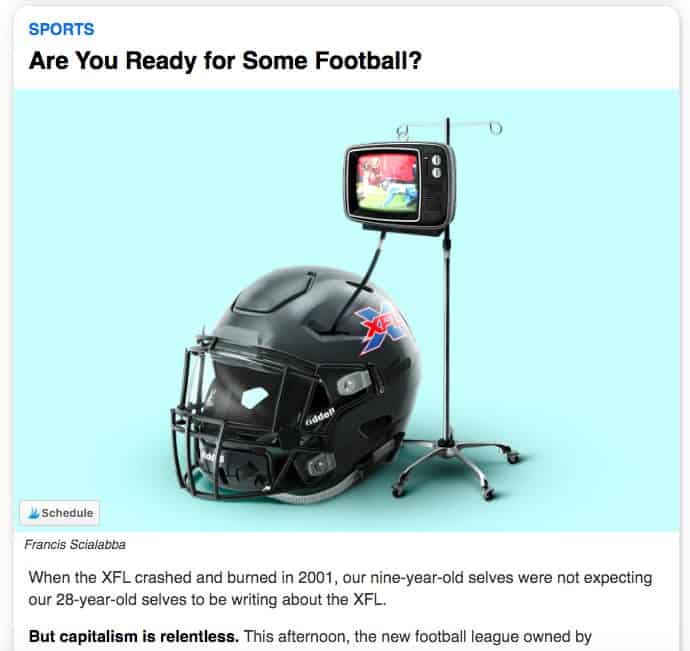 Sports fans can get their color commentary with Morning Brew. Which, for a newsletter that focuses on helping young business professionals stay informed, was a little surprising to see.
I suppose it provides some good water-cooler conversation starters.
Anyway, non-sports fans can keep on scrolling…
International News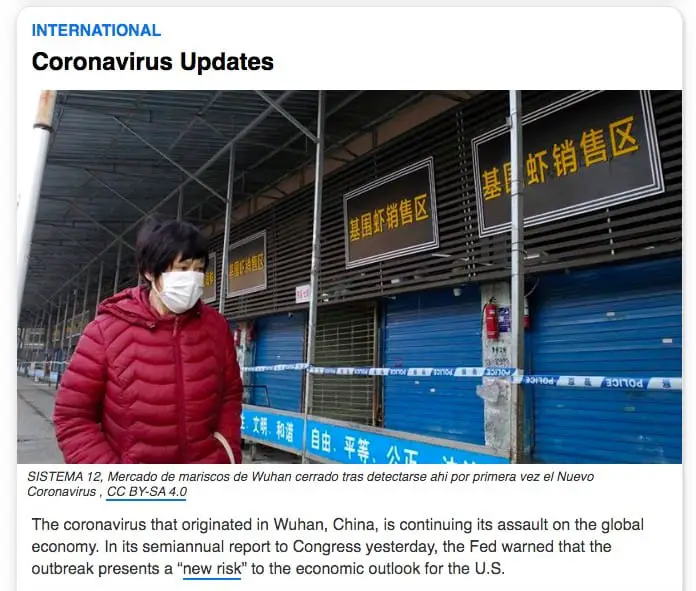 Usually, there are a variety of snippets regarding international news.
This is the section that I find most useful within the entire newsletter. The market info is nice, but often the international news section provides the most relevant updates on major events happening around the globe.
For many of us, these events can have implications for our personal and professional lives. For everyone else, at the bare minimum, it helps keep you in the know.
The Morning Brew Crew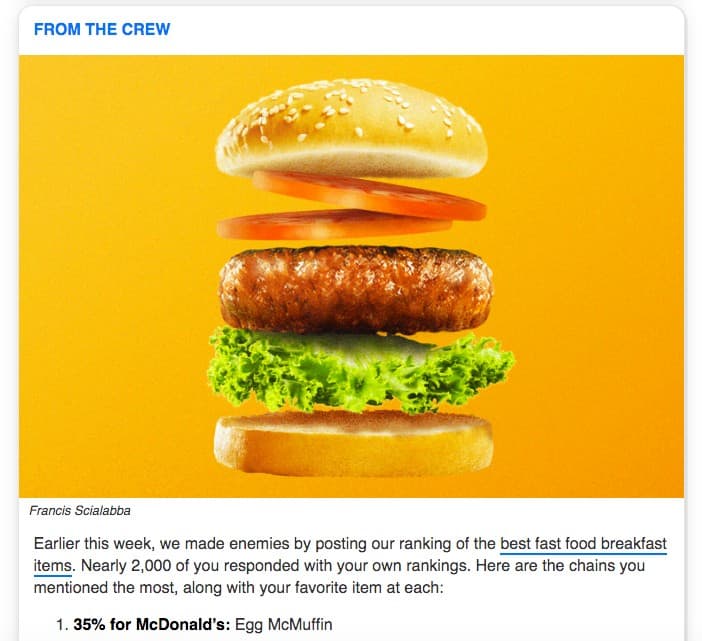 To be honest, I'm not sure if this is a regular section or not, but this newsletter had a fun section that highlighted Morning Brew's readers' response to their ranking of the best fast food breakfast items.
Informative? Probably not.
Entertaining? For sure.
Sponsored Content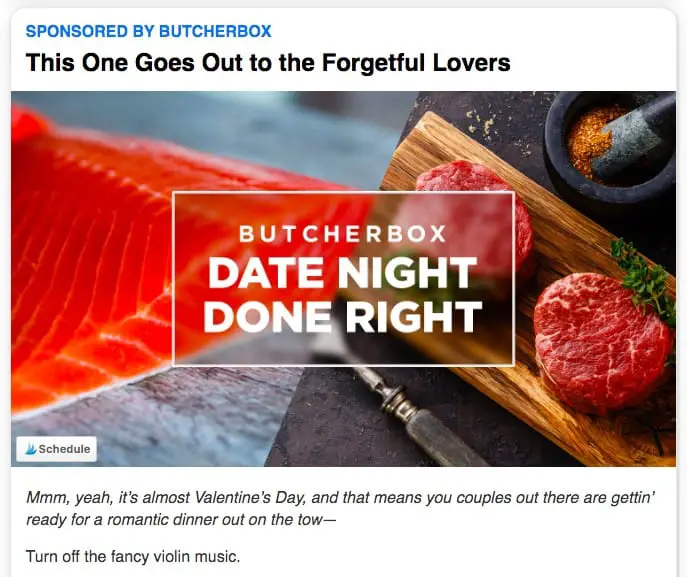 Morning Brew has to make money somehow, and one of the main ways is through sponsored content.
Luckily for the reader, the content is well-written and integrates into the newsletter nicely. For example, in this article, they featured Butcher Box and its product offering for Valentine's Day.
I didn't mind it at all, because it was relevant and not too sales-y.
Everything Else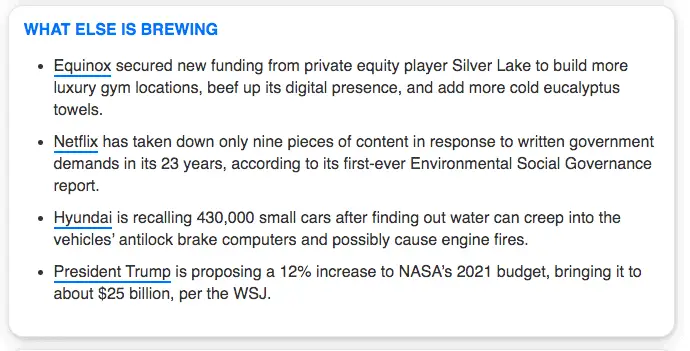 Last but not least, there is also a quick-hitting section called "What Else is Brewing."
Here you'll get a run-down of major stories from different news sources that you can click into to learn more (via the blue underlined links). I clicked into the Equinox article to see what it was all about, and was redirected to this Bloomberg article:
---
The above screenshots and info are just a sampling of the topics they covered in the 2/8/20 newsletter. Depending on what is relevant, you can expect a variety of headlines to appear every day.
How to Sign Up for Morning Brew
Signing up for Morning Brew is extremely easy.
For one, it's free. So there is no process to enter a credit card or give any personal information (besides your email).
The below image is the main page of Morning Brew. It's sleek, simple, and has a spot to enter your email address. To sign up, you simply enter your email and click "try it".
After, Morning Brew will send a confirmation email to your inbox.
It may take a few minutes, but once you receive it, you click on a link in the email to confirm that you are a real human who wants to get the news!
Once confirmed, you'll be redirected to the page below:
From here, you can check out the latest issue in your web browser, or simply wait for the next newsletter to come through tomorrow morning!
Pro Tip: Move your Morning Brew emails to your main inbox / folder to help avoid them getting sent straight to promotions or spam over time.
The Promise: Become Smarter in Just 5 Minutes
The Morning Brew promise is that you will become smarter in 5 minutes.
Do I believe this?
Yes, mostly.
Frankly, I don't actually think you will get smarter in 5 minutes. You will 100% get informed. You won't instantly get smarter.
I believe if you consistently read the newsletter every day over a longer period of time, you will get smarter. You need to put in the time investment for more than one day (and probably for a couple of months) in order to reap some true benefits.
If you consistently stay informed, you'll start to get an understanding of how the news, markets, and other information tie together and impact your life and job. To me, that's how you get smarter with Morning Brew.
Pros and Cons of Morning Brew
It wouldn't be a Morning Brew Review without examining the pros and cons. Since this is a low-investment (free) product, the pros and cons are pretty simple.
Pros
It's Free: It costs nothing to use Morning Brew (yes, that's what "free" means). They make money by delivering sponsored content to you within their newsletters.
It's Easily Digestible: You can truly get through an email in about 5 minutes, skimming the headlines throughout.
It's Entertaining: News can be, boring. With Morning Brew, it's not. They have writers that are witty, informative, and overall just write good.
(that was a joke…)
Cons
The Medium: For some people, reading is not a great way to take in the news. Personally, I love podcasts because I can listen on-the-go or in the car. I know others still like to flip on the TV as they get ready in the morning. An email newsletter, at times, can be restricting.
You May Invest More: Time, that is. Yes, it takes 5 minutes to skim the email, but you'll likely need to invest more time (clicking links and diving deeper into content) if you want to learn "the why" behind what's going on.
Other Morning Brew Offerings
As I alluded to, Morning Brew offers more than just an email newsletter. Here's a quick review of what else Morning Brew does:
Podcast
The Morning Brew recently launched a podcast called Business Casual.
As they describe it:
"Morning Brew's Kinsey Grant will press experts, thought leaders, and intimately involved CEOs to give insight on the causes, effects, and financial state of play surrounding one major trend or change each episode. From the rise of venture capital to the fall of Big Tech, Business Casual is ready to go deep. Are you?"
Emerging Tech Brew
Emerging Tech Brew is, you guessed it, a daily email newsletter to stay up to date on emerging tech.
Covering everything from AI to drones, this is a niche version of the more general Morning Brew newsletter. Perfect for anyone working in Silicone Valley.
Retail Brew
Retail Brew is another niche version of the broader email newsletter. This time, delivering retail industry trends straight to your inbox.
This newsletter is perfect for anyone working in a corporate or field job within the retail industry.
Summary: Morning Brew Newsletter Review
My final review and stance on Morning Brew: it's 100% worth the sign-up.
For one, it's free, so there is no harm in giving it a try (except for the extra email coming to your inbox every day).
More than the price, I think that Morning Brew does a great job of delivering daily business news in a digestible way. They'll keep you both entertained and informed and as you get up to speed on what's happening every day.
Just Start Investing is a personal finance website that makes investing easy. Learn the simple strategies to start investing today, as well as ways to optimize your credit cards, banking, and budget. Just Start Investing has been featured on Business Insider, Forbes, and US News & World Report, among other major publications for its easy-to-follow writing.