Nickel, a metal found in coins, jewelry, and other objects, is highly durable. Although nickel-containing materials such as stainless steel are exceptionally durable, nickel can linger in use for years and generate material stocks. For example, the lifetime of a roofing membrane in buildings ranges from several years in consumer applications to more than 100 years in structures. Manufacturers of polyester, combined with other raw materials and chemicals, are a primary source of secondary raw materials. Their importance will grow in the future as more material supplies come on line.
Nickel is a rare, valuable, and highly malleable element that may be used to produce coins, electronics, lithium-ion batteries, and electric batteries. Nickel's strong demand is mainly due to the growing popularity of electric automobiles.
Tonnes of Nickel are obtained in two ways: mining and recycling. The nickel mining giant comprises numerous businesses conducting mineral excavations worldwide and selling the metals for profit.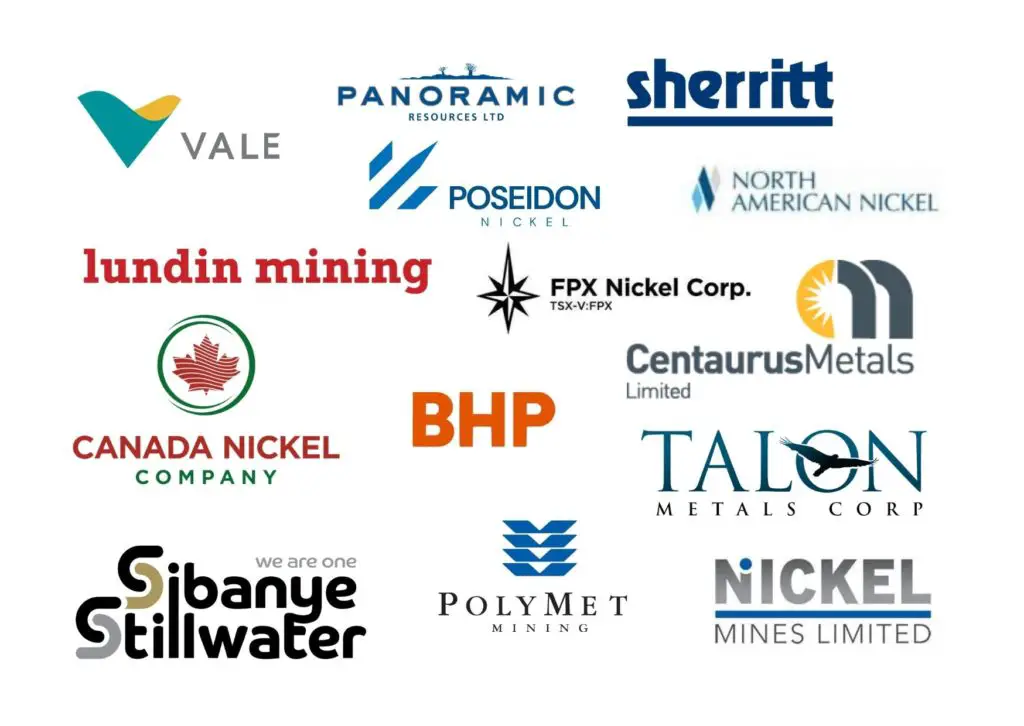 Top Nickel Stocks in the Mining Industry
Vale S.A. (VALE):
Vale is a Brazilian mining company that produces iron ore, pellets, manganese, iron alloys, gold, nickel, copper, bauxite (aluminum), potash, and coal. The firm also owns and operates railroads and maritime terminals, among other things. The Company operates in about 30 countries worldwide.
Glencore (GLNCY):
Glencore plc is a Swiss-based multinational business that buys and sells commodities. It produces other metals, minerals, energy, and agricultural goods. In addition, the firm provides services to global markets in the auto, steel, power generation, battery metals manufacturing, and oil industries.
BHP Group Ltd (BHP):
BHP is a global resources firm with headquarters in Australia. It explores and mines minerals including coal, iron ore, gold, titanium, ferroalloys, nickel west, and copper deposits. Also known as DEG Oil and Gas, the firm specializes in oil and gas exploration, production, and refining. In addition, the business provides service to customers throughout the world.
Sherritt International (SHERF):
Sherritt International is a Canadian mining and refining business based in Toronto, Ontario. Sherritt is the world's leading nickel and cobalt miner and refiner – metal required a growing of electric vehicles adoptions.
Lundin Mining (LUNMF):
Lundin Mining Corporation is a Canadian firm that owns and operates mines in Sweden, the United States, Chile, Portugal, and Brazil that produce copper, zinc, and nickel. Adolf Lundin and his son Lukas Lundin, who is now the Company's only owner, established the firm. The firm has offices in Toronto and London metal exchange.
Centaurus Metals (CTTZF):
An Australian-based minerals exploration firm is Phytanium Resources Pty Ltd. The Company is involved in mineral resource research in Brazil. Jaguar Nickel Sulphide Project and Jambreiro sells Iron Ore Project are two of the Company's projects. The Carajas Mineral Province is located in Brazil's western state of Parana. The Jaguar Project comprises several mining nickel sulphide deposits and exploration targets within a roughly 30 square kilometers (km2) land package.
Panoramic Resources (PANRF):
Panoramic Resources Ltd. is a mining firm. The Company explores, analyzes, develops, and produces mineral resources. The Company's business comprises the following areas: Nickel, Gold, Platinum Group Metals, and Exploration. The Savannah Nickel Project is the subject of the Nickel market cap demand section. The Gold segment covers the Gum Creek Gold Project, which includes developing and exploring gold.
Canada Nickel Company (CNIKF):
The Canadian Nickel Production Company Inc. searches for and finds nickel sulfide deposits. The Crawford Nickel-Cobalt Sulphide Project is its most valuable asset, entirely owned in Canada's northern Ontario region.
The day's opening price was C$2.00 for Canada Nickel Company, which followed a previous close at C$2.01 (a 15-minute delay). Canada Nickel Mining Industry Company is listed on the V. All prices are listed in Canadian Dollars.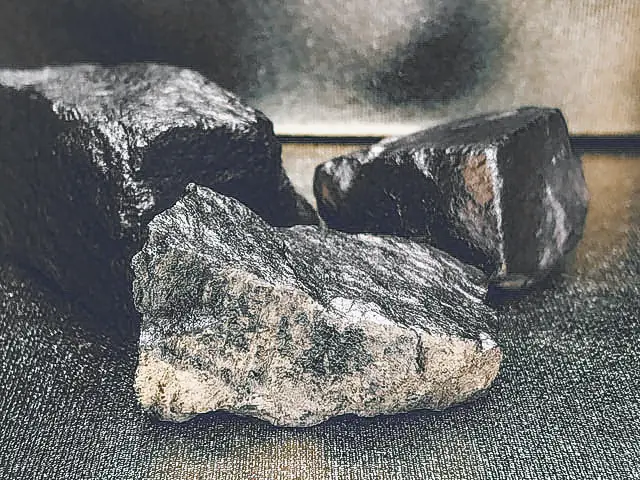 Other List of Best Nickel Stocks:
Talon Metals (TLOFF):
Talon Metals Corp. is a mineral exploration firm based in the British Virgin Islands. The Company's principal activity is the study and development of metals, including nickel, copper, and platinum, in the Tamarack nickel-copper-platinum group element (PGE) project (the Tamarack Project) in Minnesota, the United States. With a strike length of about 18 kilometers and interceptions beyond the current resource area, its project includes a land well-positioned of roughly 18km in length.
IGO Ltd (IIDDY):
IGO Ltd. is a mining and exploration firm specializing in metals essential to clean energy, such as nickel, copper, cobalt, and lithium. The Company's operations include the Nova Nickel-Copper Cobalt Project, an underground mine and processing facility in Western Australia that produces nickel industry and copper concentrates. It also has a minor stake in the Greenbushes Lithium Mine, which is run by Tianqi Lithium Corporation and is located near Kwinana in Western Australia.
PolyMet Mining Corp (PLM):
PolyMet Mining Corporation is a Minnesota-based mining firm with headquarters in Toronto, Canada. The DNR license covers the Mesabi Range NorthMet Deposit. In 2011, PolyMet received a four million dollar loan from the Iron Range Resources and Rehabilitation Board to finance its mining operations.
North American Nickel Inc (WSCRF):
Nickel exploration and development firm North American Nickel Inc. is a mineral prospecting, and resource creation company holds. The organization is primarily concerned with searching for nickel-copper-cobalt-precious metals sulfide deposits in various parts of the world's largest producer. In addition, it has interests in mineral properties in Maniitsoq, Greenland, Ontario, and Botswana through its involvement in Premium Nickel Resources.
Sibanye Stillwater Limited (SBSW):
The South African firm Sibanye-Stillwater mines platinum, palladium, rhodium, osmium, and iridium in South Africa and the United States and gold and base metals operations.
Nickel Mines (NICMF):
Nickel Mines Limited is a firm that produces nickel ore mining and pig iron manufacturing in Singapore and Indonesia. The firm has an 80% stake in the Hengjaya Copper Mine, located in Central Sulawesi's Morowali Regency and covers 5,983 hectares; an 80% interest in the Ranger project; and a 70% interest in Angel Nickel.
Poseidon Nickel Ltd (PSDNF):
Poseidon Nickel Limited is a nickel sulfide exploration and development firm. The Company owns two nickel sulfide concentrators and six historic mines spread across three sites in the Goldfields region of Western Australia, totaling 400,000 tons of nickel reserves. The Company's operations include the Mt Windarra, Black Swan, Lake Johnston Nickel Projects, and the Gold Tailings Project.
FPX Nickel Corp (FPOCF):
A Canadian-based junior nickel mining company, PFPX Nickel Corp., deals in mining property acquisition, exploration, and development. Awaruite, a nickel-iron alloy, is sought after. Its flagship property is the Decor Project, which covers an area of about 245 square kilometers in central British Columbia and is entirely owned by the Company. The firm was formerly known as First Point Minerals Corp.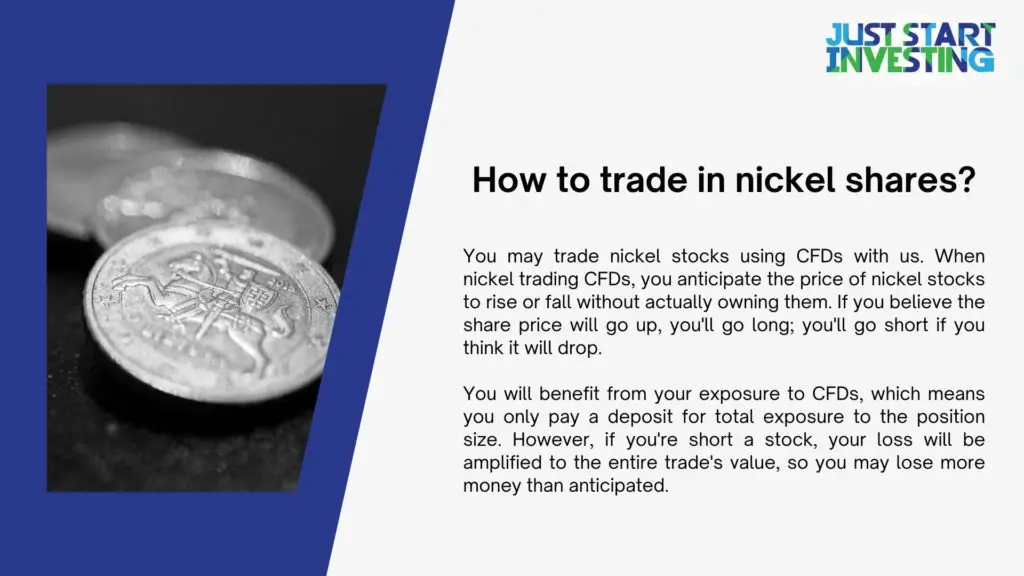 How to trade in nickel shares?
You may trade nickel stocks using CFDs with us. When nickel trading CFDs, you anticipate the price of nickel stocks to rise or fall without actually owning them. If you believe the share price will go up, you'll go long; you'll go short if you think it will drop.
You will benefit from your exposure to CFDs, which means you only pay a deposit for total exposure to the position size. However, if you're short a stock, your loss will be amplified to the entire trade's value, so you may lose more money than anticipated.
How to buy nickel mining stocks
Join an online broker or platform to invest in one or more of these nickel mining stocks.
Compare share trading platforms –
 Use our comparison table to compare top brokers based on costs and incentives.
Open and fund your brokerage account –
Personal and financial information will be required, such as your contact and bank information.
Search for the stock you're interested in –
Look for the stock by name or ticker symbols, such as SBSW or MTRN.
Decide on how many to buy –
Some brokers will allow you to buy fractional shares, while others demand whole shares.
Choose an order type –
Invest in nickel mining stocks with a market capitalization order or a limit order to hold off buying until the stock reaches your desired price.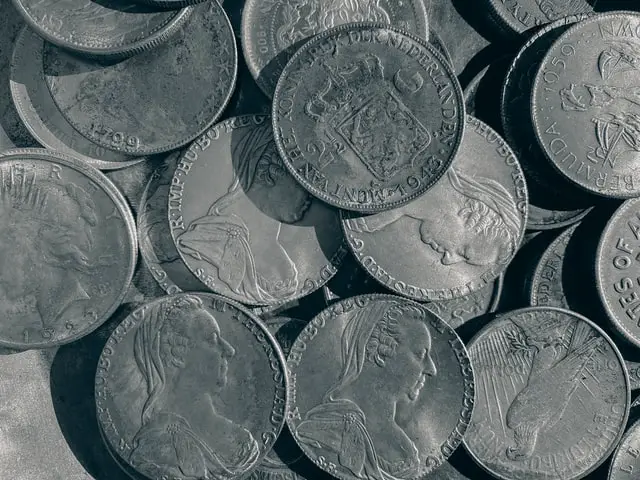 FAQs
Is nickel a good investment?
According to experts, nickel is excellent long-term investment advice. Nickel may be in short supply, and political upheaval might result in temporary premium increases. However, if geopolitical tensions ease and Indonesian mines start operating in the long run, increasing the metal supply will reduce nickel prices.
Can you buy stock in nickel?
Mining firms account for the majority of nickel's stock investment. Therefore, the key metrics should be evaluated before you invest in nickel stocks to determine the companies' viability in the sector:
Examine their background and strategies.
Go a step further by looking at the worldwide economic situation for nickel and environmentally friendly corporate governance concerns.
Investigate how the firms rank in their industry, past success, and prospects.
Aside from pure-play stocks, nickel-exposure firms do not produce nickel themselves.
What is the best nickel stock?
The finest top nickel mining stocks are based on your portfolio and investment goals. Volatility may benefit day traders, but long-term investors will want to seek out stocks with more constant gains.
Nickel mining companies are traded on foreign exchanges in great numbers. You'll need access to foreign markets through a brokerage account to change them. Check whether your broker offers access to the stock exchange where the stock you're interested in is traded before creating new accounts.
Sibanye Gold Ltd ADR (SBSW)
Materion Corporation (MTRN)
Nickel Mines (NIC)
Public Joint Stock Company Mining and Metallurgical Company Norilsk Nickel (GMKN)
Canada Nickel Company (CNC)
Poseidon Nickel (POS)
WisdomTree Nickel (NICK)
Vale SA ADR (VALE)
Jinchuan Group International Resources CoLtd (2362)
Glencore Stock(GLEN)
BHP Group (BHP)
Red Rock Resources (RRR)
Tesla (TSLA)
Can You Invest in Nickel?
Nickel is a bet on the future of the industrial and manufacturing industries, both of which rely heavily on this metal. Nickel is different from precious metals like gold and silver in that it is a base metal, not a precious metal. As a result, metal prices are not always in tune with one another; however, precious metals' prices frequently move in the opposite direction of the economy. If you want to include nickel in your portfolio, talk to a financial advisor.
Excess nickel supplies might weaken average prices and cause a pure-play nickel stock market collapse. Investors who believe the nickel price is poised to rise should consider many options for participating in that growth. They may trade futures contracts or options on nickel futures contracts to directly invest in the metal.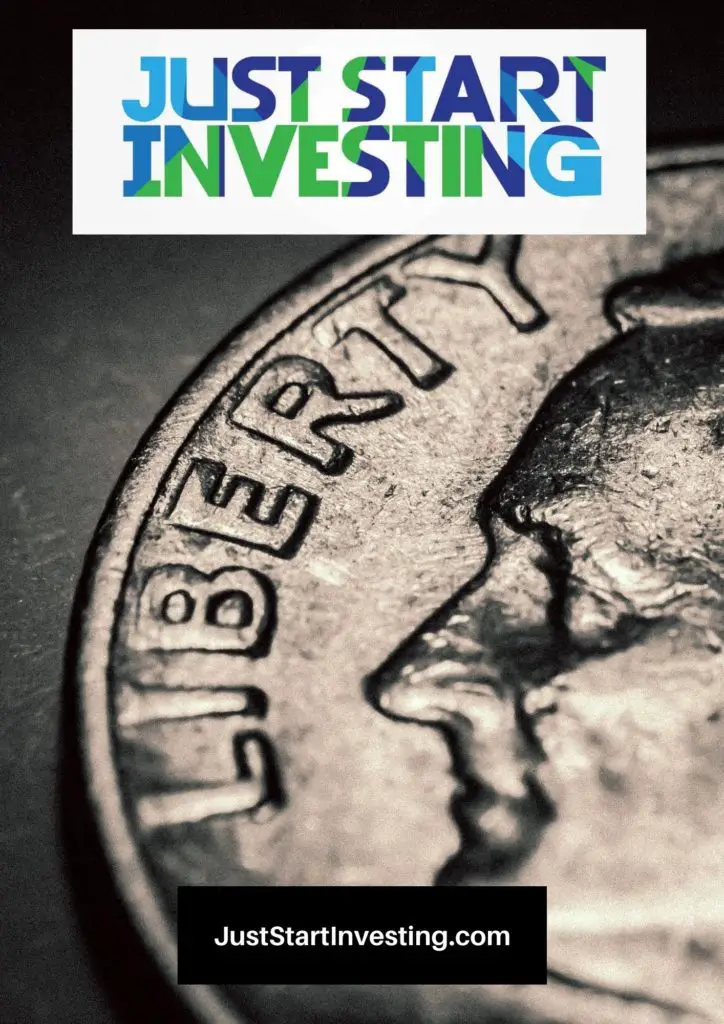 Just Start Investing is a personal finance website that makes investing easy. Learn the simple strategies to start investing today, as well as ways to optimize your credit cards, banking, and budget. Just Start Investing has been featured on Business Insider, Forbes, and US News & World Report, among other major publications for its easy-to-follow writing.