Web3 airdrops isn't a new concept. The idea of a new internet, powered on the blockchain gives birth to what is known as the 'Web3'. One of the core concepts of Web3 is the aspect of decentralization. Web3 apps, known as dApps or decentralized applications, give governance to users. DApps do this by issuing governance tokens.
So how does this concept relate to airdrops? This short guide will explain what Web3 is, what Web3 airdrops mean, and how to find out if you're eligible for airdrops.
What Are Web3 Airdrops?
A web3 airdrop is a form of cryptocurrency, token, and NFT distribution to holders. This all ties back to the blockchain as Web3 dApps run through the blockchain. Projects, DAOs, and cryptocurrencies reward participants for using or purchasing digital assets. They're a form of promotional strategy that incentivizes the user to use the service.
There are four types of airdrops:
Standard
Exclusive 
Hardfork 
NFT airdrops 
Let's explain all four.
Standard Airdrop Explained
Standard airdrop is when users receive cryptocurrencies for participating, interacting, and using decentralized apps. This could mean signing up with a dApp, sharing content, or completing other tasks. In most cases, standard airdrops usually reward users with lesser-known currencies or new currencies that are just starting. By simply using a service or performing a task, the dApp provides additional value by rewarding you with a cryptocurrency, token, or NFT. As mentioned previously, standard airdrops are usually used in the form of promotional strategies to draw more eyes to a particular dApp, DAO, or NFT project.
Exclusive Airdrops Explained
An exclusive airdrop is used to reward loyal cryptocurrency holders or blockchain communities. They act the same as stores or shops that reward loyal users with exclusive coupons, discounts, etc. The sole purpose is to reward short and long-term holders and keep them loyal. Popular blockchain-based communities that distribute exclusive airdrops are Polkadot, Cardano, Ethereum, Solana, etc.
Hardfork Airdrops Explained
A hardfork airdrop is when an existing blockchain goes through a split, or a new version is released. When this happens, the blockchain needs to distribute new tokens to holders that function with the new protocols. Hardfork airdrops are available to members of a particular blockchain that is going through a hardfork. In most cases, members receive an equal amount of new tokens to what they currently hold in the old token.
NFT Airdrops Explained
An NFT airdrop is when an NFT project distributes new NFTs to the wallets of current NFT holders. A popular NFT airdrop was the Bored Ape Mutant Serum. Holders of Bored Ape Yach Club NFTs were given new variations of the Bored Ape collection – the Bored Ape Mutant Serum collection. NFT airdrops are extremely rare and can be extremely valuable in many cases. When the new Bored Ape collection came out, members could mint the NFTs for 3 ETH ($7,800). On secondary markets, such as OpenSea, the collection sells for a floor price of 91 ETH ($230,000). One particular NFT was sold for $6 million!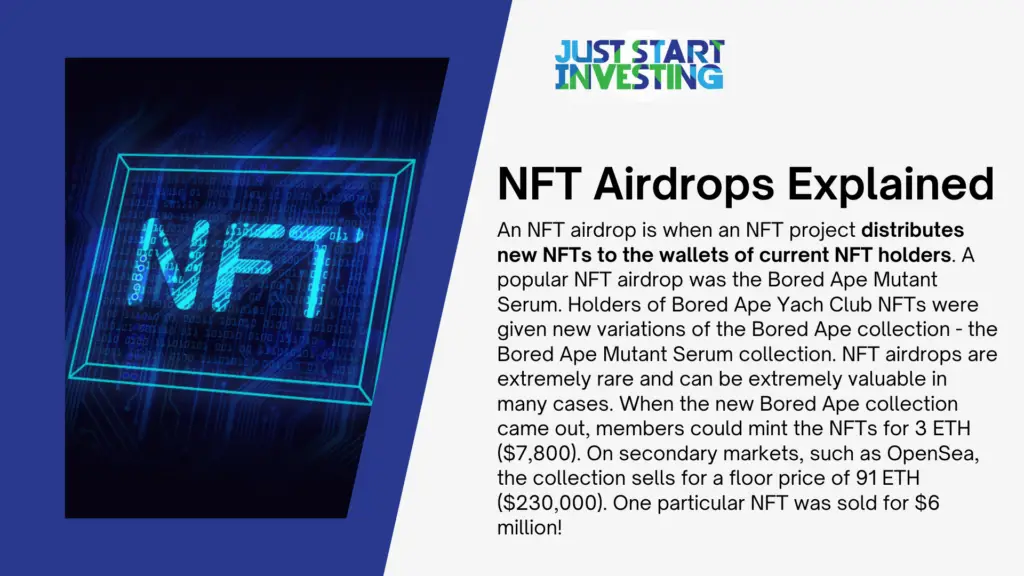 How To Receive Web3 Airdrops?
To receive Web3 airdrops, you have to be eligible for an airdrop. You might be eligible for an airdrop without even knowing. So to know if you are eligible, you need to add your wallet address to a Web3 dApp. For example, if you're a Cardano holder, the dApp to check out is DropDripz.io. For the Ethereum blockchain, it's Earnie.fi.
When you add your wallet address to these dApps, they will tell you if you have an unclaimed airdrop. So without even knowing, you still earn on Web3. The potential to earn on Web3 is why many people are getting into airdrop farming. Airdrop farming essentially means actively chasing airdrops to receive free rewards. We have a separate guide on airdrop farming right here. While we're a long way to fully understanding the potential of Web3 airdrops and how companies and brands can utilize airdrops to add more value to users. Just remember that they're a form of rewarding users.
Web3 FAQ
Here is a short FAQ on all things Web3 related.
Web3 is a short name for decentralized web. Web3 is a series of new protocols on the blockchain that incorporate concepts such as decentralization and token-based economics. Previous renditions of Web3 are Web1 and Web2.
Web1 is the first rendition of the internet. Back in the day, the internet was used in a 'Read-Only' manner. This means that you could visit websites and read the contents they would post. Web1 spans from 1991 to 2004. After 2004, Web2 came. In Web2, companies started gathering data from you. Social media giants like Facebook and Twitter gather your data and modify their services to meet your content needs. This means that what someone views on Facebook doesn't mean another person will. Since these companies collect different data, they show different ads to each user.
How is Web3 Better Than Web1 and Web2?
Some view this practice as shady and harmful to the user; since these companies sell your data to other companies. Web3 wants to eliminate that through blockchain technology and decentralization tools. In Web3, you are the owner of your data (the stuff you post online). More so, Web3 promises to keep you anonymous on the internet. Many say that Web3 emerges as a reaction to social media companies collecting and selling your data for profit. While we're a long way to a fully decentralized web, we're seeing the emergence of DAOs.
DAOs are decentralized autonomous organizations. They're essentially companies with no CEOs and no presidents. DAOs are run by holders of governance tokens. Those with the most tokens get to vote on how the DAO runs. As DAOs get bigger, they will divide into SubDAOs. We have a whole guide on SubDAOs for you to check out.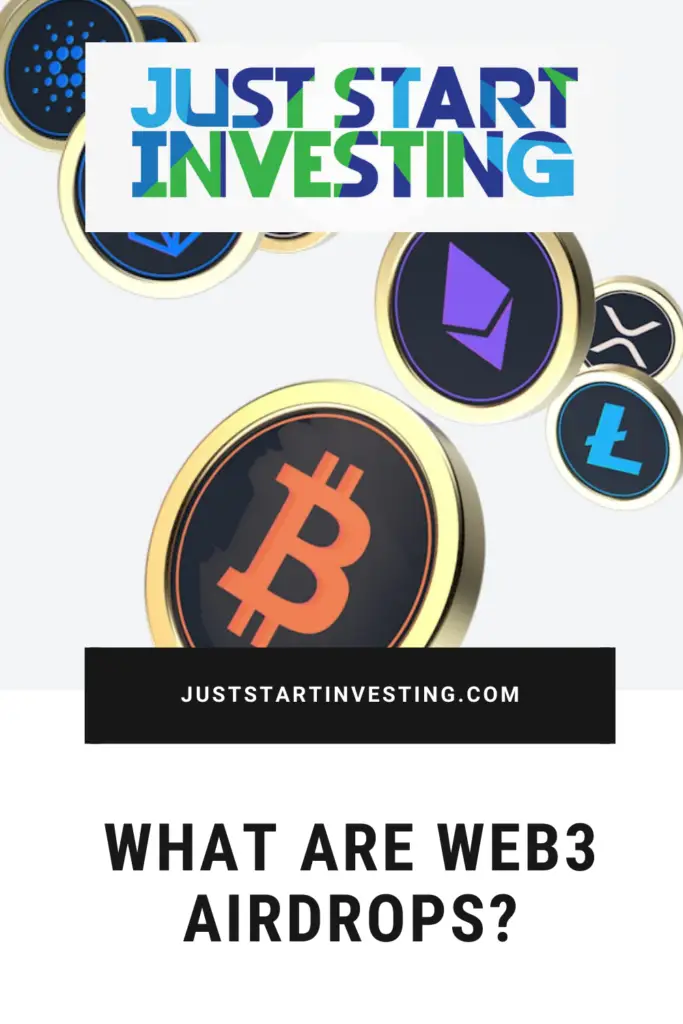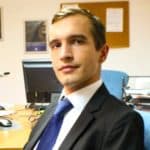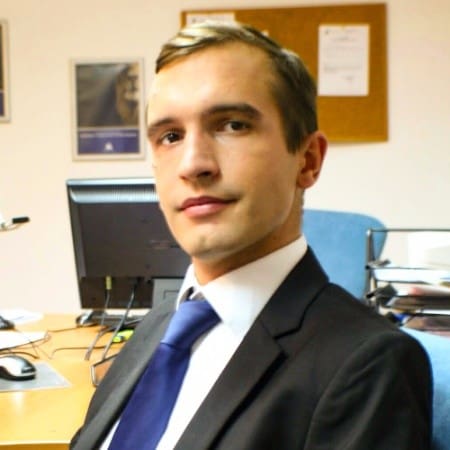 Partner at Vega Capital Management - a private funds management company.
An experienced portfolio manager with 10+ years of proven and reputable track record in investment management and financial analysis. Currently, a partner at one of the fastest-growing private fund management companies in southeast Europe, Kiril has been tending to a loyal international base of client-investors and partners. When he is not crunching numbers and increasing his client's wealth, he reminisces about his Michelin-star restaurant cheffing years and fondness of the culinary arts.