Saving money may be a pain for many people. However, it may not appear to be worth it, and there is usually an immediate benefit associated with putting additional funds into a savings account. Furthermore, with interest rates at present low, there may not be much need to save money.
Yotta Savings Account is here to fight that trend. Yotta is a high-yield savings account specialist that operates through the internet. Yotta also has a unique element: the opportunity to win weekly prizes.
Yotta's concept is based on contemporary psychology and the finding that individuals are more motivated to perform tasks when there is a possibility of an immediate, physical reward. This is especially crucial for saving money, which may have no real value.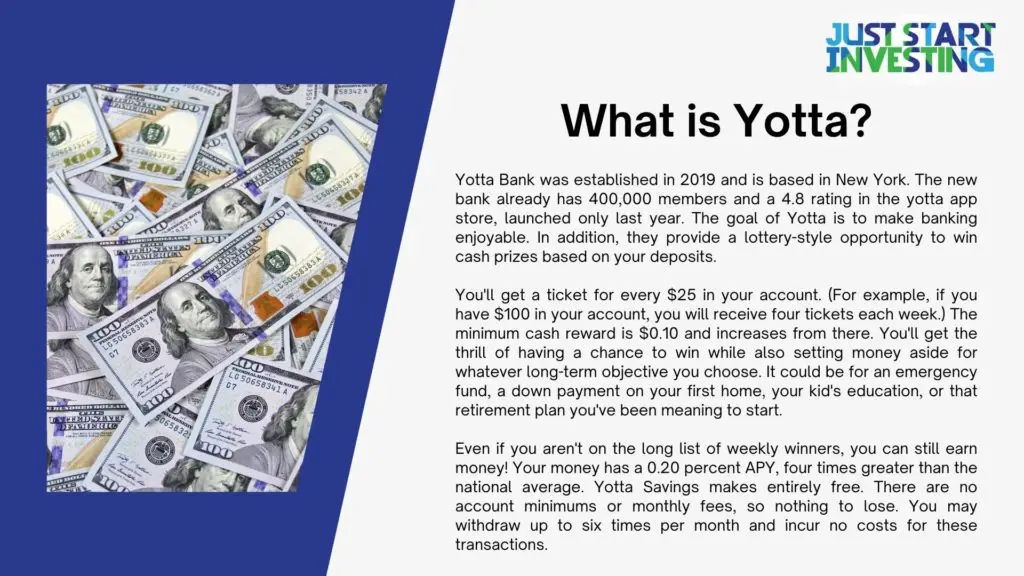 What is Yotta?
Yotta Bank was established in 2019 and is based in New York. The new bank already has 400,000 members and a 4.8 rating in the yotta app store, launched only last year. The goal of Yotta is to make banking enjoyable. In addition, they provide a lottery-style opportunity to win cash prizes based on your deposits.
You'll get a ticket for every $25 in your account. (For example, if you have $100 in your account, you will receive four tickets each week.) The minimum cash reward is $0.10 and increases from there. You'll get the thrill of having a chance to win while also setting money aside for whatever long-term objective you choose. It could be for an emergency fund, a down payment on your first home, your kid's education, or that retirement plan you've been meaning to start.
Even if you aren't on the long list of weekly winners, you can still earn money! Your money has a 0.20 percent APY, four times greater than the national average. Yotta Savings makes entirely free. There are no account minimums or monthly fees, so nothing to lose. You may withdraw up to six times per month and incur no costs for these transactions.
What are Yotta Savings Accounts
Yotta is not only a lottery; it also has excellent savings accounts with a decent base interest rate of 0.2 percent. The interest offered by these sites is nearly double that of traditional banks. Some users have reported receiving rates as high as 5%, even though the average user will probably see some variation in this number.
Here are a few numbers to establish a comparison of interest rates. Wells Fargo and Chase, two of the country's central banks, provide only 0.01 percent interest on savings accounts. Citibank's base rate is about 0.04 percent. As a result, Yotta's interest rates are inordinately high.
Yotta users' money has a maximum of six withdrawals per month, just like a standard bank savings account. Most leaves are completed in 2-3 business days, and lottery odds of winning are deposited right after each week.
You may also link your recurring payments to a Yotta account and make splitting up chores more convenient. You may even schedule automatic withdrawals if funds are still available after the end of the period. However, there is a $10,000 daily deposit and withdrawal limit and a $40,000 monthly deposit and withdrawal restriction. These restrictions are intended to prevent money laundering.
How to open a Yotta savings account?
You'll be relieved that it's probably simpler than setting up a savings account with a conventional bank since it will only take a few minutes. Visit the Yotta Savings website or download the mobile app and create an account with a valid email address and password. When signing up for Yotta Savings, enter a referral code to access some free tickets for the Yotta Savings lottery drawings.
Once you've signed up, go to the Yotta Savings app and link a bank account in the settings. Once you've filled out the form, we'll need to verify your identity to ensure that everything is correct. After you've submitted all of the required information, the next step is to wait for our response, which we will give by email. You will also be asked to put money into your Yotta Savings account, but you may skip it if you want.
Deposits to your Yotta Savings account are made three days after your request and can be withdrawn after another four days.
What are the benefits of a Yotta savings account?
No fees: Avoiding costs might be vital when choosing the most delicate savings account. You don't have to pay minimum balance fees (or maintain a minimum balance), monthly maintenance costs, or other charges with Yotta Savings. Yotta Savings is free as promised.
Accelerated growth: It's important to note that the 0.20 percent APY (as of May 10, 2022) is far better than typical rates. Yotta Savings pays out approximately four times more than a regular bank account.
Prizes: Yotta Savings' lottery-focused prize structure is almost certainly one of the most appealing aspects for many people. Buying lottery tickets is frequently associated with the excitement of winning large sums of money, yet disappointment is often followed when you lose and waste money. You won't win big money every week with Yotta (the chances of winning the Yotta jackpot are one in 8 billion per regular lottery ticket). Still, it's entertaining, and your little earnings add up over time, bringing your current 0.20% APY (as of May 10, 2022) even higher.
Mobile access: Life is complete, but having easy access to your finances wherever you go is critical. It's straightforward to deposit and withdraw money using the Yotta Savings mobile app for iOS and Android devices.
Yotta Pros & Cons
Pros
Elements of game design. Yotta's gamification elements are its most distinctive feature. This function exploits the psychological quirks of people to encourage them to save more money.
Millions of dollars are up for grabs. You may win up to $10 million every week with the lottery. There is a tiny probability of winning (approximately 1 in 8 billion), but there is no cost to losing, so there is no downside. Furthermore, the more you invest, the greater your chances of winning.
The interest rates are very competitive. Yotta accounts pay a 0.20% base interest rate, and you'll see some superb development no matter what. Most people receive a few dollars each week, adding a minimum deposit of 3% APY on their accounts.
Extra cash for referring new customers. When you suggest a friend to Yotta, you will get 100 lottery tickets for free when they create an account and sign up. It's a nice bonus to encourage people to tell friends about your game, even if it doesn't improve your chances significantly.
Cons
Features that are missing. Yotta is strictly focused on savings, so it does not provide standard banking services such as checking accounts, CD accounts, or retirement accounts.
Design for mobile devices only. You may not use your desktop browser to make transactions with Yotta because it only works through the mobile app. Fortunately, the mobile app layout is simple to comprehend and appears to operate effectively without any significant complications, aside from a few loading snags.
In the long run, rates may decrease. Yotta is still in its infancy, and its approach is based on lottery prizes being supplanted by investors. As a result, the cost may fall in the long term.
How Yotta Savings works
Yotta, a prize-linked savings program that has been in operation in the United States since the 1950s, is one of the first such accounts to launch there. It's similar to a lottery in that you could win large rewards if the correct numbers are chosen.
Unlike Powerball or Mega Millions, you will never lose money on losing tickets with My Lottery. Instead, your funds are transferred to a savings account that pays 0.2 percent APY. Here's how it works in three easy steps.
Get your tickets every week; you'll get a lottery ticket for $25 each time you can direct deposit money into your Yotta account. That's a great return if you deposit $1,000 and get 40 free lottery tickets every week as long as those funds stay in your account. You can choose seven numbers for each access. If you don't pick any, Yotta will select them for you.
Enter daily drawings
Every night at 9 p.m. ET, a third-party insurance company generates a single number for the Yotta lottery using a random number generator. Contests begin on Monday and conclude on Sunday. The Yotta Ball is the number drawn on Sunday evenings.
You may win anything from $0.10 to $10 million if the seven numbers drawn during a week are identical to your tickets. Any of your tickets' seventh digits must match the Yotta Ball number to win prizes of the most lucrative rewards.
Collect your winnings
Yotta immediately credits your account with any winnings. In addition, you receive an additional recurring ticket for the following week's contest for each $25 you win.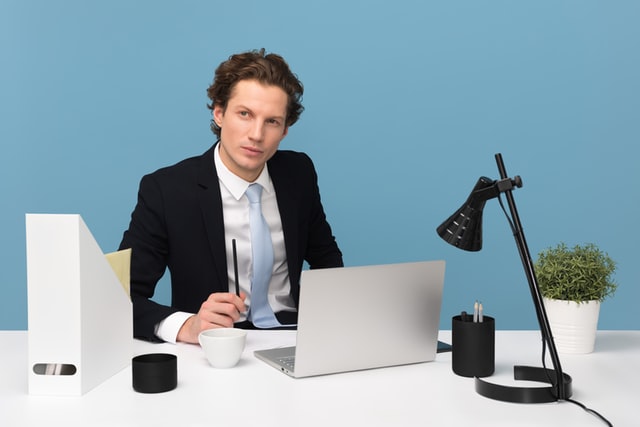 Yotta Savings Pricing and Fees
Yotta is an utterly fee-free banking platform, in addition to being free of charge. There is a 50-cent monthly charge if your account balance is less than $5, but Yotta is free of charge. In addition, there are no monthly maintenance fees, out-of-network ATM fees, international transaction costs, or overdraft charges.
The one exception is for cash deposits, which Yotta provides through a collaboration with Green Dot. You will not be charged anything when you deposit money using Yotta, but Green Dot retailers charge $4.95 per deposit.
FAQs about Yotta Savings
Is Yotta Savings safe?
Yes. Yotta is a secure platform that uses bank-level security standards and FDIC insurance.
How does Yotta make money?
Yotta is a firm that works with partner banks that pay little or no interest to account holders. This is also one of the most common methods for traditional savings account banks to make money. Instead, money is placed in a savings account, where you receive a little percentage of interest on your funds. On the other hand, deposits allow a bank to make loans to other customers while still earning a greater interest rate on these loans than you'd earn from most savings accounts. As a result, your bank becomes a net profit.
Yotta focuses on making interest off deposits rather than providing higher-interest loans. Yotta also collaborates with an online financial institution that doesn't have the same real estate and marketing expenditures, allowing it to generate more interest and provide more excellent value to its customers.
Is Yotta Safe/Legit?
Yes! Your savings online account is protected and pass-through FDIC insurance Federal Deposit Insurance Corporation. Remember, the Yotta Savings review isn't keeping your money for you. Instead, they collaborate with partner financial institutions to keep your cash safe. Evolve Bank & Trust is the name of Yotta's preferred bank.
Your personal finance and financial information are secured by bank-grade encryption and authentication. Yotta also makes it simple to enable 2-factor authentication in the app, which is always a good idea for apps that have your money. Extra protection is never a bad thing since it aids in the safekeeping of your money. It's good to learn that Yotta Savings protects customers from having their bank accounts hacked or violated, given the current news about bank accounts being hacked or stolen.
How Much Does it Cost to Use Yotta?
The real clincher, Yotta, is entirely free to use. There are no account restrictions, no monthly fees, and transaction costs. There is no monthly subscription charge, and buying weekly lottery tickets is entirely free.
Bottom line
When you create an account at one of the best banks, you'll be investing in high-yield savings accounts that pay interest. While Yotta does not have the most competitive interest rates available, you can still earn a respectable 0.20% APY (as of May 10, 2022) if you open an account with them.
Overall, if you invest a reasonable sum of money in your Yotta online savings account, you should expect a greater return on your investment. As your deposits rise, you receive more tickets, which increases your chances of winning cash during the weekly drawings. If that's not the case, you may wish to browse our list of the top savings accounts to find the best performance for you.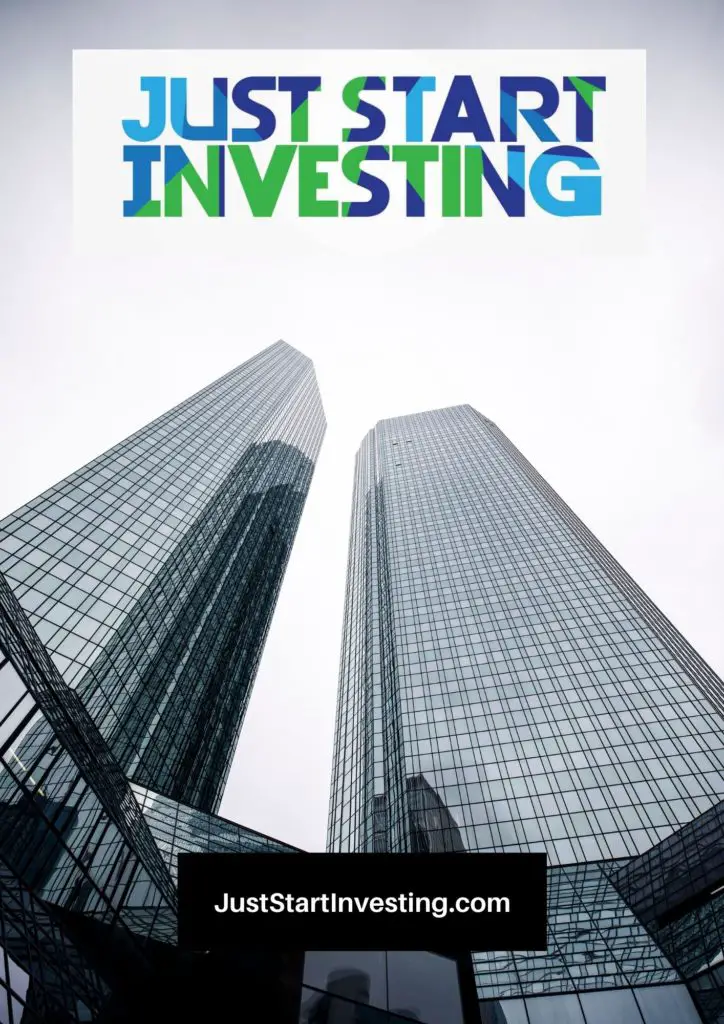 Just Start Investing is a personal finance website that makes investing easy. Learn the simple strategies to start investing today, as well as ways to optimize your credit cards, banking, and budget. Just Start Investing has been featured on Business Insider, Forbes, and US News & World Report, among other major publications for its easy-to-follow writing.