There is some debate on whether equal-weight index funds perform better than their counterpart – market capitalization-weighted (cap-weighted) index funds.
Cap-weighted index funds are the more popular and more widely available option. Likely, if you're invested in an index fund, its a cap-weighted fund.
But there are some industry experts who argue that equal-weight funds can provide better long term returns.
Before diving into the pros and cons of each, let's start with some basic definitions of each type of index fund.
Equal Weight Index Fund Definition
Equal-weight index funds are exactly what they sound like – every company in the index makes up an equal amount.
As an example, let's look at a hypothetical S&P 500 index fund that is equally weighted.
Microsoft is one of the biggest companies on the list. It's market capitalization, or total dollar value of the company, is about $1.2 trillion (as of January 2020).
On the other hand, Nordstrom is one of the smallest companies in the S&P 500. It's market capitalization is only $6.3 billion (as of January 2020).
In an equal-weight index fund of the S&P 500 both companies would make up 0.2% (1/500) of the fund. It doesn't matter that Microsoft is over 100 times bigger than Nordstrom.
Capitalization Weighted Index Fund Definition
Cap-weighted index funds are a more naturally weighted type of index fund. Every company makes up its fair share of the fund based on its size.
So, using the same example as above, Microsoft would be a much larger percentage of the fund than 0.2%. And Nordstrom would be much smaller. This is because Microsoft is a much larger company compared to Nordstrom.
Specifically, Microsoft would be about 3.88% of the fund. While Nordstrom would be only 0.02%.
Equal Weight Index Fund Pros and Cons
Cap-weighted index funds have been viewed as the industry standard because it is a more natural approach to investing in broad indexes. If a company is bigger in real life, it should get a bigger weight in the fund as well.
However, some experts believe equal-weight index funds can produce better long term results because it gives more weight to smaller companies. Smaller companies have proven to outperform their large counterparts over certain periods of time.
Pros of Equal Weight Index funds
1. Small-Cap Companies have Strong Historic Performance
Recent, historical data shows small cap stocks (and equal-weight funds) outperform the cap-weighted S&P 500 counterpart.
For example, the Invesco S&P 500 Equal Weight Index Fund (RSP) is one of the better known equal-weight index funds. You can see its performance below, returning +192% over the past 10 years.
Compare that to an S&P 500 cap-weighted index fund (SPY) which returned +188% over the past 10 years. That is about 4 percentage points worse than the equal-weight fund.
In terms of dollars, $1,000 would have grown to $1,920 in RSP. Though, if you invested in SPY, it would have grown to only $1,880.

RSP is a recently created fund, so you cannot dive too far back into historical data.
However, to further add to the story, if you look at a small-cap index fund (NEASX) with more history, over the past 25+ years it provided returns of +534.3%. While the same S&P 500 fund (SPY) only returned +384.2%.

Since equal-weight funds put more weight on smaller companies, it's fair to assume that they would have performed better over that same 25+ year period as well.
While the above analysis is not exhaustive, it does indicate that smaller companies have a tendency to provide better returns. At least in recent history.
2. Stronger Diversification
The second benefit to equal weight index funds is that they provide more diversification across a broader number of companies.
Instead of putting most of your money into larger companies, it evenly spreads your investment over all the companies in a fund. You are less exposed if one (or some) of the bigger companies to start to decline.
There is of course a downside to this, which we'll get to in just a second.
Cons of Equal Weight Index funds
1. Higher Costs
Equal-weight funds have higher costs in a couple areas.
For one, they usually have a higher expense ratio.
RSP, the equal-weight fund we looked at above, has an expense ratio of 0.20%. Compare that to the Schwab S&P 500 index fund which has an expense ratio of only 0.02%.
You can dive into how much a small increase in expense ratios can effect your returns here.
On top of that, equal weight funds usually have more turnover within the portfolio, which is necessary to maintain an equal weight across companies. This partially contributes to the higher expense ratios above but also results in higher capital gains taxes (usually).
2. Availability
Cap-weighted funds are the industry standard. You can easily find funds offered by numerous companies with rock bottom fees.
Equal-weight funds are harder to find and usually have higher fees associated with them (see point number 1 above).
3. No Guarantee for Future Success
This "con" is a little unfair, as you can say this for anything in the investing world.
However, it rings more true for equal-weight funds in my opinion because smaller companies are riskier. Yes, they have a chance to soar higher than larger companies (which we have seen in the data for the past 25 years), but they also have a generally higher chance to completely fail.
Even though small cap companies have performed better in the past, that is not a guarantee they will continue to perform well in the future.
With an equal-weight fund, you are not betting on an overall index, but rather you are betting on small cap companies to continue to outpace large companies in growth.
Final Thoughts: What's Better?
That's the tough question.
It seems like giving more weight to smaller companies (like in an equal weighted fund) is better. At least that is what recent history tells us.
And that is actually what we implement at Just Start Investing as well – allocating 20% of our funds to small/mid cap companies through our investing strategy.
However, it is worth noting that with this strategy you are straying from the core intention of index investing – to invest in overall broad indexes. Investing in an equal weighted version of the S&P 500 is not investing in the S&P 500 itself. You are gambling more on the smaller companies within it.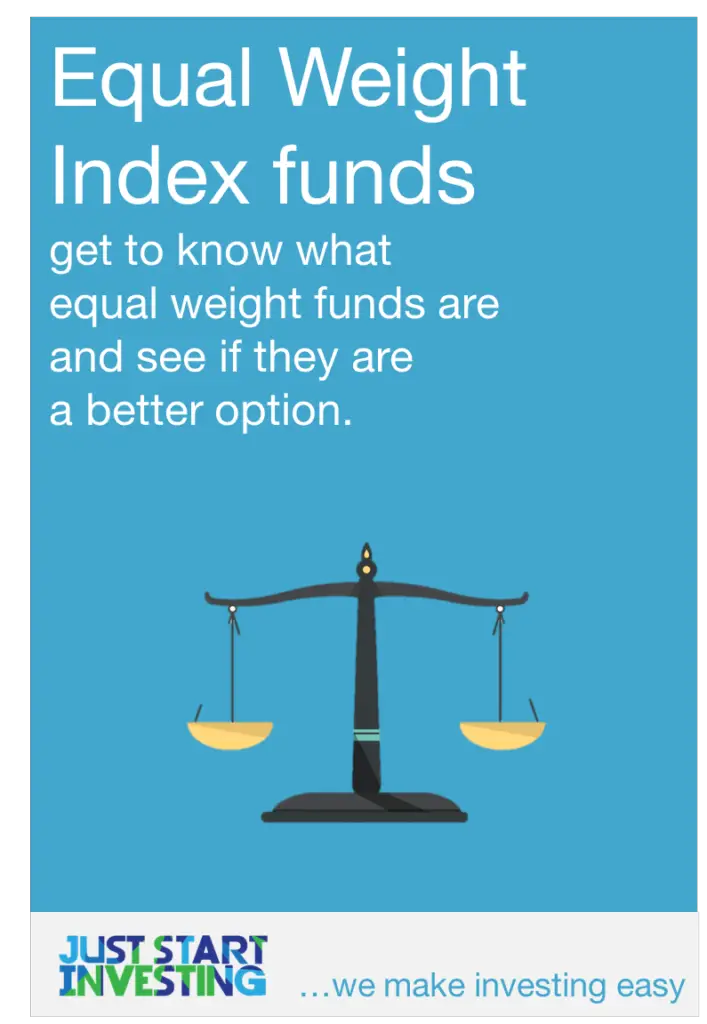 At the end of the day, it's up to you to decide how much risk you want to add to your portfolio.
Our view is that while equal weight index funds have performed better in recent years, they are riskier because of their heavier weight in smaller companies. There is no guarantee for continued future outperformance.
Just Start Investing is a personal finance website that makes investing easy. Learn the simple strategies to start investing today, as well as ways to optimize your credit cards, banking, and budget. Just Start Investing has been featured on Business Insider, Forbes, and US News & World Report, among other major publications for its easy-to-follow writing.