Guy Fieri Net Worth 2021: $25 million.
Guy Fieri is one of the Food Network's biggest stars, first appearing on the network as a contestant in the second season of The Next Food Network Star.
---
| Net Worth: | $25 Million |
| --- | --- |
| Born: | January 22, 1968 |
| Source of Wealth: | Chef, Restaurateur, Actor, Author |
| Nationality: | United States of America |
| Last Updated: | 2021 |
---
Guy Fieri wasn't just on The Next Food Network Star, he actually won the competition. Arguably, that was the turning point in his career and what allowed him to go on to amass his wealth.
As of 2021, his reported net worth is $25 million. This is the high-end estimate you'll find online, with Forbes clocking him at just $8 million. Though, given that I thought Will Ferrell and Steve Carell were estimated on the low-side the last two times I examined a celebrity's net worth, I wanted to aim high this time around.
Measure Your Net Worth:
You can create your own financial plan for free in just 5 minutes with
Savology
and start tracking your net worth.
Early Life and Personal Life
Guy Fieri, who was born Guy Ramsey Ferry, was born in 1968 in Columbus, Ohio. His parents were Penelope Anne and Lewis James Ferry.
Guy actually grew up in northern California, in rural a town called Ferndale. The population of Ferndale was just 1,371 people at the time of the 2010 census.
Fieri's interest in food sparked early on. According to the Food Network, he was selling pretzels from a cart that his father built for him at age 10. He aptly named the business "The Awesome Pretzel" and sold enough of the doughy snacks to fund a study abroad program to France six years later, while in high school.
In France, Guy's love and appreciation for food grew. While he did not attend culinary school, he eventually would go on to attend the University of Nevada, Las Vegas, earning a bachelor's degree in hospitality management when he graduated in 1990.
Today, Guy Fieri is married to his wife Lori, who he met at a restaurant he was managing in Long Beach at the time. Together they have two sons.
Guy Fieri Career and Path to Wealth
Starting Out
After graduation, Guy went on to work for Stouffer's. Yes, the frozen food company used to play more heavily in restaurants.
At Stouffer's, Fieri managed a restaurant called Parker's Lighthouse in Long Beach California. After three years there, he went on to manage six Louise's Trattorias.
I can only imagine that over those six years he gained a tremendous amount of experience and confidence, because in 1996 Fieri decided to venture out on his own. He and business partner Steve Gruber opened their first restaurant, called Johnny Garlic's.
Restaurateur
Johnny Garlic's was a hit and quickly grew, opening a second location just three years later in 1999. The restaurant expanded to eight locations in total over the years, and despite the drama that ensued today, it was viewed as a success at the time.
During the growth of Johnny Garlic's, Fieri and partner Gruber also opened a sushi and bbq mashup restaurant called Tex Wasabi's in 2003. I'm not sold on sushi and bbq going well together, but I guess I won't knock it until I try it!
From there, Fieri's success on the Food Network has allowed him to build a restaurant empire, opening many restaurants that prominently featured the celebrity chef's name:
Guy's American Bar and Kitchen (New York City)
Guy's Burger Joint (Carnival Cruise Lines)
El Burro Borracho (Las Vegas)
Guy Fieri's Vegas Kitchen and Bar (Las Vegas)
Guy Fieri's Baltimore Kitchen & Bar (Baltimore)
Chicken Guy! (Las Vegas)
Guy Fieri's Smokehouse (Lousiville)
While there is no doubt Guy's restaurants are successful, it wasn't a unanimous success. For an entertaining read, check out the review Pete Wells wrote on Guy's American Bar and Kitchen for the New York Times.
The Food Network
Guy Fieri's big break came in 2006 when he won the second season of The Next Food Network Star. I used to love to watch that show, and while I didn't watch Guys' season, I'm sure it was entertaining.
If I remember correctly, as part of winning the competition, you get to create your own show with the Food Network. So, also in 2006, Guy's Big Bite premiered.
The show was a hit, to say the least, and went on for 19 seasons.
Despite the success of the show, it actually wasn't the biggest success of Fieri's TV career.
Diners, Drive ins, and Dives, Fieri's second Food Network series, premiered a year later in 2007. As I'm sure you know, if Guy's Big Bite was a hit, Triple D was a grand slam.
Or, as Guy would say, it was "out of this world!"
The show has gone on for 32 seasons and has no end in sight. It features Guy visiting eateries all around the US to eat the best tacos, steak, burgers, sandwiches, fried food, and everything in between.
Not to mention, Fieri has gone to create and appear on countless other successful shows in partnership with the Food Network throughout the years, including:
Ultimate Recipe Showdown
Guy Off the Hook
Dinner: Impossible
Rachael vs Guy: Celebrity Cook-Off
Guy's Grocery Games
Best Thing I Ever Ate (Appeared On)
Television and More
Guy has had success as a television personality and celebrity chef outside of the Food Network as well.
In 2010, he appeared as the game show host of Minute to Win It, which aired on NBC for two seasons.
Fieri is also a cookbook author who has quite a few publications out there:
Diners, Drive-Ins, and Dives: An All American Road Trip … With Recipes!
More Diners, Drive-ins, and Dives: Another Drop-Top Culinary Cruise Through America's Finest and Funkiest
Guy Fieri Food: Cookin' It, Livin' It, Lovin' It
Diners, Drive-Ins, and Dives: The Funky Finds in Flavortown: America's Classic Joints and Killer Comfort Food
Guy on Fire: 130 Recipes for Adventures in Outdoor Cooking
Guy Fieri Family Food: Kitchen Tested, Home Approved
Last, Fieri has also sold a few food products, like hot sauce and barbecue sauce.
Guy Fieri Net Worth of $25 Million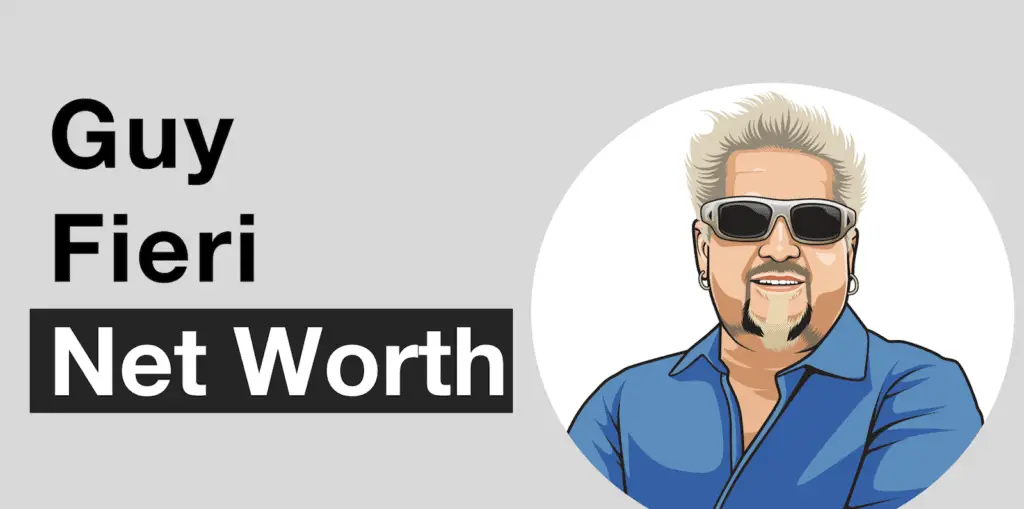 Guy Fieri's net worth of $25 million is the high-end estimate that I found, but it feels right given his successful career.
It's not easy to estimate his earnings given the lack of info out there on his restaurant earnings, but below is my best estimate of how he made his money over the years:
Early Restaurants
According to Chron, the average restaurant owner makes about $60,000 per year.
Prior to his celebrity chef days, it looks like Guy has about 9 or 10 restaurants open between Johnny Garlic's and Tex Wasabi's. To keep things simple, assuming he owned 10 restaurants for 10 years, at the average national salary, he would have made about $6,000,000 over that time frame.
Split that between him and his business partner, and it nets out at $3,000,000.
Earnings Estimate: $3 million.
Celebrity Restaurants
Fieri also opened a number of celebrity restaurants since then, which I assume bring in a lot more cash for him.
Though, to be honest, I had zero luck trying to figure out how much a celebrity chef endorsed restaurant makes. So without anything better, I'm just going to double his earnings from the pre-celeb restaurants.
Earnings Estimate: $6 million.
Television
This is where things get interesting.
Fieri has had a lot of success as a Food Network chef, and it's rumored that he's making between $10,000 and $20,000 per episode of Diners, Drive-Ins, and Dives. With the show in its 32nd season, there have been a whopping 411 episodes made so far.
Let's use the low end estimate of $10,000 per episode, since he likely wasn't making as much in season 1 as he is now. Even with this lower estimate, Fieri would have earned $4.1 million over the course of the show. I'm going to round up to $5 million, assuming he started making more money later on.
Plus, Fieri had success with Guy's Big Bite and countless other Food Network shows. I think it's safe to assume he made at least another $5 million from the network outside of his flagship show.
Last, the Food Network wasn't the only network paying Fieri at the time. He did host Minute to Win it, and I'll assume he raked in a couple of million from those types of deals.
Earnings Estimate: $12 million.
Is $25 Million a High Estimated Net Worth?
From the above, I'm totaling $21 million earned, and I think I'm being conservative.
The above figures don't include things like his book sales, live appearances, and food products sold in grocery stores. After doing the math, I actually think $25 million could be a low estimate for Guy Fieri's net worth.
Of course, assuming he made smart moves with his money after he earned it!
3 Lessons from Guy Fieri's Path to Wealth
Watching Guy Fieri as an acclaimed TV chef is entertaining, but we can also learn something from his success.
Below are three key lessons to take away from Guy Fieri's success and path to wealth.
1. You Don't Have to be a Certified Expert
Guy Fieri did not go to culinary school, but that didn't stop him from being one of the most famous celebrity chefs of all time (besides Bobby Flay, not many other people are top of mind).
He went to France to learn what he could and followed his passion by becoming a restauranteur.
I think a lot of people are afraid to jump into something because they think they aren't an expert. Take investing, for example.
It's a scary and complicated topic, but you don't have to be an expert to invest successfully in index funds. You just have to do a little homework and have the will power to get started.
2. Diversify
Guy Fieri didn't stop when he had a successful chain of restaurants. He didn't stop when he won The Next Food Network Star. He didn't stop when he had one hit TV show. Nor did he stop after premiering a second hit TV show!
Fieri kept pushing himself and diversifying his work – opening more restaurants, doing more shows, writing more books, and selling more products.
Any investor can learn from Fieri about the importance of diversification.
3. Be Yourself
Guy Fieri is unapologetically himself.
This personality trait and confidence likely played a huge role in him winning The Next Food Network Star.
While there isn't a direct tie to personal finance with this lesson, I think it's an important one nonetheless!
Favorite Guy Fieri Quotes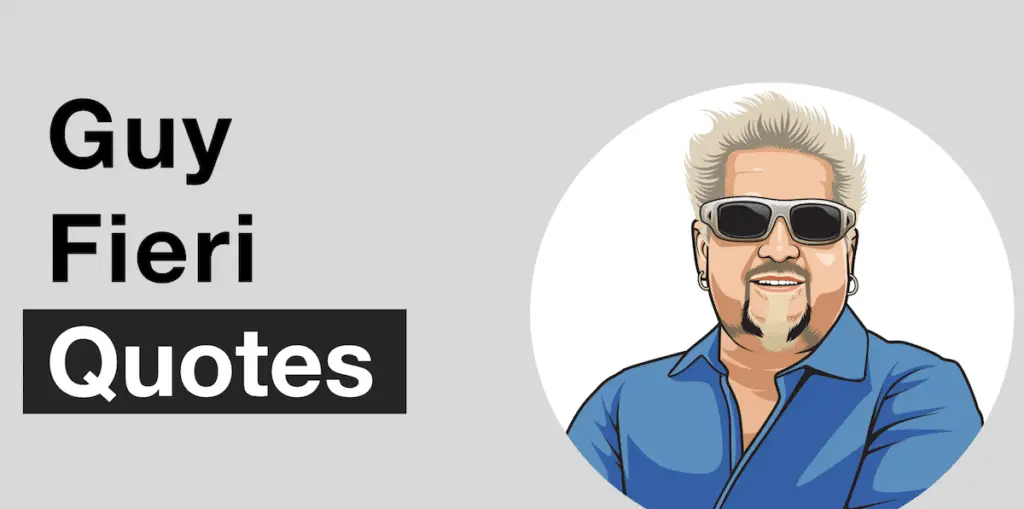 Guy Fieri has countless quotes that I'm sure many of you are familiar with if you have ever watched his cooking shows.
Below are just a few of my favorites:
---
"If it tastes really good and it's funky, it's funkalicious." – Guy Fieri
"Welcome to Flavortown!" – Guy Fieri
"This is Out of Bounds!" – Guy Fieri
"This is Money!" – Guy Fieri
---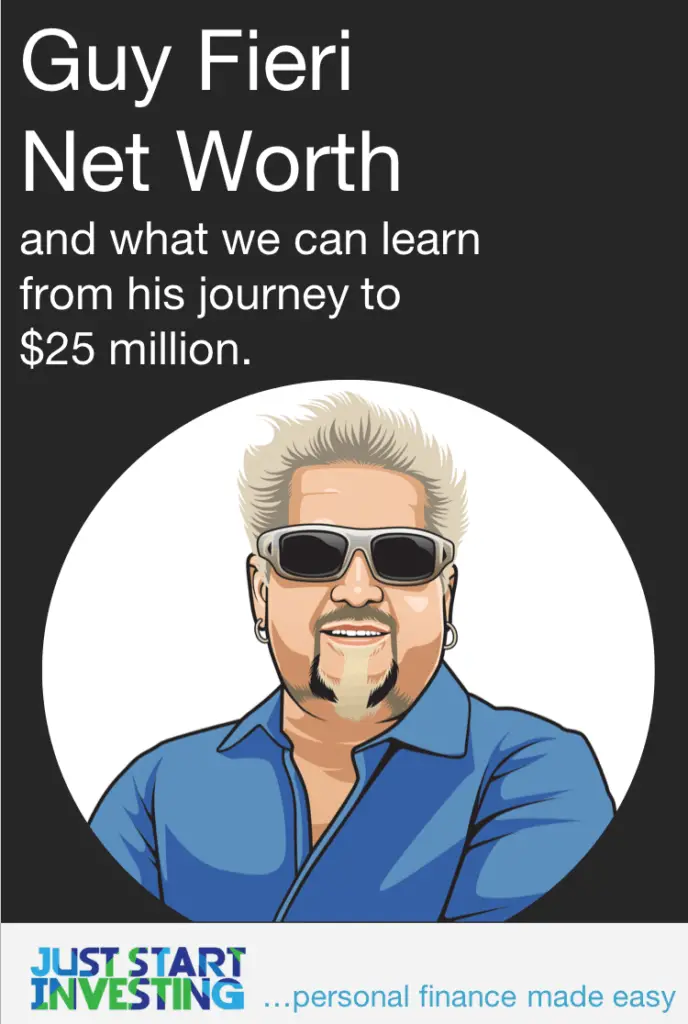 Summary: Guy Fieri Net Worth and What We Can Learn
Guy Fieri Net Worth: $25 Million
I hope you enjoyed learning more about Guy Fieri and his path to becoming a successful and wealthy celebrity chef.
Measure Your Net Worth:
You can create your own financial plan for free in just 5 minutes with
Savology
and start tracking your net worth.
Though, most importantly, I hope you found the lessons from his path to wealth helpful:
You Don't Have to be a Certifed Expert
Diversify
Be Yourself
We can always find inspiration from celebrities, actors, and athletes, and hopefully, we can all learn from their journey as well!
Just Start Investing is a personal finance website that makes investing easy. Learn the simple strategies to start investing today, as well as ways to optimize your credit cards, banking, and budget. Just Start Investing has been featured on Business Insider, Forbes, and US News & World Report, among other major publications for its easy-to-follow writing.