John Legend Net Worth 2021: $75 million.
John Legend is an American singer songwriter who has been in the music scene since 1998, but he became a worldwide superstar after his hit song "All of Me," released in 2013 and became a number-one hit on the Billboard Hot 100. Legend has accomplished a lot in the music industry, winning multiple music awards, including eleven Grammy Awards and the Hal David Starlight Award.
Given his successful career, it is no surprise that John Legend boasts a net worth of $75 million.
---
| Net Worth: | $75 Million |
| --- | --- |
| Born: | December 28, 1978 |
| Source of Wealth: | Singer, Songwriter, Actor, Record Producer, Film Producer, Director |
| Nationality: | United States of America |
| Last Updated: | 2021 |
---
John Legend's worldwide popularity in the music scene really skyrocketed in 2013 with the release of his hit song "All of Me." Still, he saw plenty of success before this, having collaborated with stars and hip-hop artists like Jay-Z, Alicia Keys, and Kanye West before releasing the popular song.
As of 2021, John Legend's net worth is reported at about $75 million. In this article, you'll find a summary of John Legend and his career, and learn how he accumulated wealth. You'll be able to read advice and tips we can learn from John Legend's career and successes along the way.
Measure Your Net Worth:
You can create your own financial plan for free in just 5 minutes with
Savology
and start tracking your net worth.
Early Life and Personal Life
John Legend was born as John Roger Stephens on December 28, 1978, in Springfield, Ohio. Legend was born to a family of six.
John's father was a factory worker and his mother was a seamstress. Outside of work, his mother sang and directed their church choir, and his father was a drummer, so music definitely ran in the family and was part of Legend's upbringing.
Legend's mother homeschooled him, and he was able to skip two grades! After turning 12, Legend stopped homeschooling and attended North High School in Springfield, Ohio. He would graduate as a salutatorian and receive multiple scholarship offers and acceptances to acclaimed universities – including Ivy League schools.
John chose to attend the University of Pennslyvania, where he became the president and musical director of a co-ed jazz group, The Counterparts. Legend's music career began in his college years, with one of his jazz group's recordings making it on the 1998 Best of Collegiate a Cappella compilation CD. Along with this achievement, Lauryn Hill hired Legend to play piano for a song from her album, The Miseducation of Lauryn Hill.
Legend graduated college in 1999 magna cum laude with a bachelor's in English, after which he would continue to pursue a career in the music industry.
John Legend is now married to Chrissy Teigen, and together they have two children.
John Legend Career and Path to Wealth
Starting Out
After graduation, Legend would work as a management consultant at Boston Consulting Group (BCG).
On the side, he would record his own music, eventually compiling a demo in 2000 and an album in 2001. John would distribute his album at gigs of his and begin sending his demo to record labels.
Later on, in 2001, Legend was introduced to rapper Kanye West. After meeting Legend, West hired him to sing hooks for his songs and sign him to his record label, GOOD music. As a result, Legend released his first official album, Get Lifted, in 2004, which sold 540,300 copies in the USA alone from this record label. Around this time is when Legend's career began picking up speed.
Music Career
After achieving recognition and critical acclaim from his debut album, Legend would perform at the 2006 Superbowl, just two years after the release of his first album. The same year, Legend released his second album, Once Again, which would quickly reach number three on music charts.
Legend collaborated with other artists from 2006 to 2011 and would receive significant recognition for his work, winning multiple Grammys for his talent as an R&B singer, winning in categories such as Best Male R&B Vocal Performance, Best New Artist, Best R&B Song, Best R&B Album, and more.
Then, in 2013, Legend released his album, Love in the Future.
After the release of this album, John's reputation and career as a musician skyrocketed to new heights. Love in the Future would quickly take the number two spot in the US and the UK, with the song "All of Me" from the album turning out to be a smash hit, topping charts worldwide and becoming the third best-selling song in the US and the UK!
Legend continues to collect millions of dollars in revenue from his song and album sales. Since Love in the Future, he has also released two albums, one in 2016 and one in 2018.
John also appeared as the winning coach on The Voice in May of 2019.
John Legend Net Worth of $75 Million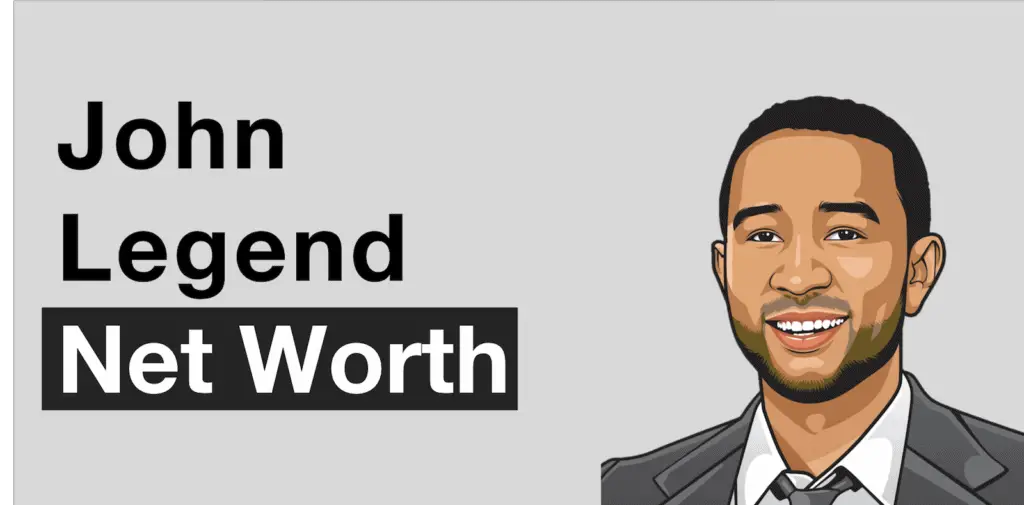 John Legend's net worth of $75 million saw a steady and significant buildup over time, likely spiking after 2013 when he stepped onto the world stage with his hit album Love in the Future and continued to generate money from all of his past hit albums.
Although we don't have an exact number for his earnings, judging by the average amount that musicians of his caliper make that have disclosed their earnings, combined with the assets he and his wife Chrissy Teigen own, his net worth can be safely assumed to be at least $75 million.
Real Estate Portfolio
Something you may not immediately think of when reading about a musician is a real estate portfolio.
However, this is something that John Legend and Chriss Teigan have taken time to build up, with a total real estate portfolio estimated at about $50 million between the two of them.
Is $75 Million a Low Estimated Net Worth?
It was hard to get details on John Legend's earnings, but given that he has been a successful musician for over a decade, I think $75 million is on the low end of his net worth estimate.
Especially if you contribute half of his and Tiegan's real estate portfolio to him (assuming they bought and own the homes outright).
If Legend's net worth is at or below $75 million, I would expect it to grow quickly given his earning potential and investments in real estate that he already made.
3 Lessons from John Legend's Path to Wealth
Below are three lessons to take away from Legend's success and path to wealth.
1. Always Have a Backup Plan
After John Legend graduated from college, he didn't put all of his money and resources into becoming a musician while hoping to get famous overnight.
Legend finished college, worked at a high-caliper company, and produced his music on the side. While shooting for the stars is great, it's always smart to have a safe and reliable plan B for any investment, business venture, or career choice.
2. Invest in Appreciating Assets
Legend's earnings mainly came from his career as a musician – performing gigs, concerts, and selling his music. However, after making his fortune, Legend and Tiegan purchased a great deal of real estate, an asset that is typically stable and grows in value over time.
While it may be tempting to buy something flashy that will ultimately depreciate, the wise thing to do with the majority of your wealth is to invest it. Of course, this doesn't mean you can't have any fun with your hard-earned cash, but making some responsible investments will ensure your financial success and stability in the future.
3. Utilize and Expand Your Network
John Legend didn't try to make his career solo. Even in college, he was joining and leading music groups, establishing connections with successful musicians. Without sending out his music and eventually meeting Kanye West, who knows when or if Legend would have seen the same success that he did.
It's crucial to build a community around what you're interested in and what you want to succeed in; you never know who you might meet and who has the tools to help you on your path to success.
Favorite John Legend Quotes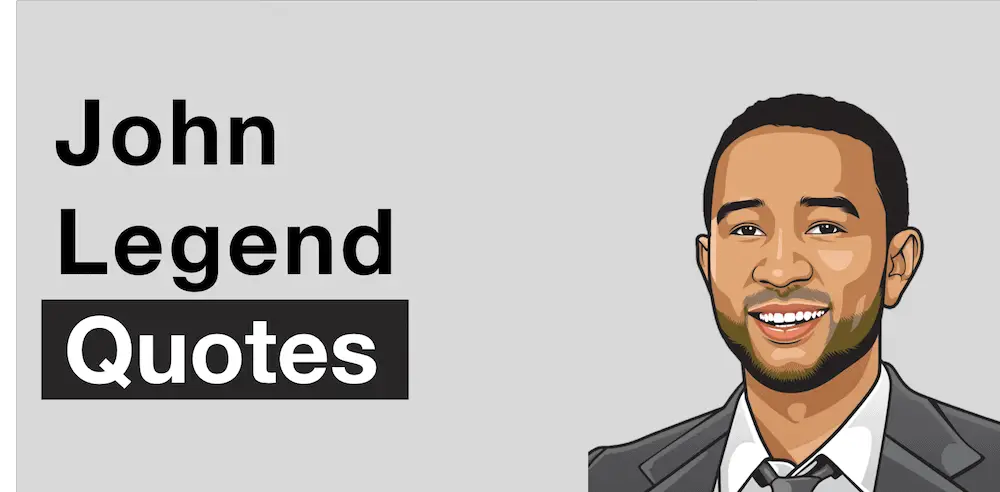 It would only make sense for such a talented and well-known musician who graduated with a degree in English from an Ivy League school to be well-spoken. So, naturally, it makes sense that John Legend has some pretty good quotes.
Here are some of my favorites:
---
"Soul is about authenticity. Soul is about finding the things in your life that are real and pure." – John Legend
"Experience is a great teacher." – John Legend
"At the end of the day, there's only a few major stars in the music business, and then there's all these people that are aspiring to be that." – John Legend
---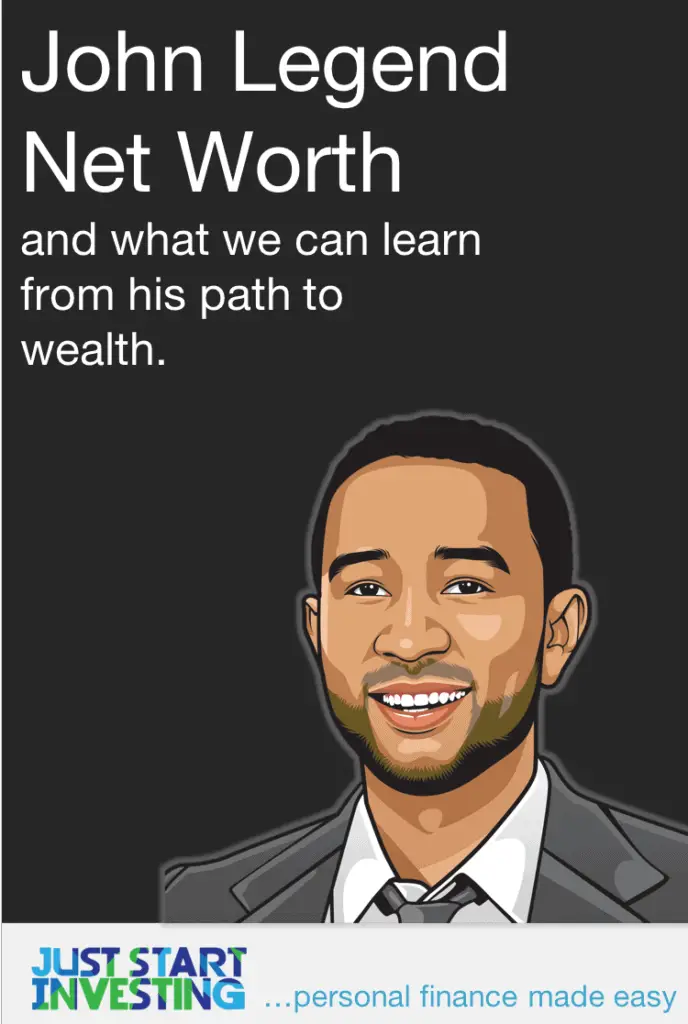 Summary: John Legend Net Worth and What We Can Learn
John Legend Net Worth: $75 Million
John Legend built a career that is both fulfilling to him and able to generate a lot of money for him and his family. I think you'd have a pretty tough time trying to find someone that wouldn't want to enjoy the same kind of grammy-winning success that he has in a field that they're passionate about.
Measure Your Net Worth:
You can create your own financial plan for free in just 5 minutes with
Savology
and start tracking your net worth.
Following your passion and making money is not always easy, but it is possible. By following some of the lessons we learned from John Legend, you can increase your chances of finding your own success:
Always have a backup plan
Invest in appreciating assets
Utilize and expand your network
I hope you've enjoyed learning about John Legend and how he rose to fame and fortune!
Just Start Investing is a personal finance website that makes investing easy. Learn the simple strategies to start investing today, as well as ways to optimize your credit cards, banking, and budget. Just Start Investing has been featured on Business Insider, Forbes, and US News & World Report, among other major publications for its easy-to-follow writing.