While you're probably aware of some of the most popular play to earn games of 2022, are you aware that there are hundreds of others in the making? Play to earn crypto games are making the waves in the crypto community. Games such as Axie Infantry and Splinterlands are some of the most popular.
But most play to earn games work on a 'first comes, first gets' model. Once all NFTs are sold out, it becomes difficult to acquire NFTs. What this usually means is buying NFTs on the marketplace to get started. The prices for some NFTs go in the thousands of dollars – while members could have bought these NFTs for a couple of hundred dollars if less.
So there is a big demand for new crypto games that are yet to launch. As such, we have a play to earn games 2022 guide that explains what the top 5 upcoming games are. With all that said, let's start.
The 5 Upcoming Play To Earn Games To Watch Out In 2022
We will be preparing a detailed review of most of these games once they launch. For now, you will have to satisfy with basic information known to the public. Some of these new play to earn games will launch as soon as in the next few months, while others later in the year. So let's see our selection.
Battle Of Guardians
One of the most anticipated NFT games of 2022 is Battle Of Guardians. BOG is a multiplayer fighting game that resembles Tekken and Mortal Kombat. The developers of the game are big on BOG being the premier fighting game of the Metaverse. Build on the Solana Network, there are two in-game currencies – Battle Of Guardians Share (BGS) and Fighting Points (FP). Both currencies have different uses that players will need to acquire to cover transactions, buy NFTs, and enter tournaments.
The game is still in development with no official release date yet. However, the developers are active on socials and even run giveaways to generate hype around the projects. We already have some information on a couple of NFT fighters such as Valiant Forsaken, Kinga the Great Lion, Gireon Siweard, and the latest fighter, Spencer Knave.
Fighters come from three main races in BOG. Those are Guardians, Humans, and Demons. All three races come with unique attributes such as Health points, Damage, and Intelligence.
Other information you need to know about BOG is that BGS tokens can be bought through AscendEx, PancakeSwap, and Dodo. You will need BGS tokens to pay for transactions.
Mines Of Dalarnia
Mines Of Dalarnia is a very different NFT play to earn game than BOG. The game is currently in alpha and launched through the Binance Launchpool. There are two main factions in Mines Of Dalarnia; the miners and the landowners. Both factions perform a wide range of roles. The miners battle monsters and earn resources while the landowners rent plots of land so that miners can use them.
At the current time of writing, the game is in alpha and needs a ton of work. Since Q1 2022, Mines of Dalarnia allows users to buy the first round of NFTs. There are only a couple of NFTs on the Binance marketplace. Some cost a thousand dollars, while others go as high as a quarter of a million.
But what is Mines Of Dalarnia? Mines Of Dalarnia is an action-adventure game where players explore the MOD universe. Players will come into contact with unique monsters and will need to farm resources to explore the full potential of the MOD universe and eventually uncover its secrets. Looking at it from the surface, the game is in 2D and looks fairly simple.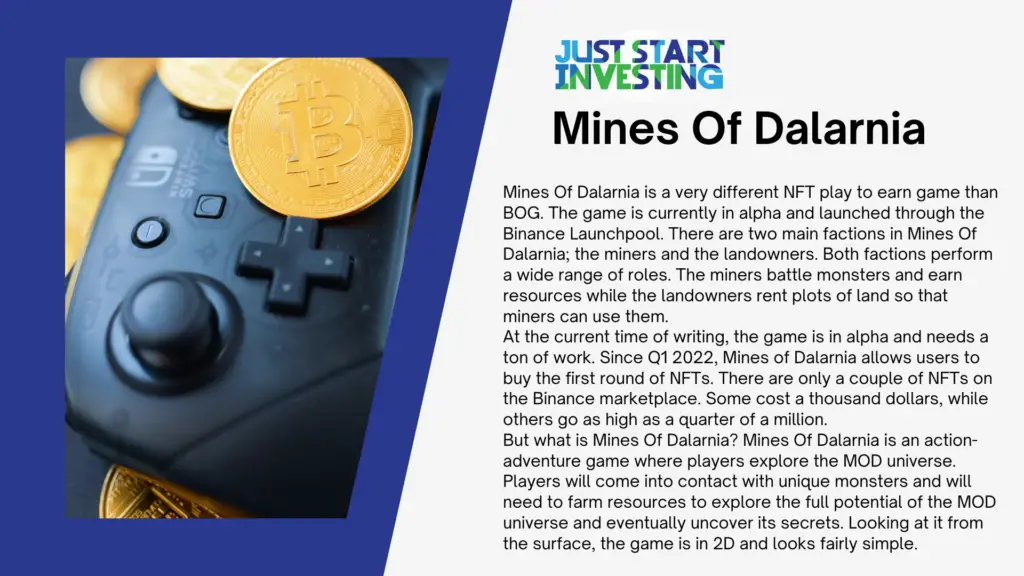 With four worlds to explore (Darkness, Ice, Lava, and Terra), players will need to collect rare minerals to upgrade their equipment and win big rewards. Both miners and landowners can participate in the marketplace and exchange NFTs. The game's native token is the DAR token.
RaceFi
The third upcoming play to earn game of 2022 is RaceFi. RaceFi is yet another game on the Solana Network and judging by the name, it's a racing game. Players can race to earn rewards or stake. But nearly all aspects of the game can be owned – meaning players can earn rewards in many ways.
The game's native coin is the RCOIN. Players get rewarded in RCOIN every time they engage in PVP, PVE, or successfully win by gambling. There will be a leaderboard where the game will distribute rewards to the fastest racers. This means players will need to upgrade their cars to become faster. There will also be a battle mode, where players will battle other participants. The last remaining car wins.
Rainmaker
Rainmaker might be a game that appeals most to the avid cryptocurrency investor. The reasons why are simple. Rainmaker is one of the first of its kind. It is a new play to earn game where players compete against others in a series of fantasy games. The games in question are all related to the cryptocurrency and stock markets. But these markets are fictional, meaning it all comes down to the player's ability to predict market movements.
It is definitely a game that will appeal to some, but not to everyone. As such, we recommend you take a closer look by visiting their website.
Polygonum
It's important to us to select unique games that will appeal to different audiences. Polygonum is one of the best play to earn games 2022 from the survival simulation genre. There are tons of things to do in Polygonum. You can trade, purchase and sell, mine resources, create communities, etc.
When you first look at the game, you see that Polygonum is a first-person shooter game. But being a shooter isn't necessarily the point of Polygonum. One of the main draws of this particular play to earn NFT game is the cross-platform capabilities. This means players can play on PC, mobile, and browser.
While the game is in the early stages, there will be an NFT and NPC marketplace where you can buy and sell items. You will also have the option to trade with other players. Polygonum will be an open-world game with farming, PVP, and PVE zones. There are two tokens in the game – POG coins and Skill Points (SP) tokens. POG coins are used for governance, staking, buying land, upgrading items, and buying skills, while SP tokens will be used as in-game rewards.
The game is ambitious and one of the most anticipated play to earn games of 2022.
Conclusion
That concludes our list of the top 5 upcoming play to earn games of 2022. With a wide range of games to choose from, do your own research to understand each game better. No doubt some games will appeal to you more than others. So it's important to have fun while also earning rewards that could make you a lot of money.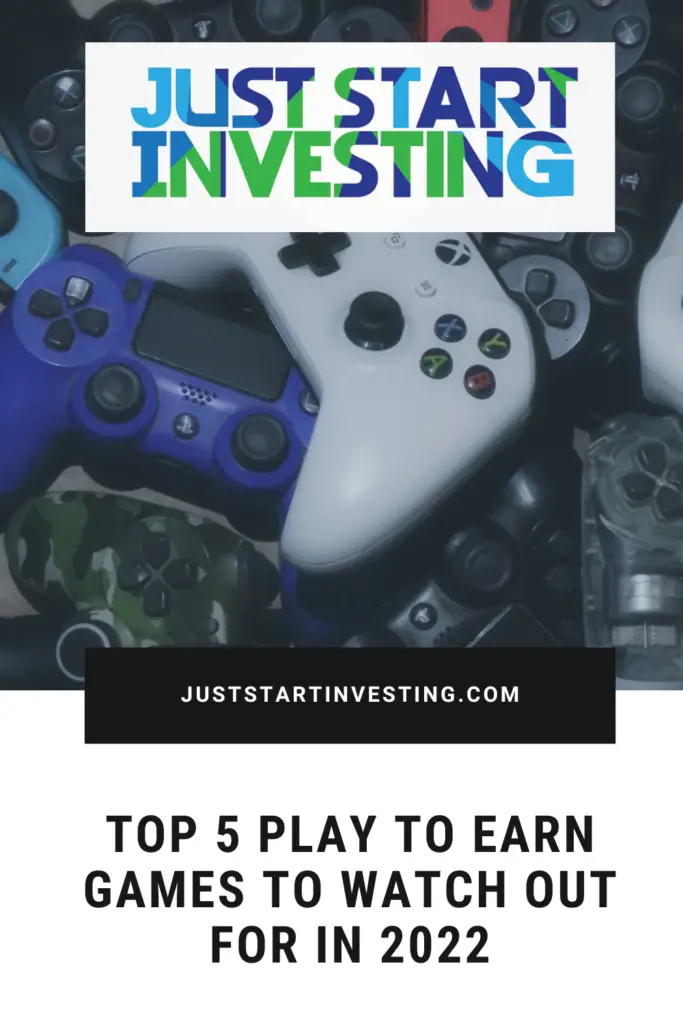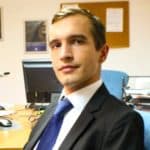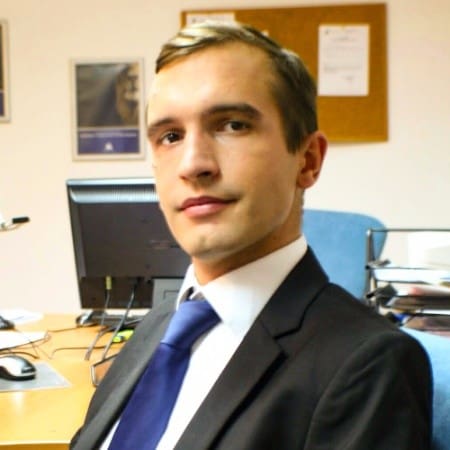 Partner at Vega Capital Management - a private funds management company.
An experienced portfolio manager with 10+ years of proven and reputable track record in investment management and financial analysis. Currently, a partner at one of the fastest-growing private fund management companies in southeast Europe, Kiril has been tending to a loyal international base of client-investors and partners. When he is not crunching numbers and increasing his client's wealth, he reminisces about his Michelin-star restaurant cheffing years and fondness of the culinary arts.