Paying for large expenses isn't easy, but having a sinking fund can help ensure you are budgeting for them the right way.
If you need to save for a significant expense in your life, whether it's for a down payment on a house, a wedding, or just a new pair of shoes, below, we'll walk through how sinking funds can help you accomplish your savings goals.
What is a Sinking Fund?
A sinking fund consists of money set aside on a regular basis to pay for an expected short-term expense.
Typically, you contribute money to your sinking fund every month for the amount of time necessary to save up for the expense.
Sinking Fund Definition: A separate fund that you add money to monthly to pay for future planned expenses.
This fund wouldn't necessarily be to pay for your regular rent or grocery bill, but instead, pay for a one-off expense.
As a quick example, let's say you wanted to buy a new appliance for your home in about 12 months that costs $1,200. To do so, you would contribute $100 every month for one year to save up for the purchase.
It's a simple financial term and saving strategy. Though, it does have a slightly complicated back story…
The term "sinking fund" originated in the corporate world as the counterpart of "floating a bond" to raise money. When a company floated a bond, instead of waiting until the maturity date of it to repay all of their investors at one time, they could contribute money regularly to a fund to prepare for the necessary debt repayment.
The term evolved to refer to any corporation's regular savings, whether to pay off corporate bonds or save up for a capital expense. For example, to pay for a new factory.
And now, the term has made its way into the personal finance world as a super useful and simple strategy for putting money aside for large one-off purchases.
Sinking Funds vs. Emergency Funds
To be clear, a sinking fund is not an emergency fund.
An emergency fund consists of money that you saved up, usually 3-6 months' worth of expenses, to pay for unexpected costs that might pop up. These unexpected expenses could include things like medical expenses or even just a general loss of income. It helps keep you out of debt when financial emergencies arise.
A sinking fund consists of money saved for predetermined and planned expenses. These are costs that you can get ahead of because you expect them to happen.
While you might store both of these funds in the same savings account, they are different at their core.
Sinking Funds vs. Savings Accounts
Asking about the difference between a sinking fund and a savings account is not as straightforward as the example above. Building a sinking fund is a savings strategy, while a savings account is an actual financial product (a bank account) where you can store a sinking fund.
That said, a savings account is typically used for general savings on top of an emergency fund and any sinking funds that you may have.
For What Can I Use a Sinking Fund?
There are nearly an endless amount of sinking fund categories that you have to consider.
Below are some of the top uses for a sinking fund to give you an idea of where you can get started.
House Sinking Fund
A house sinking fund is most commonly used to save for a down payment.
The average home cost in the United States is about $262,000, according to Zillow. To buy an average home, you'd need to save 20% of that cost to pay for a down payment and avoid any extra fees like private mortgage insurance.
That would equate to $52,400, which is not a small amount of money. Plus, that's not including any closing costs that you would have to pay as the buyer.
Other examples of home sinking funds could include saving money to:
Renovate a kitchen or bathroom
Replace a roof or other home repairs
Buy new appliances
Build a new deck
Property taxes
Or anything else related to your home
Vacation Sinking Fund
Planning a vacation can be a lot of fun.
Saving for a vacation can be a different story. Between the hotels, flights, rental cars, meals out, and excursions, the cost of some trips can really start to add up. Building a sinking fund is one way to save for your dream vacation over time.
Car Sinking Fund
Similar to a house, a down payment on a car can take some time to accumulate.
However, you could also be looking to save money for your:
Necessary car repairs
Parking spot
That, or you could just want to pay cash for the car and be done with it – not having to deal with monthly payments. While this might not be the mathematically best thing to do depending on the interest rate you can get on a loan, a sinking fund can help you accomplish this savings goal.
Wedding Sinking Fund
Weddings are expensive. In fact, according to The Knot, the average wedding in the US comes in at around $33,900!
They are so expensive because so many things go into them – the catering, venue, photographer, band, and more. Not to mention the rings and honeymoons that usually come with weddings too.
For most Americans, saving for a wedding over time is the only option.
Other Sinking Funds
While the above are some of the most popular categories for sinking funds, they are not your only options.
Any short-term expense can be saved for through a sinking fund – whether it's a birthday gift, college tuition, furniture, a bike, or even something as small as a new shirt or new pair of shoes.
How to Set Up a Sinking Fund
Whenever you create a budget, you should consider setting up a sinking fund. Setting up a sinking fund is easy and can be done in four simple steps:
Determine what you want to save for
Calculate the cost of it
Build a timeline to when you need or want to make the purchase
Start saving!
Step one is the only place where there can be complexity, specifically, if you set up a multi-category sinking fund instead of a single category fund.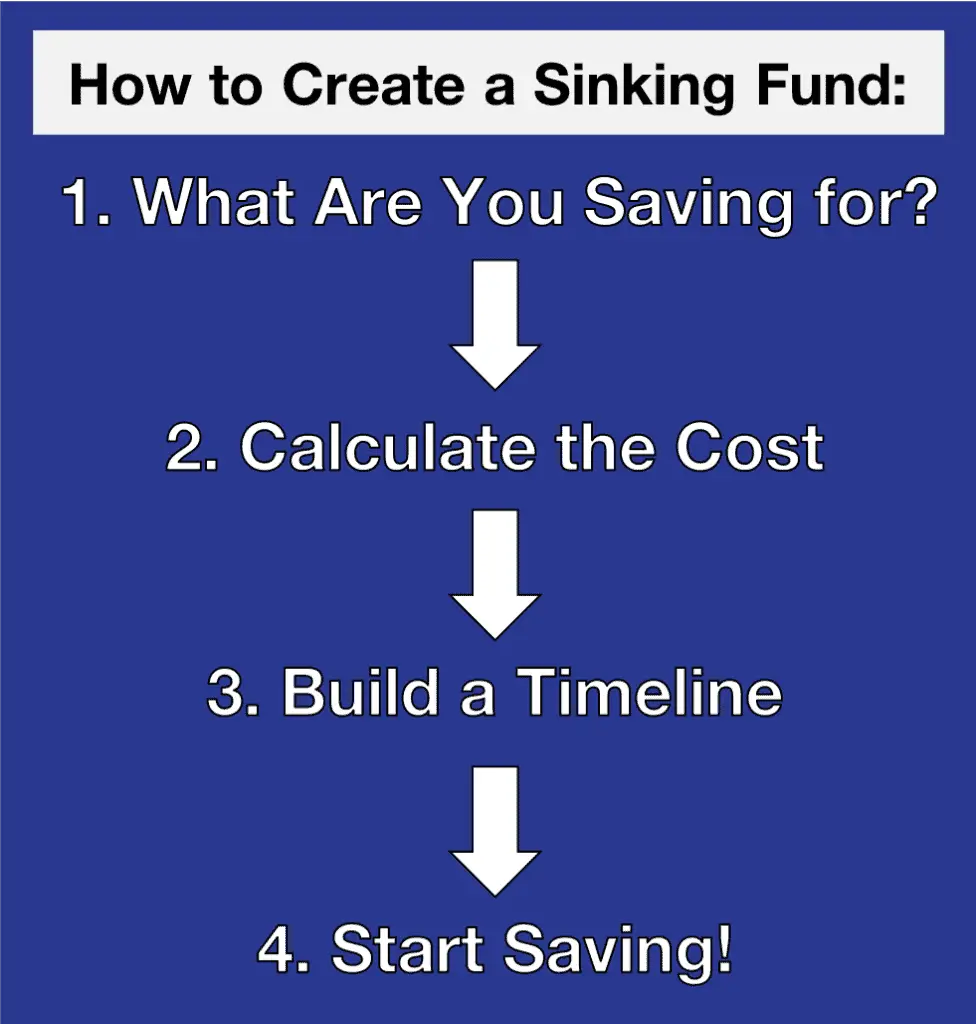 Single Category Sinking Funds
A single category sinking fund involves saving for one expense.
As mentioned, one sinking fund example could be saving for a house down payment. Walking through the example, let's say you go through steps one through four and determine the following:
You want to save for a down payment
Since you are buying a $250,000 house, you know you need $50,000
You plan to make the purchase in two years
You start saving $2,083 a month so that you can reach $50,000 in savings in two years!
Of course, you might go through this process more than once. If, after doing the math, you realize that $2,083 is too much for you to save every month for this one goal, you might need to lower your house budget or extend out your timeline.
On the flip side, if saving $2,083 is a breeze, you might be able to make a down payment sooner than you thought!
Multi-Category Sinking Funds
You would use a multi-category sinking fund if you wanted to save for multiple expenses over different periods.
After learning about sinking funds, let's say you want to save for a vacation in 6 months and a car in 12 months, on top of the down payment in 2 years.
Going through the same process as above, you would come to realize that you need to be saving $2,783 per month for your multi-category sinking fund assuming:
$2,083 per month for your down payment
$200 per month for your $1,200 vacation
$500 per month for your $6,000 car
Again, you'll need to make sure this amount of savings fits within your monthly budget. Your living expenses, retirement savings, and emergency savings need to be considered, along with any sinking fund savings.
Where Should I Store My Sinking Fund?
Your best option for storing your sinking fund is in a high yield savings account.
It's safe, reliable, and provides a better return (higher interest rate) than a regular savings account or checking account would.
High Yield Savings Account:
Check out
Cit Bank
, a leading high yield savings account provider, to see if they are a good fit for you.
If you create a multi-category sinking fund, or if you have general savings or an emergency fund in the same account, you'll need to divvy up the account's funds. You run the risk of accidentally spending money on something it's not intended for unless you earmark the funds for their intended use.
Some savings account will allow you to actually set up categories within an account. Otherwise, an excel spreadsheet or pen and paper can help.
Other options for storing sinking funds include money market accounts, regular savings accounts, and checking accounts.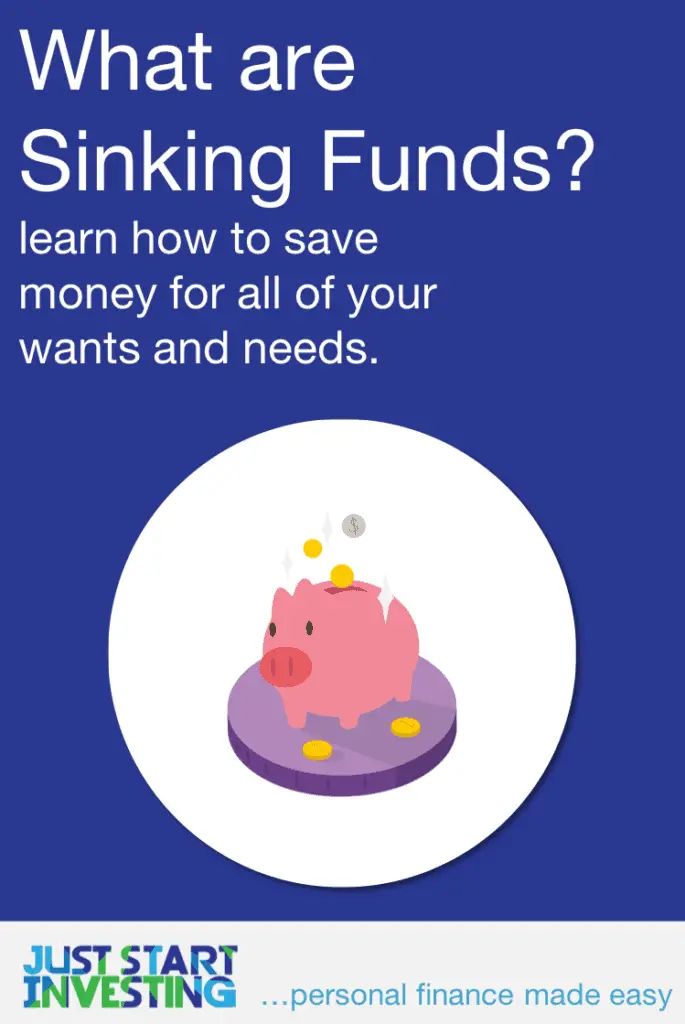 Summary: Sinking Funds
After all of that, hopefully, you are left with this one takeaway: sinking funds are a simple saving strategy to help you accomplish your short-term financial goals.
It's just an easy math exercise to create a basic savings plan.
It also helps ensure you don't run up your credit card debt or rack up other unnecessary debts when making large purchases. By planning these things out, you can better avoid unwanted surprises.
The first step you should take to determine if you need a sinking fund is to write down your short-term financial goals, whether saving for a house, a new car, or a vacation. This step will ensure that you can get ahead of these expenses and not get caught off guard when making a purchase!
Just Start Investing is a personal finance website that makes investing easy. Learn the simple strategies to start investing today, as well as ways to optimize your credit cards, banking, and budget. Just Start Investing has been featured on Business Insider, Forbes, and US News & World Report, among other major publications for its easy-to-follow writing.