Peyton Manning Net Worth 2021: $250 million.
Peyton Manning is a former NFL quarterback, and one of the most successful quarterbacks to ever play in the NFL. He started his 18-season career with the Indianapolis Colts and finishing it with the Denver Broncos.
---
| Net Worth: | $250 Million |
| --- | --- |
| Born: | March 24, 1976 |
| Source of Wealth: | Professional Athlete, Endorsements |
| Nationality: | United States of America |
| Last Updated: | 2021 |
---
Manning wasn't the first or only person in his family to become an NFL player, either. His father, Archie Manning was a successful NFL quarterback, and his younger brother Eli Manning played for the New York Giants for much of the same time Peyton was playing.
As of 2021, his reported net worth is $250 million. Peyton out-earned others in his family thanks to his huge NFL contracts and lucrative endorsement deals – he became one of the richest NFL players ever.
Measure Your Net Worth:
You can create your own financial plan for free in just 5 minutes with
Savology
and start tracking your net worth.
Early Life and Personal Life
Peyton Manning was born in 1976, in New Orleans, Louisiana. His parents were Archie Manning and Olivia Manning.
Peyton grew up in a competitive household. Both his brothers, Eli and Cooper Manning, played football as well. Eli would go on to play in the NFL, but Cooper stopped playing when he was 18 because of a health issue.
Peyton attended Isidore Newman School in New Orleans, Louisiana. During his three seasons as a starter, he led the team to a 34-5 record. He was a coveted high school player and was recruited to play in college by a number of the top football programs around the nation.
Peyton Manning Career and Path to Wealth
College
Peyton Manning committed to the University of Tennessee, where he would play college football as a Volunteer (the team mascot) under head coach Phillip Fulmer.
Manning played for Tennessee for four years, spanning from 1994 to 1997. By his senior year, he had won 39 games and thrown for 11,201 yards with 89 passing touchdowns. He broke countless records (he would go on to eventually be inducted into the College Football Hall of Fame) and was one of the best players to enter the NFL draft in 1998.
The NFL
Actually, the Indianapolis Colts might argue that he was the best player to enter the draft, as they selected him first overall.
Manning started his career hot, making the NFL All-Rookie team, and he would go on to play with the Colts for 14 stellar seasons.
In fact, in 2006, in his 9th season, Peyton Manning led the Colts to a Super Bowl victory over the Chicago Bears. A crowning achievement for Manning in which he was named Super Bowl MVP.
Then, a few years later in 2011, Manning was sidelined due to a neck injury and the surgery it required. The Colts had a terrible season without him and ended up with the #1 overall draft pick that year.
Much like they did 14 years ago, the Colts drafted the quarterback of the future in the 2012 draft with the first overall pick. This time, the quarterback was Andrew Luck.
At the same time, the Colts decided to release Peyton. But this would not be the end for him.
Manning ended up signing with the Denver Broncos for the 2012 season and would go on to play four more seasons with the Broncos.
In the 2015 season, Manning won Super Bowl 50, his second Super Bowl championship, beating the Carolina Panthers. He then retired after an 18-year career where he received countless awards and accolades, including NFL MVP awards and All-Pro designations, on top of winning two Super Bowl Championships. He is arguably one of the best players in NFL history.
Peyton Manning Net Worth of $250 Million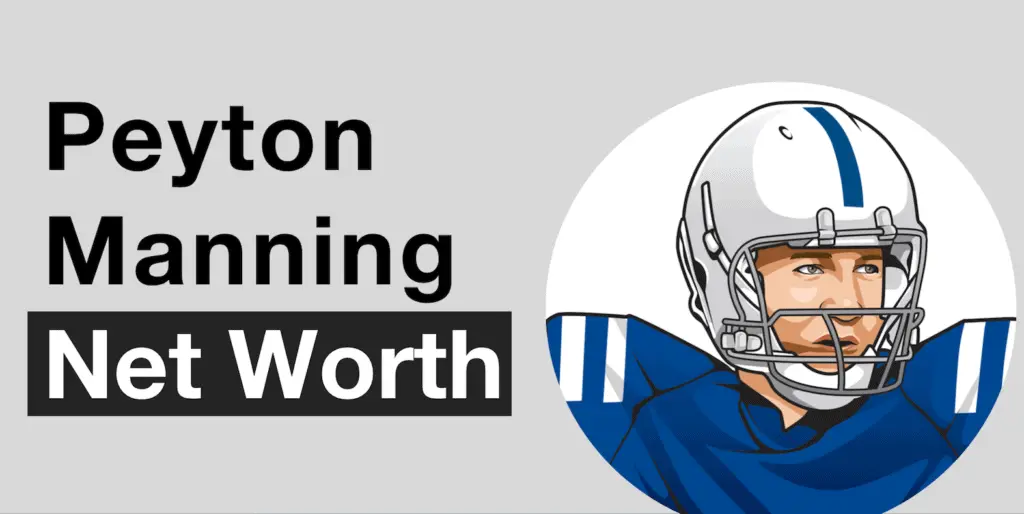 Peyton Manning's net worth of $250 million accumulated from his hefty NFL contracts and endorsement deals.
To me, this seemed like a low estimate, and below you'll see why.
NFL Contracts
According to spotrac, here is how Peyton Manning contracts have looked over the years:
1998-2003: $46 million
2004-2010: $98 million
2011-2015: $90 million
2015-2016: $34 million
Based on this, Manning's contracts were worth about $268 million throughout his career. Spotrac estimates his total career earnings closer to $248 million, as likely some of the money in the contracts above was not guaranteed and therefore not earned.
Regardless, that's a huge chunk of change, and I'll round up and estimate Peyton Mannings salary to be an even $250 million over the span of his NFL career.
Earnings Estimate: $250 million.
Endorsement Deals
Throughout his life, Manning has nabbed more than a few huge endorsement deals with companies like Papa John's pizza, Nationwide, Mastercard, Gatorade, and Buick. Manning also owns a few Papa John's franchises.
According to Forbes, Manning earned about $150 million from these deals so far.
That is a huge but not surprising number. Many successful athletes make almost as much, and sometimes more, through endorsements when compared to their salary.
Earnings Estimate: $150 million.
Is $250 Million a Low Estimated Net Worth?
Yes, $250 million seems like an extremely low estimate to me for this former NFL star.
Manning likely made over $400 million from endorsements and his pro football career alone! Plus Manning has donated some potential income to charity, like in the case of his celebrity golf outings.
Similar to my assessment on Will Ferrell on Steve Carrel, unless he spent irresponsibly or made very poor investment decisions, I assume Manning's net worth is actually north of $400 million.
2 Lessons from Peyton Manning's Path to Wealth
We probably won't ever accumulate the massive net worth that Peyton Manning has been able to, but we can still learn some valuable lessons from his journey.
1. Do What You Know, and Do it Well
There's something to say about knowing what you do well, and going out to doing it.
From an early age, it seemed like football came naturally to Peyton, and he ran with it. Instead of trying to carve his own path by playing a different sport from his father or brothers, he did what he knew and enjoyed. He played football.
In our lives, whether it's for our career, or how we manage our budget, or what we invest in, doing what you know can help make the process easier and make you more successful.
2. Have Confidence
Peyton Manning has no shortage of confidence. Two examples made this clear to me.
For one, when Manning was interviewing with teams before the 1998 NFL draft, he was not the clear cut winner for best QB in the draft. Ryan Leaf was also a top contender.
But when Manning interviewed with the Colts, he didn't hold back. He knew he was the best QB, told the Colts why, and told them that if they didn't pick him first, they'd regret it!
The colts liked the confidence, and everything else he brought to the table, and ended up picking him first overall.
The second example that comes to mind is Manning's come back story with the Broncos. It would have been easy for him to hang up his jersey after 13 years of playing NFL football and winning a Super Bowl. But, Manning had the confidence to keep playing, and ultimately win another Super Bowl with the Broncos before retirement.
Having confidence in your life can go a long way, just be sure to keep it in check and not become overconfident.
Favorite Peyton Manning Quotes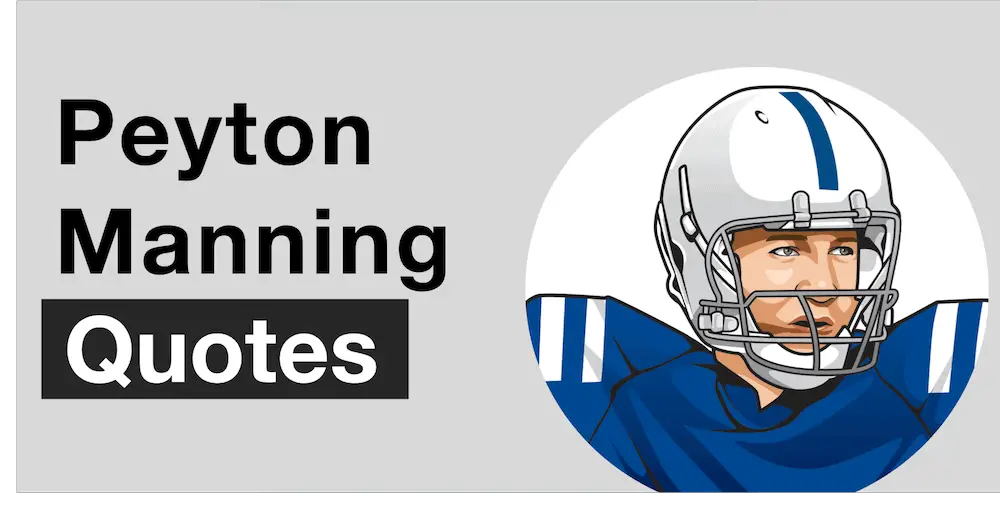 Peyton Manning has given us countless soundbites over the years.
Below are just a few of my favorites:
---
"Imitation is obviously a great form of flattery." – Peyton Manning
"The most valuable player is the one that makes the most players valuable." – Peyton Manning
"It takes 20 years to build a reputation and five minutes to ruin it." – Peyton Manning
---
I love that last one… it's what I say about a credit score!
Takes years to build, and only a few bad decisions to ruin.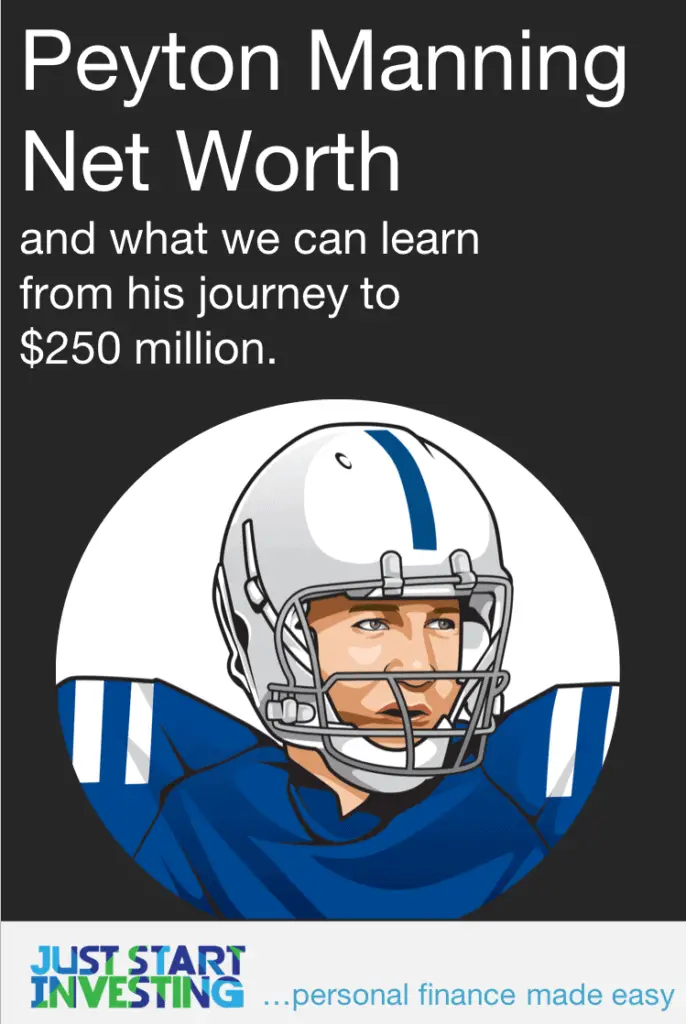 Summary: Peyton Manning Net Worth and What We Can Learn
Peyton Manning Net Worth: $250 Million
Hopefully, you enjoyed learning a little bit more about how Peyton Manning built his wealth.
Measure Your Net Worth:
You can create your own financial plan for free in just 5 minutes with
Savology
and start tracking your net worth.
While it was fun to look up his awesome NFL career stats and huge contract numbers, it was more fun to think about the lessons we can learn from his path to wealth:
Do What You Know, and Do it Well
Have Confidence
Hopefully, these learnings can apply to how you manage your personal finances and how you live your life!
Just Start Investing is a personal finance website that makes investing easy. Learn the simple strategies to start investing today, as well as ways to optimize your credit cards, banking, and budget. Just Start Investing has been featured on Business Insider, Forbes, and US News & World Report, among other major publications for its easy-to-follow writing.