If you are heading to Reddit for personal finance information, below are the top 14 subreddits you should explore first.
I didn't start actively participating on Reddit until about a year ago after starting this website, Just Start Investing. I was surprised by how helpful some of the information could be, especially if you look in the right spots.
Reddit 101
First, here is a quick primer on Reddit terminology for anyone who is not familiar with this social platform:
Subreddit: A subreddit, or "sub" for short, is a community or section with Reddit that focuses on a specific topic. There is no shortage of subreddits that exist, and below we'll walk through the best personal finance subs.
Post: Within each subreddit, a user can create posts. These posts can be statements, stories, questions, images, links, or anything relevant to the sub you are posting in.
Comment: Naturally, Reddit users can add comments to posts.
Upvote/Downvote: Every post and comment can be upvoted or downvoted by different users. The more upvotes you get, the better, and posts with more upvotes will appear towards the top of the sub when filtered for "hot" or "top" posts.
Karma: Every upvote or downvote you get affects your profile's Karma score, which is the net number of upvotes minus the downvotes you received on all of your posts and comments.
Acronyms: Reddit has a ton of acronyms; below are some of the most common to look out for:

TL;DR: Too long, didn't read
IMO: In my opinion
OP: Original poster
And many more, which you can check on their website.
Alright, let's dive in – below are the best Reddit personal finance communities to check out.
14 Best Personal Finance Subreddits
1. r/PersonalFinance
Members: 14.2 million
Description: Personal Finance
Not surprisingly, one of the best personal finance subreddits is also the biggest – r/PersonalFinance.
With over 14 million current members, this community covers all things personal finance, including topics such as general finances, investing, budgeting, retirement planning, debt, taxes, housing, student loans, insurance, and much more.
The subreddit hosts some helpful wikis, including their prime directive wiki page – a great beginner's guide on how to manage your money.
2. r/Bogleheads
Members: 33.7k
Description: Passive Indexing for Lazy Investors
r/Bogleheads is a smaller sub, but it's one of my favorites.
A "Boglehead" is a loyal follower of John ("Jack") Bogle, the founder of Vanguard and creator of the index fund. This sub is focused on passive investing, mainly through investing in index funds and ETFs that are low in cost, because that is how Bogle recommended everyday people invest.
It's a simple and effective strategy for beginners and experts alike.
If you're interested in learning more about Bogle and his investing strategy, you should check out this subreddit and also read his book – The Little Book of Common Sense Investing.
3. r/financialindependence
Members: 818k
Description: financial independence / retire early
The FIRE Movement has captivated the personal finance community for more than a few years now. This sub was born out of that movement in 2011.
FIRE stands for, "financial independence retire early."
Financial independence involves having enough money that you never need to work again if you don't want to. Once you reach FI, you are financially free. Typically, you need to save money aggressively for this to happen.
Retiring early, as the name suggests, is retiring before the typical age of ~60.
While the r/financialindependence subreddit focuses on the FI portion of FIRE, it also covers early retirement and a range of personal finance topics necessary to understand to reach FIRE.
4. r/FinancialPlanning
Members: 172k
Description: Financial Planning, Personal Finance, Frugality, Money, and More!
r/FinancialPlanning is another good general personal finance sub to ask money and financial questions.
What makes this sub unique is that it's the least "DIY."
A lot of other subs provide information on how to manage your money on your own. The financial planning sub will do that, and also isn't afraid to offer up when you should seek professional help (like a financial planner or financial advisor).
That could just be my take on the sub, but it seems like one of the more beginner-friendly places to improve your basic financial literacy.
Again, this sub covers everything from saving for retirement to how to pay off debt.
5. r/CreditCards
Members: 132k
Description: Credit Cards
The advantages of credit cards are nearly endless.
As long as you pay them on time and in full and avoid credit card debt, they are a great way to build your credit score, conveniently make purchases, and get rewarded for spending money.
r/CreditCards is an excellent place to stop by to get answers to common credit card questions or get ideas for your next credit card to open.
6. r/Budget
Members: 12.5k
Description: Budgeting – Creating and maintaining a personal budget
r/Budget is another smaller community focused solely on the topic of budgeting.
If you are new to learning how to budget or build an emergency fund on your own, or just have questions on how to set one up efficiently, you'll find this subreddit useful. It covers all the budget basics and also some general money management tips as well.
7. r/fatFIRE
Members: 120k
Description: Wealth and Financial Independence/Retire Early
r/fatFIRE is another sub born from the FIRE movement. It was created in 2016.
A common critique of the FIRE movement is that you have to live a stingy lifestyle to save up enough money to become financially independent. Then, you have to continue to be frugal to ensure your nest egg doesn't run out for the rest of your life.
Fat FIRE flips the script.
Fat FIRE involves reaching financial freedom without sacrificing your lifestyle or spending habits. The goal is to save enough money to not have to work again, but you save a much fatter stack of cash to support the lifestyle you want.
In this sub, you'll find stories, advice, and tips to help you reach Fat FIRE.
8. r/Frugal
Members: 1.4 million
Description: Frugal Living: Waste Less-Gain More!
Whether you are living paycheck to paycheck or just looking to spend money more effectively, look no further than the r/Frugal subreddit.
And yes, there is a difference between being frugal and being cheap. The wiki for this sub sums it up nicely:
"Frugality is the mental approach we each take when considering our resource allocations. It is about understanding the resources that we have, and spending them wisely and deliberately."
I like to think of it as spending mindfully.
9. r/Banking
Members: 31.1k
Description: Savings, Checkings, CDs, oh my!
In my opinion, banking strategies do not get enough attention in the personal finance community.
Using bank accounts efficiently can go a long way in making your life easier and earning you a few extra dollars.
If you want to start optimizing your banking strategy or have a basic banking question, r/banking could be the place for you.
10. r/Shoestring
Members: 1.1 million
Description: Travel on a Shoestring Budget
r/Shoestring is a subreddit dedicated to finding awesome travel deals.
Whether you are looking to take an entire trip on a low budget or want to find the best flight deals, this sub is full of over one million people ready to help you out.
11. r/investing
Members: 1.2 million
Description: Lose money with friends!
r/investing is one of the largest investing subs on Reddit. It covers a broad range of topics, including general stock market questions, specific stock analysis, and brokerage account information.
It's also a place where breaking investing news will usually pop up.
I'm a bigger fan of r/Bogleheads and the simple approach to investing. But if you want to dive into the weeds, this sub is an excellent place to go, as well as this list of the best investing books.
12. r/realestateinvesting
Members: 160k
Description: Real Estate Investing
Real estate investing is not something I have done myself outside of buying REITs. Although, I am interested in learning how to make money through real estate, which is why I have joined r/realestateinvesting.
The sub covers basic questions, such as buying your first property, and more complex real estate topics as well.
13. r/MiddleClassFinance
Members: 20.6k
Description: MiddleClassFinance
r/MiddleClassFinance is exactly what it sounds like – a place for the middle class to discuss everyday money and personal finance tips, questions, and problems they might be facing.
What I like about this sub is that it's generally a judgment-free zone, full of members who are eager to help and better their own financial lives as well.
14. r/Schwab
Members: 2.9k
Description: The Home for Charles Schwab Investors!
Last on the list of best Reddit personal finance communities is r/Schwab.
I'm biased here, as I invest with Schwab, so it's a great place for me to reference when I have investing questions. Whether you invest with Schwab or not, joining your broker's subreddit (if they have one) is a good idea.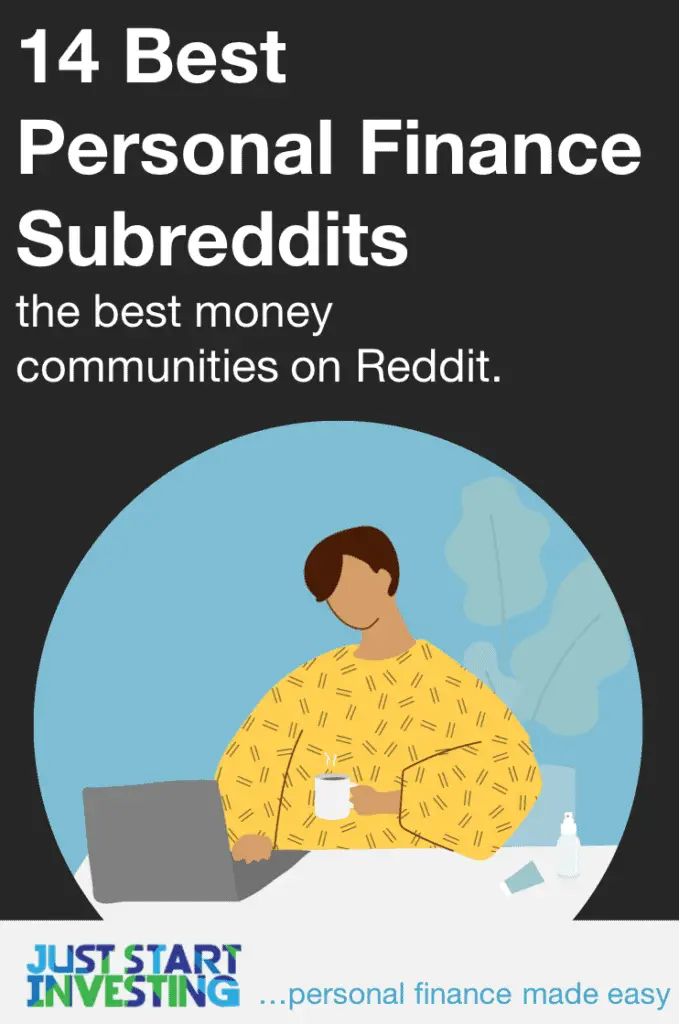 Summary: Best Reddit Personal Finance Communities
Reddit is full of useful personal finance communities. All of them with people eager to answer your questions and provide financial advice to help you reach your financial goals.
Most of the information provided on there is good too.
Though, of course, Reddit should not be your only source of financial information. It is a social media platform at the end of the day, and there is plenty of bad financial advice given on Reddit. It would be best if you were extra diligent when doing any financial research and double or triple checked the advice you receive.
Is there a personal finance subreddit that you love that I forgot about in the list above? Reach out and let me know!
Just Start Investing is a personal finance website that makes investing easy. Learn the simple strategies to start investing today, as well as ways to optimize your credit cards, banking, and budget. Just Start Investing has been featured on Business Insider, Forbes, and US News & World Report, among other major publications for its easy-to-follow writing.