Learning how to save money to buy a new car can make the whole car buying process less stressful, when done correctly.
Really, it all comes down to budgeting and preparing. The more prepared you are to buy a car, the easier the process will be.
Proper budget planning simplifies the process without having to break your bank and making it seem like a massive sacrifice at once. Saving money steadily and slowly and setting it aside will make it easier when it comes time to make a down payment. Plus, you can likely save more by making a few adjustments to your daily spending habits, but it will require discipline. 
Below, we'll go over how you can properly budget and prepare to buy a new car. Purchasing a new car can be a complicated process, but by following these easy tips, it can be easier than you expect. Keep reading to learn more!
How to Save for a Car: 5 Tips
Tip #1: Assess Your Budget
You already know that the nicest and newest cars are very expensive. Sure, most people want a new BMW or the latest Mercedes, but most people also cannot afford those cars.
It's important to create your budget to determine what you can and cannot afford before heading to the dealership. In order to create a quick budget, you'll need to calculate your month:
Your current incomes minus your current expenses should equal what you are saving every month. Hopefully, this is a positive number. If not, you likely need to make some other changes in your finances before going out and buying a car.
Once you know these figures, you can figure out how much more you can absorb in monthly car expenses such as your monthly payment, insurance premiums, and parking.
Don't forget about your down payment as well. In addition to the monthly expenses, if you plan on financing a portion of the car, you'll need to have a sum of cash on hand to use as a down payment.
Tip #2 Research and Negotiate Car Prices
Once you know your monthly budget, it's time to do some research on car brands and different types of cars to get an idea of what car you want and how much it will cost.
You can check car prices by calling local dealerships or visiting their websites, or you can check the classifieds online and in print to get an idea of what's out there. You can also use sources such as Kelley Blue Book to determine the value of different cars, which is highly recommended.
Also, it's probably best to avoid going to a dealership without knowing what you want and how much you can pay for it, as salesmen and women will likely try to upsell you. It's best to do this research upfront.
Luckily, there are many types of cars available that fit the budget of nearly everyone depending on their circumstances.
If you want to save money and have a lower monthly car payment, you can opt for a sedan with good gas mileage.
If you need space, you may need a larger car, which can be more expensive, but you can always bring the cost down by going with a used car.
Whatever you do, just make sure you know what you want before stepping foot into any dealership.
Bonus:
Get your
free credit score check
and understand what interest rate you can get on your auto loan before going to a dealer as well.
Tip #3: Shop Around for Car Insurance
It's smart to shop for car insurance while shopping for a new car.
Part of the monthly car expenses include not just the car loan repayment, but also car insurance, and car insurance rates can fluctuate dramatically depending on the type of car you purchase. Keep insurance costs low can save you a lot of money over the long run.
If you can't afford a high monthly insurance payment, you can shop for cheap car insurance plans or purchase a car that won't give you a high premium. Whatever you do, don't forget about this monthly expense when building your car budget!
Tip #4: Set a Realistic Timeline
For you to save enough money for a car, it's important to set a realistic timeline.
By using your budget, you can figure out how much money you have on hand right now for a down payment, and how much you can put away to save for a car every month. Once you pick a car or down payment amount, you can divide the total amount by the amount you save every month to determine how long it will take you to reach your goal. This basic strategy is also known as building a sinking fund.
The key is to start saving now and to stick to the timeline as best you can.
Don't be discouraged if you aren't able to save your goal every month — it's normal for unexpected expenses to arise. Still, be diligent with saving and you'll get there eventually. You can use a savings calculator to help determine how much time it will take to save to your goal.
Remember, a car shouldn't be the only item on your saving plan, either. You should also ensure you have a fully-funded emergency fund and are saving for retirement and other personal finance goals along with saving for your new car purchase.
Tip #5: Automate your savings 
Setting up a savings plan is the easy part, executing against it and actually saving money is a little harder.
The best way to save for a short-term goal is by setting up automatic payments or deposits. By doing this, a set amount of money will be put into your savings account every month on whatever day you choose. This will help you avoid unnecessarily keeping the money in your checking account, and will discourage you from removing it from your savings once it is already there.
Many people find it helpful to have this money go to its own separate account, because then there are no questions around what money is car savings.
Before doing this, make sure you have enough income to be able to have an automatic payment set up. You may want to set up your payment to occur the day after you get paid (or a few days after) to make sure you have enough money to be transferred.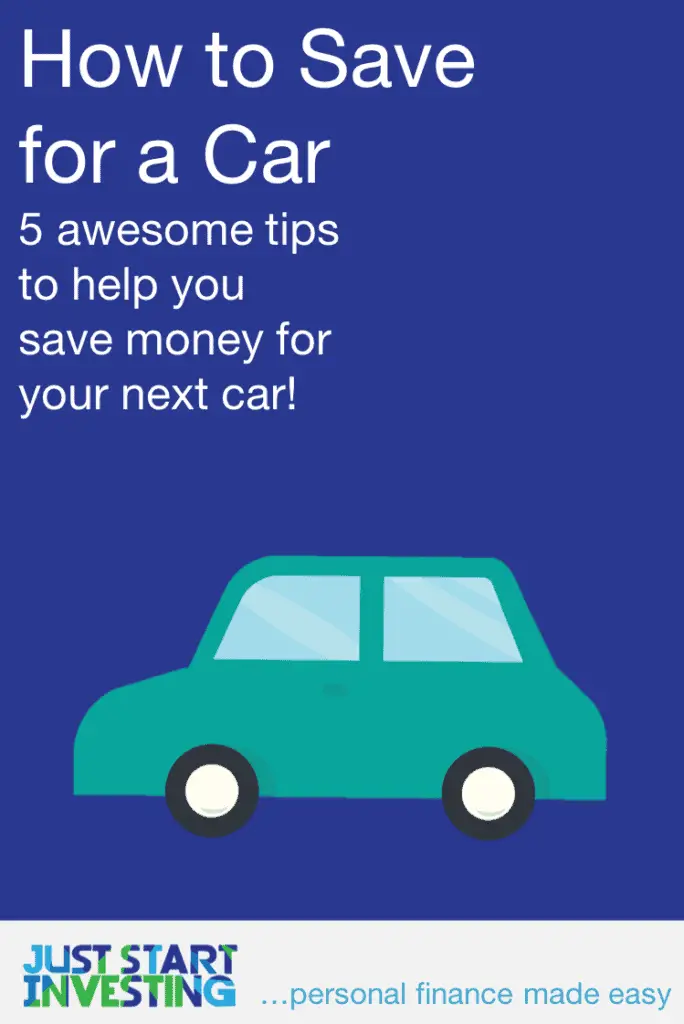 Summary: How to Save for a Car
Using this tips will make it easier for you to save for your new car, the right way:
Assess Your Budget
Do Your Research
Consider Car Insurance
Set a Timeline
Automate Where You Can
Buying a car without a budget can leave you in a money crisis or even in debt – which is the last thing you want to happen when making any large purchase.
A clear budget and savings plan will help you meet your timeline without sacrificing any other expenses or savings goals. Just remember to take all expenses into account, and stick within your budget throughout the process!